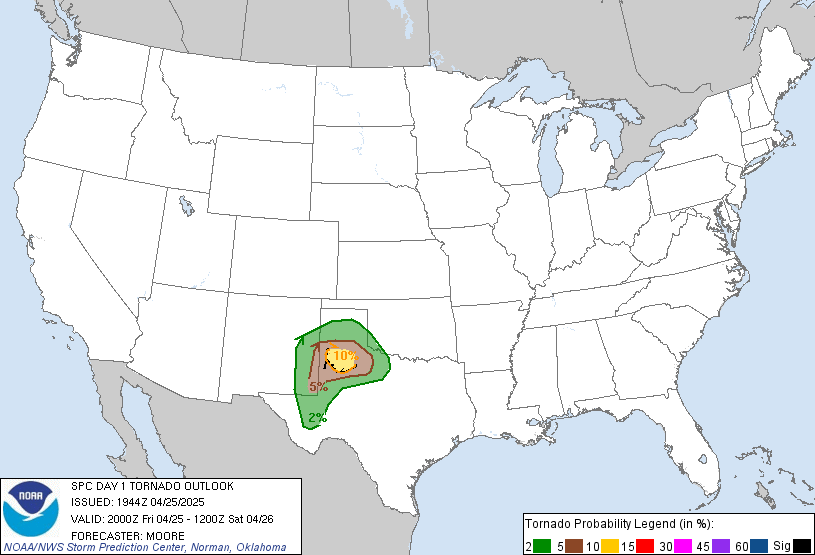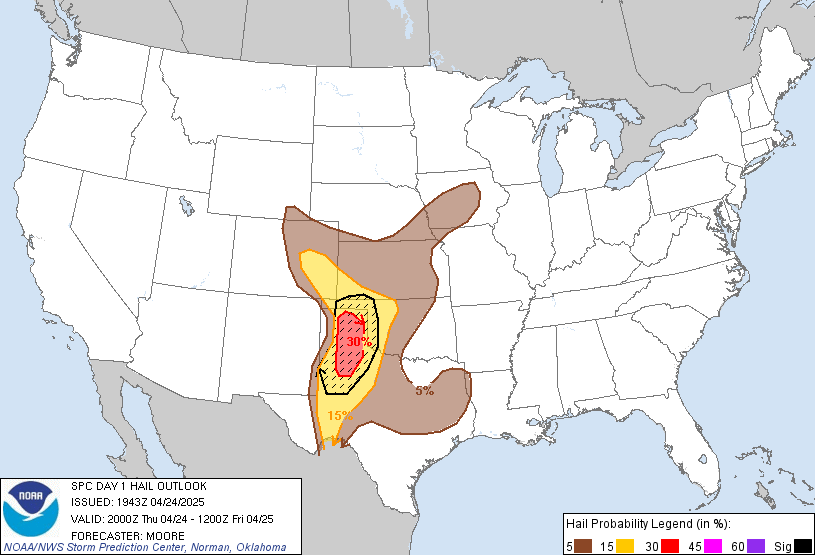 DAY 1 CONVECTIVE OUTLOOK
   NWS STORM PREDICTION CENTER NORMAN OK
   0250 PM CDT SUN JUL 21 2013

   VALID 212000Z - 221200Z

   ...THERE IS A SLGT RISK OF SVR TSTMS ACROSS PARTS OF THE NRN
   PLAINS...

   A COUPLE OF CHANGES HAVE BEEN MADE TO THE OUTLOOK FOR THIS ISSUANCE.
   THE FIRST CHANGE IS TO EXTEND THE NRN PLAINS SLIGHT RISK AREA WWD TO
   NEAR THE MT-ND STATE-LINE TO ACCOUNT FOR STRONG CONVECTION SOUTH OF
   WILLISTON. THE SECOND CHANGE TO THE OUTLOOK IS TO REMOVE THE 5
   PERCENT WIND DAMAGE PROBABILITY FROM PARTS OF WV AND WRN VA. THIS
   AREA HAS BEEN WORKED OVER BY A LINE OF STRONG STORMS CURRENTLY
   MOVING ACROSS CNTRL VA.

   ..BROYLES.. 07/21/2013

   .PREV DISCUSSION... /ISSUED 1127 AM CDT SUN JUL 21 2013/

   ...SYNOPSIS...
   MODELS INDICATE THAT A SEASONABLY STRONG MID/UPPER JET...NOW
   EXTENDING FROM THE LOWER GREAT LAKES AND ST. LAWRENCE VALLEY REGION
   INTO THE NORTH ATLANTIC...WILL CONTINUE TO SHIFT EASTWARD DURING
   THIS FORECAST PERIOD.  AS DEEP LAYER FLOW FIELDS WEAKEN ACROSS THE
   NORTHEAST...THEY WILL REMAIN GENERALLY WEAK ELSEWHERE ...BUT
   STRONGEST IN A CONFLUENT...LARGELY ZONAL...REGIME ACROSS THE
   NORTHEASTERN PACIFIC THROUGH THE CANADIAN/U.S. BORDER AREA.  A
   SIGNIFICANT EMBEDDED SHORT WAVE IMPULSE THAT SUPPORTED CONSIDERABLE
   THUNDERSTORM ACTIVITY ACROSS SOUTHERN ALBERTA AND SASKATCHEWAN...AS
   IT DUG TO THE LEE OF THE CANADIAN ROCKIES...IS FORECAST TO REMAIN
   PROGRESSIVE AND GRADUALLY TURN EASTWARD ALONG AND JUST NORTH OF THE
   INTERNATIONAL BORDER...INTO WESTERN ONTARIO BY LATE TONIGHT.

   THE PRIMARY LOW-LEVEL BAROCLINIC ZONE ASSOCIATED WITH THE DEPARTING
   EASTERN IMPULSE APPEARS LIKELY TO STALL ACROSS PARTS OF THE LOWER
   GREAT LAKES INTO NEW ENGLAND.  BUT AT LEAST SOME DRYING ASSOCIATED
   WITH A LEADING...WEAK CONVECTIVELY ENHANCED BOUNDARY APPEARS TO HAVE
   GENERALLY SHIFTED TO THE SOUTH OF THE STRONGER RESIDUAL MID-LEVEL
   FLOW...INTO THE OHIO VALLEY AND NORTHERN MID ATLANTIC COAST REGION.

   STEEP LOW TO MID-LEVEL LAPSE RATES ASSOCIATED WITH DEEP BOUNDARY
   LAYER MIXING ARE GENERALLY CONFINED ALONG AND NORTH OF RESIDUAL
   SUBTROPICAL RIDGING EXTENDING ALONG AN EAST-WEST AXIS ACROSS THE
   CENTRAL PACIFIC COAST INTO THE CENTRAL ROCKIES.  BUT A GRADUAL
   EASTWARD ADVECTION OF THIS AIR MASS...AS STRONGLY CAPPING ELEVATED
   MIXED LAYER AIR...IS EXPECTED ACROSS MUCH OF THE CENTRAL PLAINS BY
   LATE TONIGHT.