Storm Forecast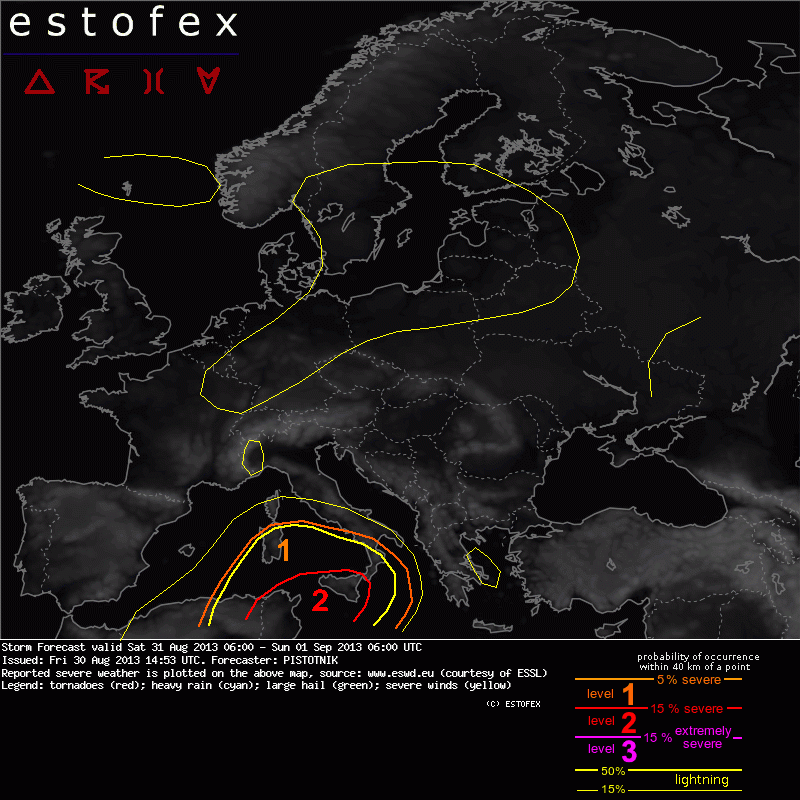 Storm Forecast
Valid: Sat 31 Aug 2013 06:00 to Sun 01 Sep 2013 06:00 UTC
Issued: Fri 30 Aug 2013 14:53
Forecaster: PISTOTNIK
A level 1 and level 2 were issued for Sardegna, Southern Italy, Malta, Tunisia and surroundings for excessive precipitation, large hail, severe wind gusts and tornadoes.

SYNOPSIS

A powerful, autumn-like cyclone near Iceland governs the weather in Northwestern Europe. A secondary low forms in the wake of the Scandinavian mountains and grows deep enough to induce a new cut-off process over Southern Sweden till the end of the forecast period. Its cold front enters Poland, Germany, the Benelux countries and Northern France, while the British Isles get overspread by strong warm air advection again in the second half of the forecast period.
Otherwise, weak gradients with a weak Northwesterly flow and seasonable temperatures prevail over Europe. The remnants of an upper-level low slowly travels eastward across the Mediterranean, with a moderate 500 hPa speed maximum ahead of it from Tunisia towards Greece.