Storm Forecast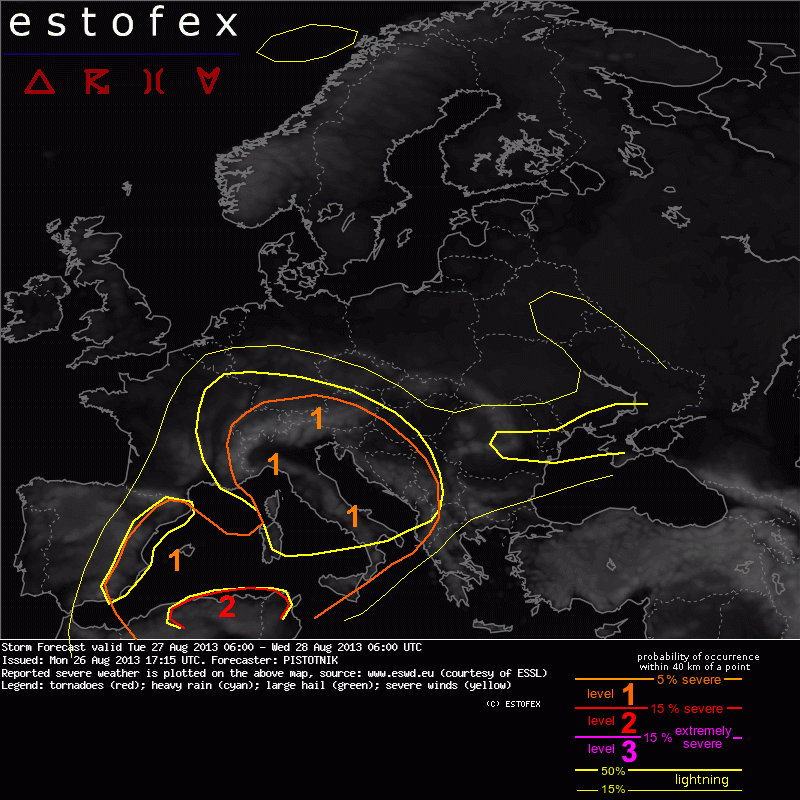 Storm Forecast
Valid: Tue 27 Aug 2013 06:00 to Wed 28 Aug 2013 06:00 UTC
Issued: Mon 26 Aug 2013 17:15
Forecaster: PISTOTNIK
A level 2 was issued for N Algeria and N Tunisia, and a level 1 for much of the W and Central Mediterranean, Italy and the W Balkans for large hail, severe wind gusts, excessive precipitation and tornadoes.

A level 1 was issued for the Alpine region mainly for excessive precipitation.

SYNOPSIS

An extensive upper-level low with several shallow centers stretches from Belarus and the Ukraine across Central Europe into France. The subtropical jet stream curves around its Southern flank, where strong vertical wind shear and cooling upper levels on top of the very warm sea set the stage for an active severe weather day over much of the Mediterranean region. The main foci for convective initiation are a long and diffuse frontal boundary across the Balkans and the Mediterranean and a series of passing vorticity maxima in its wake.
Further North, a large anticyclone slowly moves from Southern Scandinavia into Western Russia, connected by a bridge to a second high over the Atlantic Ocean. The polar jet and the main frontal zone are displaced to Northern Scandinavia, which gets crossed by a cold front and a progressive trough late in the forecast period.