Storm Forecast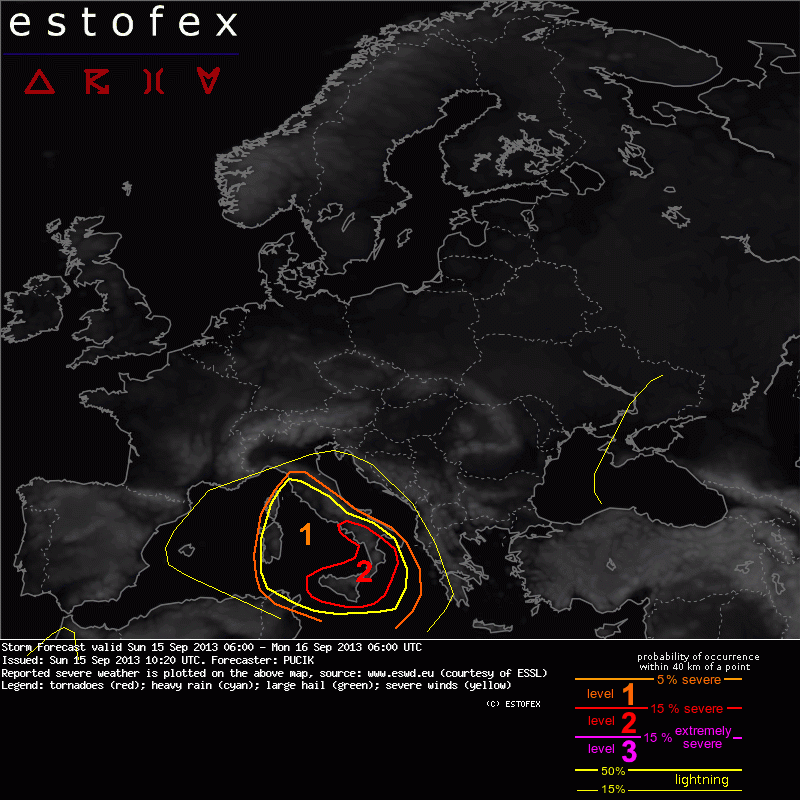 Storm Forecast
Valid: Sun 15 Sep 2013 06:00 to Mon 16 Sep 2013 06:00 UTC
Issued: Sun 15 Sep 2013 10:20
Forecaster: PUCIK
A level 2 was issued for Sicily and Southwestern Italy mainly for excessive precipitation, tornadoes, severe wind gusts and large hail.

A level 1 was issued for Sardegna, Corsica and Western Italy mainly for excessive precipitation and to the lesser degree for tornadoes and severe wind gusts.

A level 1 was issued for North Tunisia mainly for large hail and severe wind gusts.

SYNOPSIS

Upon a brief glance on the satellite imagery loops, one might easily notice three main features on the synoptic scale. The first one being a large and deep cyclonic vortex residing over the Northern Atlantic, moving steadily southeastwards. More to the south, a prominent short-wave trough has just crossed Southern France and is heading for Italy. And finally, towards the east, decaying cyclonic vortex is centered over Southern Ukraine. Generally speaking, no major overlap of sufficient low level moisture and steep lapse rates is forecast over much of Europe - therefore, continental part is not going to see any DMC activity during this forecast period. On the other hand, western Mediterranean, under the influence of the short-wave trough, will likely see widespread activity especially during the overnight hours.