Storm Forecast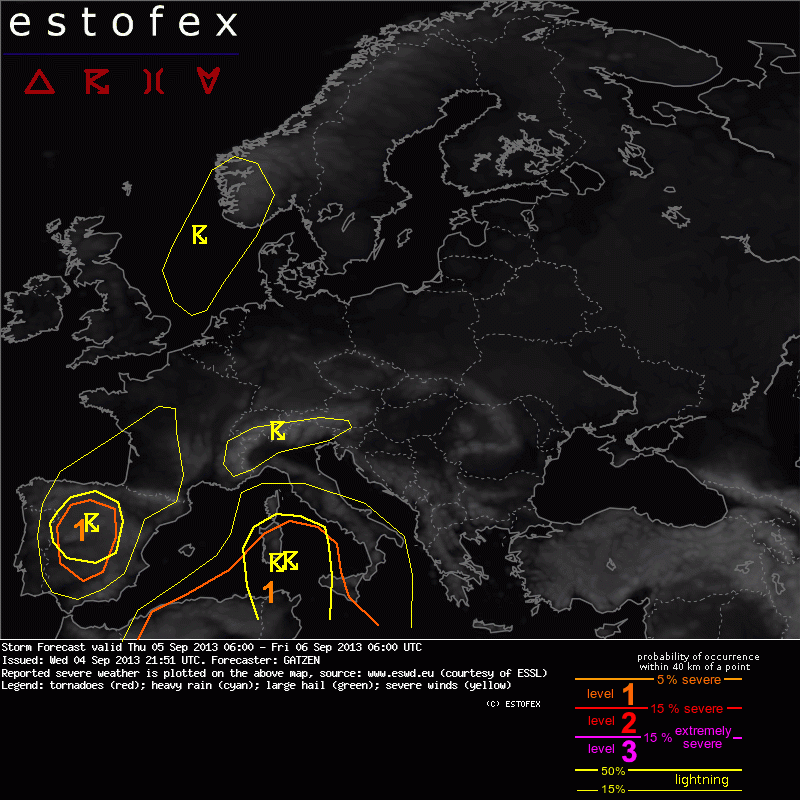 Storm Forecast
Valid: Thu 05 Sep 2013 06:00 to Fri 06 Sep 2013 06:00 UTC
Issued: Wed 04 Sep 2013 21:51
Forecaster: GATZEN
A level 1 was issued for northern Algeria and Tunisia mainly for large hail.

A level 1 was issued for Sardinia and surroundings mainly for excessive rain.

A level 1 was issued for western central Spain mainly for large hail and severe wind gusts.

SYNOPSIS

The amplified trough over eastern Europe cuts of an forms a closed upper low centred across the north-eastern Ukraine. To its west and north, the Alpine mid-level high ridges into Scandinavia. Western Europe is affected by rather low geopotential. A trough centre is located over north-western Iberia and another cut-off process in underway over the British Isles. Additionally, a weak cut-off remains near Sardinia.

Best low-level moisture can be found in an easterly flow regime across the south Mediterranean with mixing ratios in excess of 13 g/kg. Rather good moisture is also present in the warm air mass that extends across west-central Europe. However, lapse rates are rather poor over most places except for the Iberian Peninsula and northern Africa.