Storm Forecast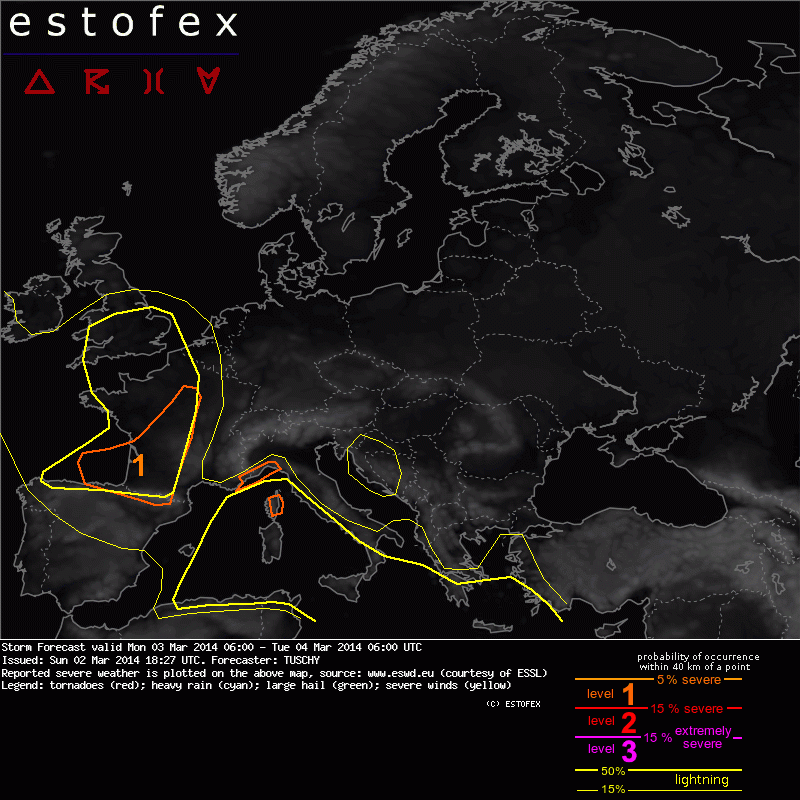 Storm Forecast
Valid: Mon 03 Mar 2014 06:00 to Tue 04 Mar 2014 06:00 UTC
Issued: Sun 02 Mar 2014 18:27
Forecaster: TUSCHY
A level 1 was issued for the SE Bay of Biscay mainly for severe wind gusts.

A level 1 was issued for SW/W-France and parts of N-CNTRL France mainly for an isolated tornado event, marginal to isolated large hail and strong to severe wind gusts.

A level 1 was issued for the N-Pyrenees mainly for excessive rainfall.

Two level 1 areas were issued for Corsica, extreme SE France and NW Italy mainly for excessive rain.

SYNOPSIS

Predominant high-latitude trough over Europe weakens and breaks open into numerous smaller scale troughs and mid/upper tropospheric waves. One trough over Italy and the Ionian Sea moves to the east towards Greece but gets disrupted by a eastward moving 40 m/s mid-layer jet streak along its southern fringe and an approaching major cold-core vortex with falling pressure/geopotential heights from the west. Also, a compact cyclonic vortex over the far NW Black Sea lifts north and crosses far E-Ukraine from south to north.
The major synoptic feature however will be an extensive cold-core vortex, which covers Ireland, Scotland, UK and France during the forecast. During the afternoon hours, surface pressure and height fields decrease over the NW Mediterranean, resulting in a rapidly consolidating vortex over the Ligurian Sea during the overnight hours.
Both, ridging and predominant dry and cold air keep conditions for deep and organized convection very hostile over Scandinavia and Russia.