Storm Forecast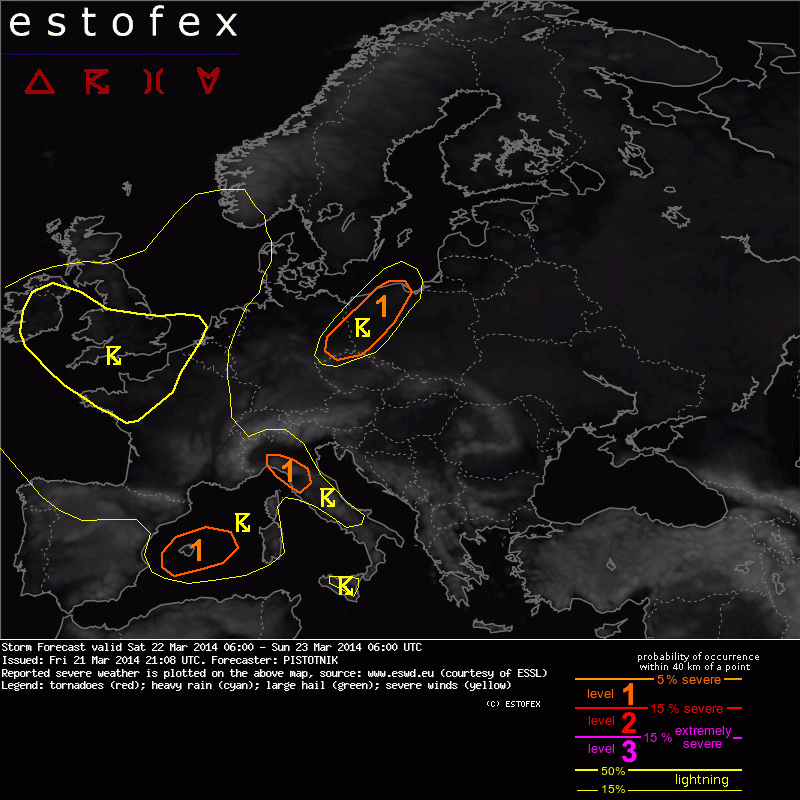 Storm Forecast
Valid: Sat 22 Mar 2014 06:00 to Sun 23 Mar 2014 06:00 UTC
Issued: Fri 21 Mar 2014 21:08
Forecaster: PISTOTNIK
A level 1 was issued for E Germany and W Poland for severe convective wind gusts.

A level 1 was issued for the Balearic Islands and around for severe convective wind gusts and to a lesser extent for tornadoes.

A level 1 was issued for NW Italy for excessive convective precipitation.

SYNOPSIS

A pronounced long-wave trough stretches from the Faeroe Islands to the Iberian Peninsula and slowly moves Eastward while it further amplifies. Ahead of it, a steepening Southwesterly flow covers much of Europe.
Near the surface, a long and wavy frontal boundary stretches from Belarus across Poland and Central Europe all the way to Spain. It separates very warm continental air to the Southeast from cool maritime air to the Northwest. A broad area in the range of this frontal boundary gets overspread by positive QG forcing, though the quasi-barotropic nature of the long waves means that the positive vorticity advection is largely compensated by cold air advection.
Further downstream of the Western European trough, the remnants of a shallow upper-level low create slightly unsettled conditions over the Central Mediterranean. Sunny and warm weather prevails over Southeastern Europe, where the dominant high pressure system slowly recedes.