Storm Forecast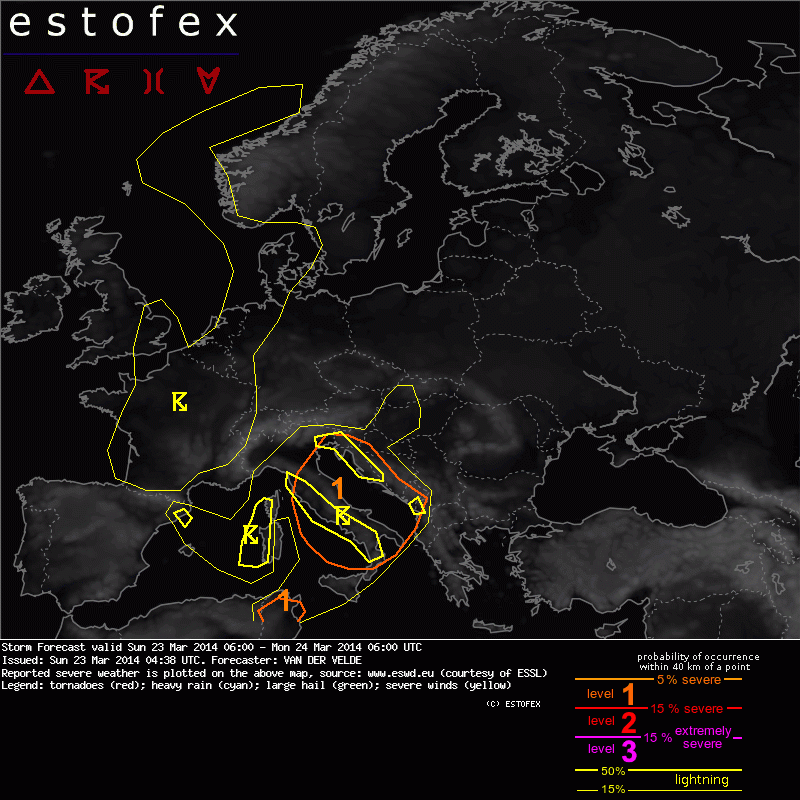 Storm Forecast
Valid: Sun 23 Mar 2014 06:00 to Mon 24 Mar 2014 06:00 UTC
Issued: Sun 23 Mar 2014 04:38
Forecaster: VAN DER VELDE
A level 1 was issued for Italy, Slovenia and Croatia for a combined chance of isolated large hail, tornado and excessive rain events.

A level 1 was issued for northern Tunesia mainly for large hail.

SYNOPSIS

A meridionally elongated upper trough stretching from arctic regions to the western Mediterranean Sea shifts eastwards. Very steep lapse rates and low dynamic tropopause (strong PV) sharply outline the cold airmass with unstable conditions favorable for deep convection. The central Mediterranean has also a warmer unstable regime with large scale lifting ahead of the approaching low dynamic trpopause (trough) and more moisture to work with. The cold front will drag first over Corsica, then progressively affects the Italian and Adriatic west coasts, mainly, by strong lifting over higher terrain. Stronger winds in the mid/upper levels create good vertical wind shear (>25 m/s 0-6 km).