Storm Forecast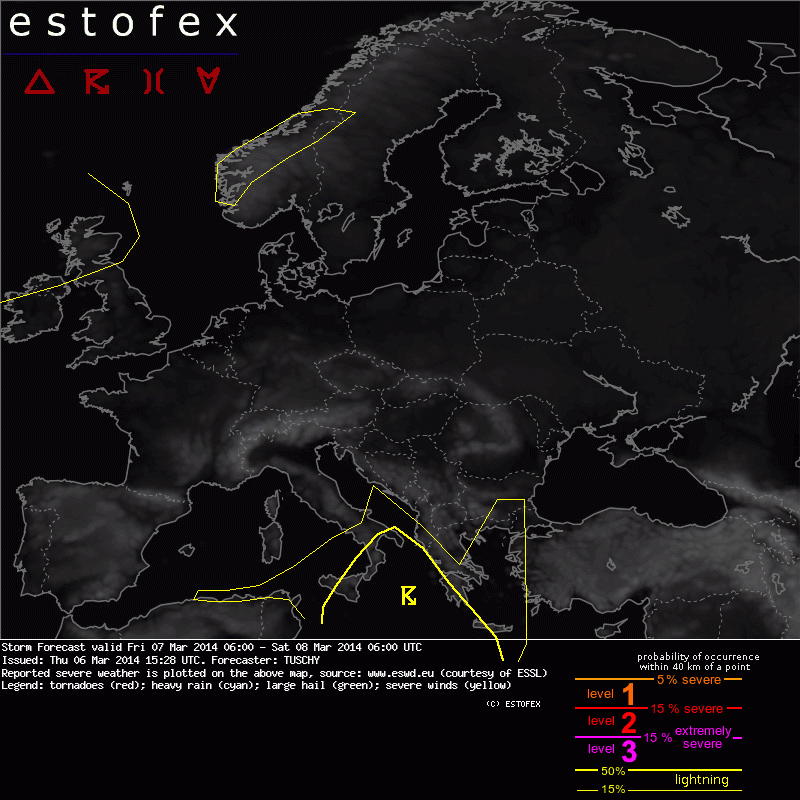 Storm Forecast
Valid: Fri 07 Mar 2014 06:00 to Sat 08 Mar 2014 06:00 UTC
Issued: Thu 06 Mar 2014 15:28
Forecaster: TUSCHY
SYNOPSIS and DISCUSSION

A quasi-stationary cut-off low is placed over the Ionian Sea and keeps cold-mid level air mass entrenched over the CNTRL-Mediterranean. Scattered to widespread thunderstorm development is expected all day long. Weak shear and 300-600 J/kg MLCAPE cause strong to isolated severe pulsating storms with sleet, heavy rain and gusty winds. BL air mass is weakly capped with low LCLs and roughly 100 J/kg LL CAPE, so a few waterspout events are forecast.

A compact and small-scale cold-core low retrogrades to the SW from S-Poland to the N-Adriatic sea (if current model trajectories verify). Most of the time, scarce BL moisture precludes any stronger/long-lived updraft development. However as very steep mid-layer lapse rates cross Hungary during peak heating and approach the N-Adriatic Sea during the night, a very isolated, short-lived and non-severe thunderstorm event with sleet is possible.

A far to the north displaced frontal zone affects Scotland and Scandinavia with unsettled conditions. A cold front affects Norway during the overnight hours with strong to severe wind gusts. Influx of modified Atlantic air and rapid onshore modification (lowering BL moisture content) over Norway presses confidence in more widespread thunderstorm probabilities down to near zero. Despite a severe wind gust risk, no level 1 was issued due to the sporadic nature of thunderstorms and little additional increase of the general wind risk (due to convective input) compared to the strong backgound (gradient) flow. Still, a forced line of showers/isolated thunderstorms may affect Denmark and Norway during the evening and overnight hours with a localized severe wind gust threat.

Strong mid/upper ridge and low-tropospheric high pressure keep the weather stable (convective-wise) from Portugal/Spain to W-Russia.