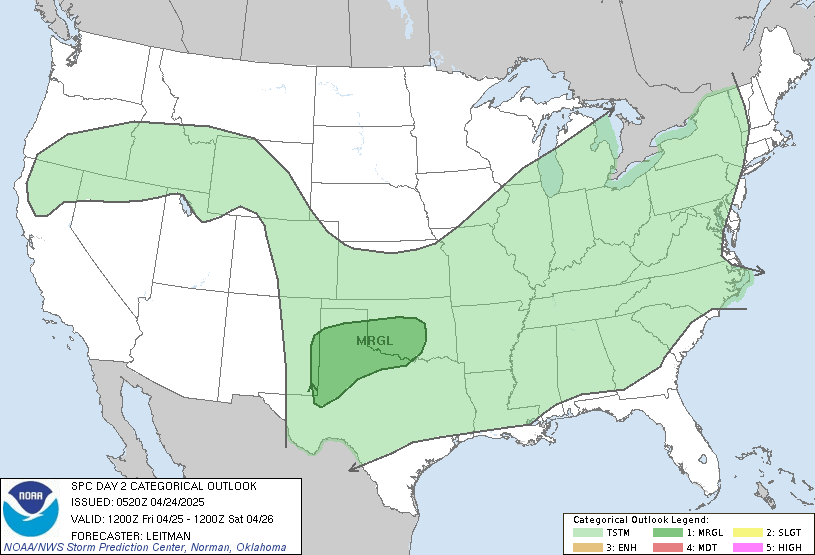 SPC AC 020558
   DAY 2 CONVECTIVE OUTLOOK  
   NWS STORM PREDICTION CENTER NORMAN OK
   1258 AM CDT WED APR 02 2014

   VALID 031200Z - 041200Z

   ...THERE IS A MDT RISK OF SVR TSTMS OVER A PORTION OF THE LOW-MID MS
   VALLEY AND WRN TN VALLEY...

   ...THERE IS A SLGT RISK OF SVR TSTMS ELSEWHERE FROM ERN PORTIONS OF
   THE SRN PLAINS THROUGH THE LOWER-MID MS VALLEY...TN VALLEY AND OH
   VALLEY...

   POTENTIAL EXISTS FOR NUMEROUS SEVERE STORMS THURSDAY WITH DAMAGING
   WIND...LARGE HAIL AND TORNADOES POSSIBLE...ESPECIALLY FROM THE
   LOWER-MID MS VALLEYS INTO THE WRN TN AND OH VALLEYS. 

   ...SYNOPSIS...

   MODELS SOLUTIONS HAVE CONVERGED ON TIMING...AMPLITUDE AND GENERAL
   CHARACTER OF A VIGOROUS SHORTWAVE TROUGH THAT WILL EJECT NEWD
   THROUGH THE CNTRL/SRN PLAINS INTO THE LOWER-MID MS VALLEY ON
   THURSDAY. SFC LOW WILL DEEPEN AS IT DEVELOPS NEWD THROUGH THE MID MS
   VALLEY DURING THE AFTERNOON AND EVENING BENEATH CORRIDOR OF
   INCREASING UPPER DIVERGENCE. BY THURSDAY MORNING A COLD FRONT WILL
   LIKELY EXTEND FROM THE SFC LOW SITUATED OVER SERN KS SWWD THROUGH
   NWRN OK AND NWRN TX. THIS FRONT WILL MOVE SEWD OVERTAKING THE
   DRYLINE SITUATED ACROSS OK AND TX. BY THE END OF THE PERIOD THE
   FRONT SHOULD STRETCH FROM A SURFACE LOW OVER THE UPPER GREAT LAKES
   AREA SWWD THROUGH WRN TN...LA AND THE TX COASTAL AREA. WARM FRONT
   EXTENDING EWD FROM THE LOW THROUGH CNTRL/NRN MO INTO THE OH VALLEY
   EARLY THURSDAY WILL LIFT SLOWLY NWD DURING THE DAY.