Storm Forecast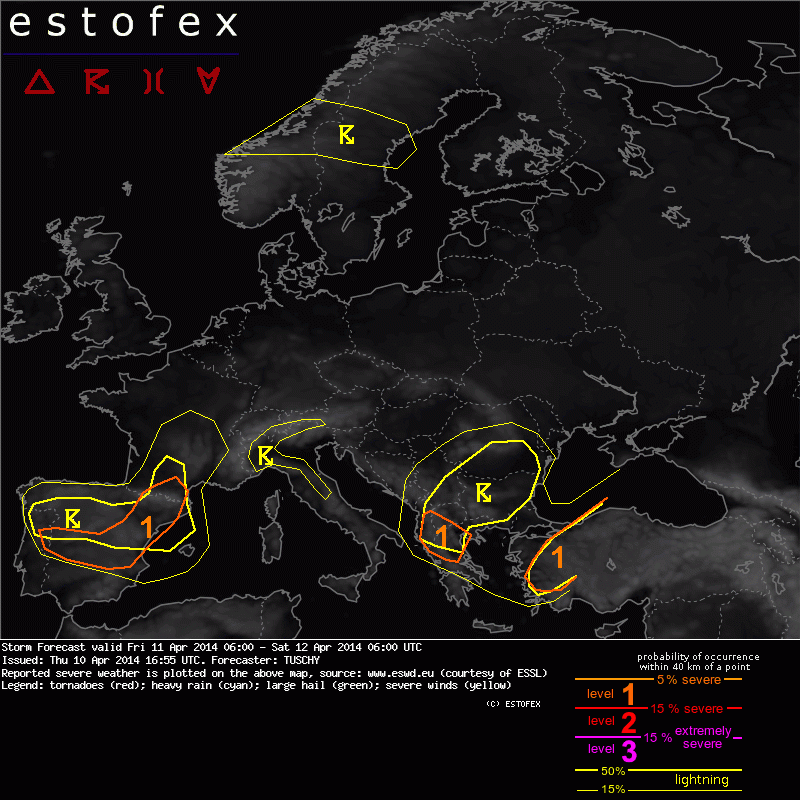 Storm Forecast
Valid: Fri 11 Apr 2014 06:00 to Sat 12 Apr 2014 06:00 UTC
Issued: Thu 10 Apr 2014 16:55
Forecaster: TUSCHY
A level 1 was issued for parts of Spain, SW France and Portugal mainly for isolated large hail and severe wind gusts. Excessive rain over NE/E Spain and SW-France is possible.

A level 1 was issued for W-Turkey mainly for isolated large hail.

A level 1 was issued for NW Greece and Albania mainly for an isolated large hail and severe wind gust event.

... SYNOPSIS and DISCUSSION ...

Latest mid-/high-tropospheric analysis maps keep a disturbed streamline pattern in place over most of Europe. An extensive cold-core vortex tries to choke itself off the westerlies over SE-Europe. This vortex temporarily builds down to the surface, as most models agree in the development of a diffuse and broad LL depression over the W-Black Sea. Yesterday's soundings sampled that environment well and showed steep lapse rates and a rather moist mid-troposphere. Although a gradual mixing of the air masses in that vortex causes mid-layer lapse rates to weaken, infiltration of somewhat higher low-tropospheric moisture from the W-Black Sea should keep the atmosphere slightly unstable ... especially with some additional daytime heating. 0-3 and 0-6 km shear will be enhanced over Albania and NW-Greece, but the main concern is limited CAPE/updraft strength and therefore weak/short-lived thunderstorm activity. However, models still diverge substantially with MLCAPE calculations for this area and we therefore can't exclude a few stronger updrafts due to better BL moisture. Isolated large hail and strong wind gusts will be the main hazard. A similar setup evolves over W-Turkey, where another level 1 was issued.

Over NE Greece, Bulgaria and S-Romania, weak shear and marginal CAPE allow pulsating storms to peak in coverage and strength during the late afternoon. Marginal hail and gusty winds are possible.