Storm Forecast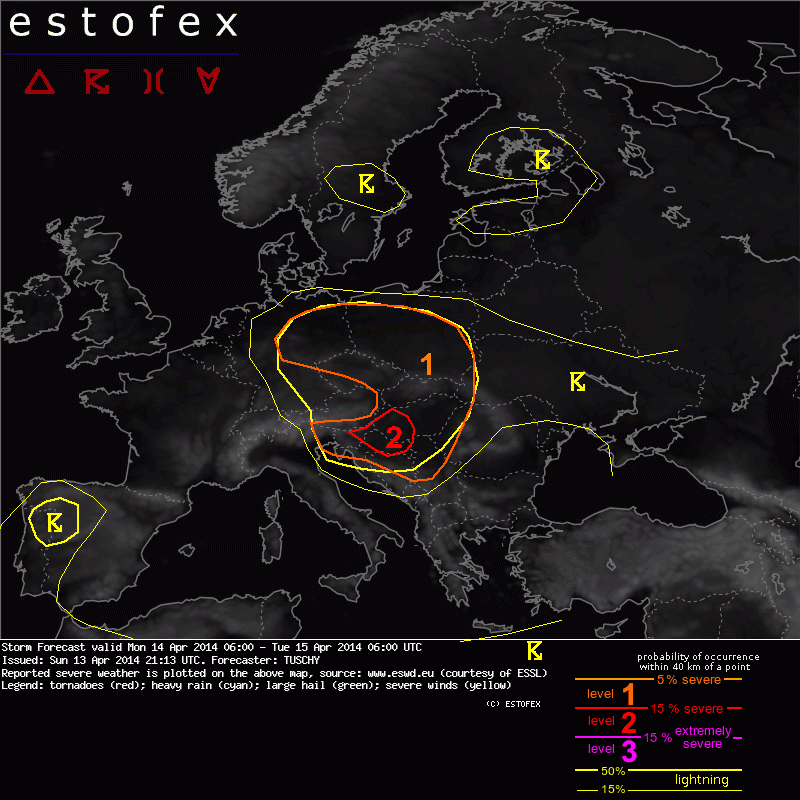 Storm Forecast
Valid: Mon 14 Apr 2014 06:00 to Tue 15 Apr 2014 06:00 UTC
Issued: Sun 13 Apr 2014 21:13
Forecaster: TUSCHY
A level 2 was issued for parts of Slovenia, E-Croatia and parts of Hungary mainly for severe wind gusts.

A level 1 was issued for parts of N-Italy, Slovenia, Hungary and Serbia mainly for large hail, severe wind gusts and an isolated tornado risk.

A level 1 was issued for E-Germany, parts of Poland, parts of the Czech Republic and Slovakia mainly for an isolated severe wind gust/large hail and tornado risk.

SYNOPSIS

A sturdy ridge over SW-Europe remains in place although global models indicate a gradual weakening of the mid-tropospheric thickness values from west to east. Along its eastern fringe, an extensive longwave trough becomes established over N/CNTRL Europe. This progessive feature amplifies SE-wards with significant height falls overspreading parts of Germany, the Czech Republic, the Alps and the N-Balkan States from NW to SE. Peak negative height tendencies are forecast over Austria, the Czech Republic, Slovakia, Slovenia and Hungary. This impulse is forecast to split into two pieces over the Alps with one strong impulse lifting to the NE towards the Ukraine, while another one gradually shifts to the N-Adriatic Sea and N-Italy.
In the lower troposphere, a pronounced pressure trough/cold front with a rise/fall pressure tendency couplet affects the SW Baltic Sea and Germany during the start of the forecast with a rapid progression to the SE. Thereafter however the area with pressure fall expands rapidly to the E and assists in a broadening and less defined surface trough structure. Conform to this scenario, a widening pressure couplet and weakening convergence along the front point to increasing frontolysis. It is not a surprise that a strong NW-flow, which interacts with the Alps assists in another area with enhanced surface pressure drop along/south of the Alps. The result will be that the SE-ward racing cold front over Slovenia and Hungary becomes held off for a few hours before moving to the SE during the late afternoon/early evening hours. The front is forecast to become quasi-stationary over the N-Adriatic Sea in response to the development of a weak Italian surface depression in the lee of the Alps.
Weak pressure gradients prevail over the E-Mediterranean and with cool mid-levels atop, unsettled conditions are expected.