Storm Forecast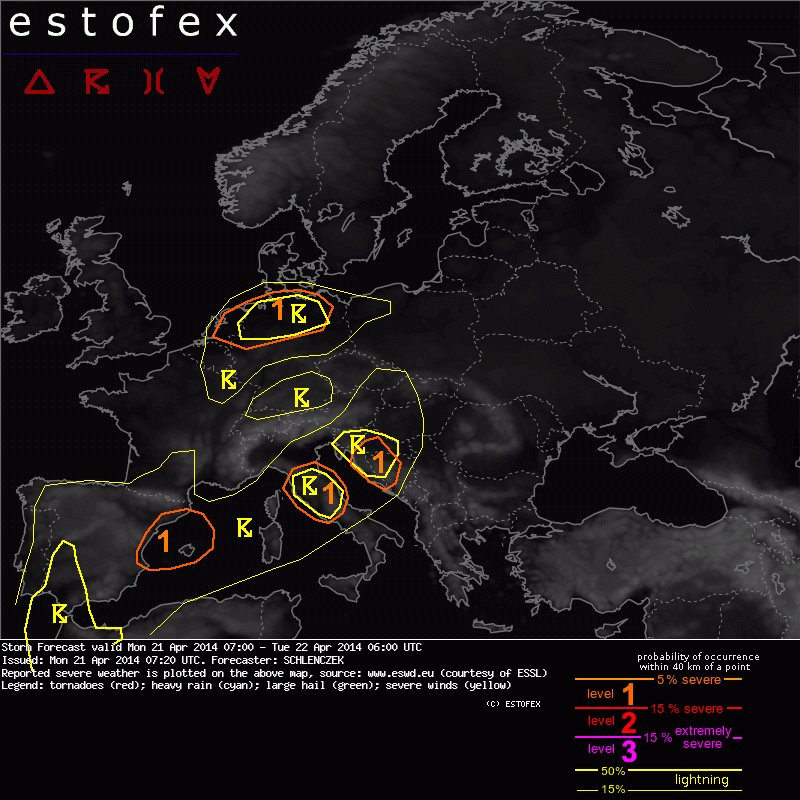 Storm Forecast
Valid: Mon 21 Apr 2014 07:00 to Tue 22 Apr 2014 06:00 UTC
Issued: Mon 21 Apr 2014 07:20
Forecaster: SCHLENCZEK
A level 1 was issued for NW Germany and the Netherlands mainly for excessive rainfall and large hail and to a lesser extent for tornadoes.

A level 1 was issued for NE Spain and Balearic Islands mainly for large hail and severe wind gusts.

A level 1 was issued for C Italy mainly for large hail and severe wind gusts.

A level 1 was issued for the eastern Adriatic region (incl. Croatia and Bosnia) mainly for large hail, severe wind gusts and excessive rainfall.

SYNOPSIS

An upper cut-off low over eastern Germany / Czech Republic moves westwards, merging with another cut-off low southwest of the British Isles. In the vicinity of these low pressure systems, a zone with 500 hPa temperatures at or below -20°C is found from the E Atlantic via W / C Europe towards the Black Sea. The southern part of this area is delimited by a WSWerly jet streak, stretching from Morocco via S Italy towards the Middle East. The best chances for deep moist convection are found ahead of the cut-off low over Germany towards Benelux, and in the intersection of the cold upper airmass and the jet streak from the N Maghreb States via Iberia and the SW Mediterranean towards Italy and the Adriatic coast. Except for the very southern part of the SW Mediterranean, CIN should not be too much for convective initiation. The greatest chance for organized severe convection should exist along the SE boundary of the upper low, which is S / SE Iberia via Balearic Islands and Corsica / Sardinia towards Italy and the Balkans.