Storm Forecast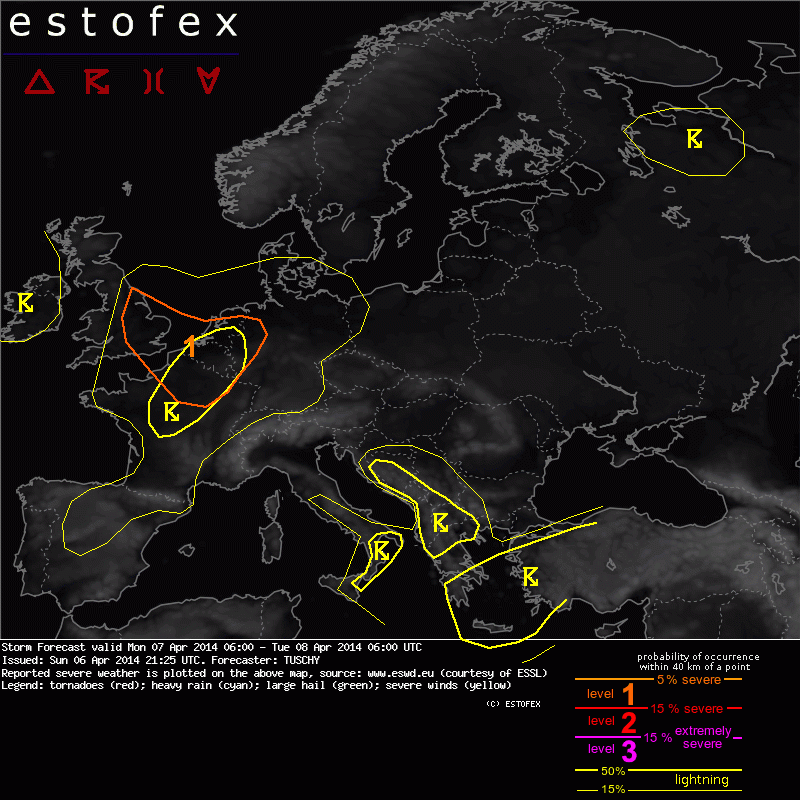 Storm Forecast
Valid: Mon 07 Apr 2014 06:00 to Tue 08 Apr 2014 06:00 UTC
Issued: Sun 06 Apr 2014 21:25
Forecaster: TUSCHY
A level 1 was issued for parts of UK mainly for an isolated tornado event.

A level 1 was issued for NE France, Belgium, parts of the Netherlands, Luxembourg and parts of extreme W/NW-Germany mainly for an isolated tornado, severe wind gust and large hail event.

SYNOPSIS

A positively-tilted trough, located over W-Ireland and the extreme western Bay of Biscay at 06Z should become neutrally or even slightly negatively oriented while crossing UK/Scotland and entering the North Sea during the end of the forecast period. This allows rather strong mid-layer height falls to affect N-France, Benelux and UK. Advancing surface pressure trough deepens over the English Channel and over the North Sea. Global models show an ongoing large spread in where and when to initiate weak low-tropospheric cyclogenesis. Combining run-to-run consistency and model spread, the most likely track of this depression will be from the N-UK to the N-North Sea. The dynamics at mid/upper levels won't support strong deepening. Despite ongoing uncertainties in track and strength of this depression, a plume of modified subtropical air advects to the NE and affects regions from N-France to Denmark. This air mass will be found in a warm sector, which is framed by a leisurely eastward moving cold front which affects UK, France and Benelux and a sharpening warm front over N-Germany/Denmark.
A strong ridge has a lock on the western part of the Mediterranean and Central Europe. Quiescent conditions prevail.
Long-lived cut-off over the Central Mediterranean starts to open up and it becomes incorporated in the large-scale cyclonic flow over NE Europe. This supports a persistent N-erly flow regime over SE-Europe. Rather dry continental air advects far south and remains mostly separated from steep mid-layer lapse rates over Turkey. Still, some areas over SE-Europe see an overlap of both ingredients with regionally enhanced CAPE-build up.