Storm Forecast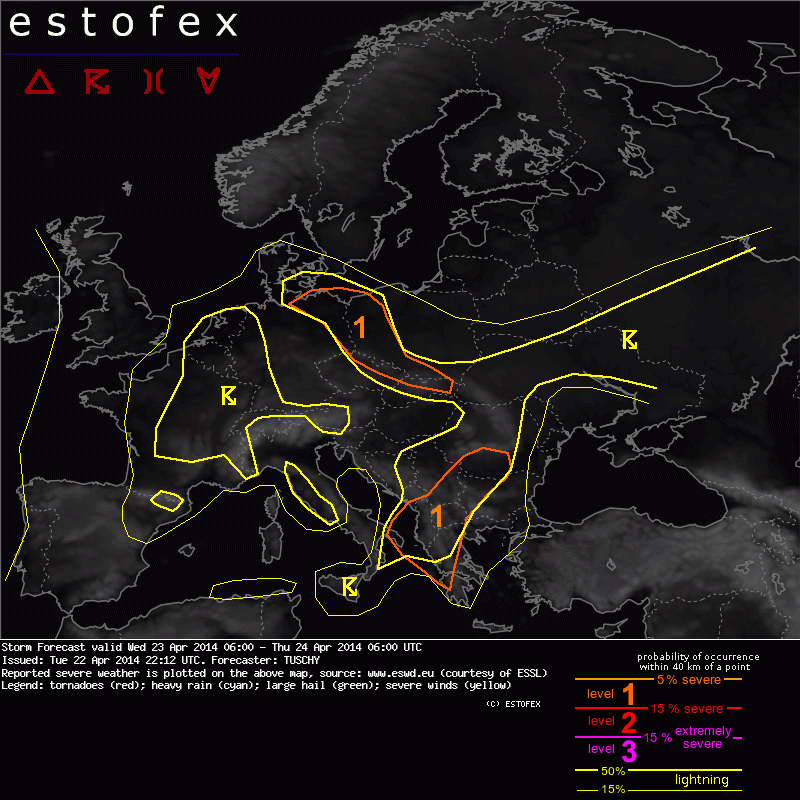 Storm Forecast
Valid: Wed 23 Apr 2014 06:00 to Thu 24 Apr 2014 06:00 UTC
Issued: Tue 22 Apr 2014 22:12
Forecaster: TUSCHY
A level 1 was issued for NE Germany, parts of Poland, the NE Czech Republic and N Slovakia mainly for an isolated large hail event and excessive rain.

A level 1 was issued for the N-Ionian and S Adriatic Sea, Albania, parts of Greece, the Republic of Macedonia, S Serbia, W Bulgaria and SW Romania mainly for large hail and excessive rain. An isolated tornado event is possible mainly along coastal areas and over Albania.

SYNOPSIS

A ridge over Norway / Sweden and a depression over the central Mediterranean create a blocking pattern over Europe. Despite gradually increasing mid-level geopotential heights and faint warming of the mid-troposphere over central Europe, environmental conditions continue to support widespread thunderstorm development over many European countries. The vortex over Sicily and S-Italy sparks a surface depression, which tracks from Malta to the Ionian Sea. Peak intensity is forecast over the far N Ionian Sea. During the night, this depression shifts further to the east and weakens over Greece and the Aegean Sea. Another mid-tropospheric trough deepens NW of the Iberian Peninsula and is about to approach Portugal during the end of the forecast. Yet another trough affects Ireland and assists in convective initiation.

Latest observational data indicates numerous convergence zones over central Europe, either induced by ongoing convection and attendant outflows or due to convergent flow due to the synoptic pattern and weak synoptic fronts.