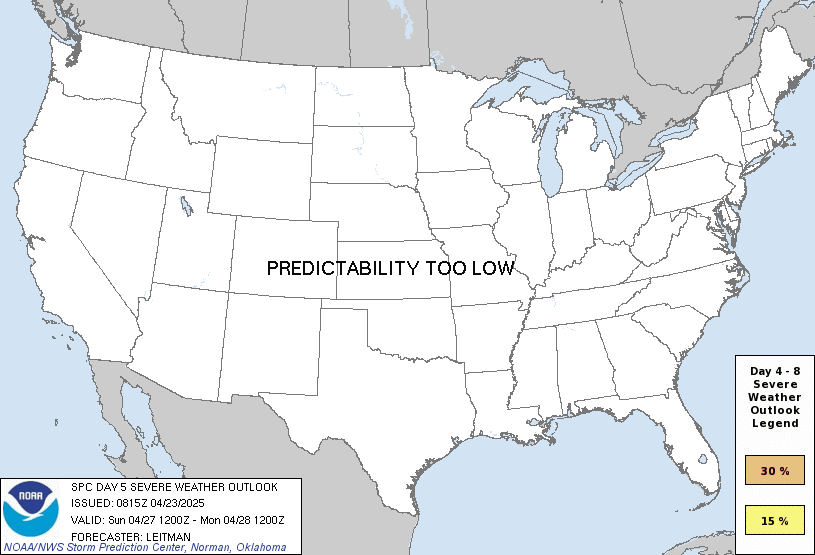 DAY 4-8 CONVECTIVE OUTLOOK
   NWS STORM PREDICTION CENTER NORMAN OK
   0400 AM CDT SUN MAY 04 2014

   VALID 071200Z - 121200Z

   ...DISCUSSION...
   MEDIUM-RANGE MODELS HAVE CONTINUED OVER THE PAST SEVERAL RUNS TO
   COME INTO BETTER AGREEMENT WITH DEPICTION OF THE UPPER TROUGH
   ADVANCE INTO THE CENTRAL U.S. DAYS 4-5 /I.E. WED.-THU./...WITH THE
   GFS AND ECMWF NOW SHOWING STRONG SIMILARITY THROUGH DAY 5 BUT
   DIVERGING GRADUALLY THEREAFTER.

   BOTH MODELS ADVANCE A LONGITUDINALLY EXTENSIVE WRN TROUGH TO ROUGHLY
   THE FRONT RANGE OF THE ROCKIES BY THE END OF DAY 4.  WITH THE
   EVOLVING PLAINS WARM SECTOR LIKELY TO REMAIN GENERALLY CAPPED
   THROUGH THE AFTERNOON/EVENING OF DAY 4...MOST DEEP CONVECTIVE
   ACTIVITY SHOULD REMAIN TO THE COOL SIDE OF THE WARM FRONT...AND THUS
   SEVERE RISK SHOULD REMAIN LIMITED. 

   DAY 5....BOTH MODELS DEPICT A SHUNTING OF THE MOST ENERGETIC PORTION
   OF THE UPPER TROUGH QUICKLY NEWD ACROSS THE CENTRAL PLAINS AND
   EVENTUALLY THE UPPER MS VALLEY...AS IT IMPINGES ON A FAIRLY STOUT
   ERN U.S. RIDGE.  AS SUCH...A SIMILAR NEWD ACCELERATION OF A
   DEEPENING SURFACE LOW...FROM ITS INITIAL POSITION OVER THE CENTRAL
   PLAINS TO THE LK SUPERIOR VICINITY LATE IN THE PERIOD...IS EXPECTED.
    AS THIS OCCURS...EWD ADVANCE OF A COLD FRONT ACROSS A
   THERMODYNAMICALLY UNSTABLE WARM SECTOR WILL YIELD WIDESPREAD
   WARM-SECTOR THUNDERSTORM DEVELOPMENT.

   A COMPLICATING FACTOR WITH RESPECT TO EVOLUTION OF SEVERE RISK DAY 5
   IS THAT BOTH MODELS ACTIVATE CONVECTION ACROSS TX LATE DAY 4 AND
   INTO THE DAY 5 PERIOD.  WHILE SOME SEVERE RISK WOULD EXIST WITH THIS
   CONVECTION LATE DAY 4 ACROSS PARTS OF WRN AND CENTRAL TX...GREATER
   RISK IS EVIDENT DAY 5 ACROSS PARTS OF N CENTRAL TX AND INTO THE ERN
   HALF OF OK AND THE ARKLATEX REGION...AS THE MOISTENING BOUNDARY
   LAYER DIURNALLY DESTABILIZES.  HERE...SEVERE RISK -- INCLUDING SOME
   TORNADO POTENTIAL -- IS EXPECTED.

   THIS SRN BATCH OF CONVECTION MAY HAVE EFFECTS ON AREAS FARTHER N --
   I.E. INTO PARTS OF NERN OK/SERN KS AND THE OZARKS...BUT A SECOND
   AREA OF LIKELY SEVERE RISK IS EXPECTED ACROSS PARTS OF ERN KS/NRN MO
   AND INTO IA/SRN MN -- NEARER THE SURFACE LOW WHERE THE STRONGEST
   FLOW ALOFT/MOST FAVORABLE SHEAR IS EXPECTED.  RISK FOR HAIL/DAMAGING
   WINDS ALONG WITH ISOLATED TORNADOES IS EXPECTED IN THIS REGION
   THROUGH THE AFTERNOON AND EVENING.  

   WHILE TWO DISTINCT AREAS OF SEVERE RISK MAY RESULT -- A NRN AND SRN
   AREA -- ON LARGER RISK AREA WILL BE INCLUDED ATTM PENDING LATER
   FORECAST DETAILS.  

   WITH THE UPPER TROUGH PROGGED TO CONTINUE QUICKLY NEWD INTO CANADA
   DAY 6...LESSER SEVERE RISK IS PROGGED AND THUS NO RISK AREAS WILL BE
   INCLUDED ATTM.