Storm Forecast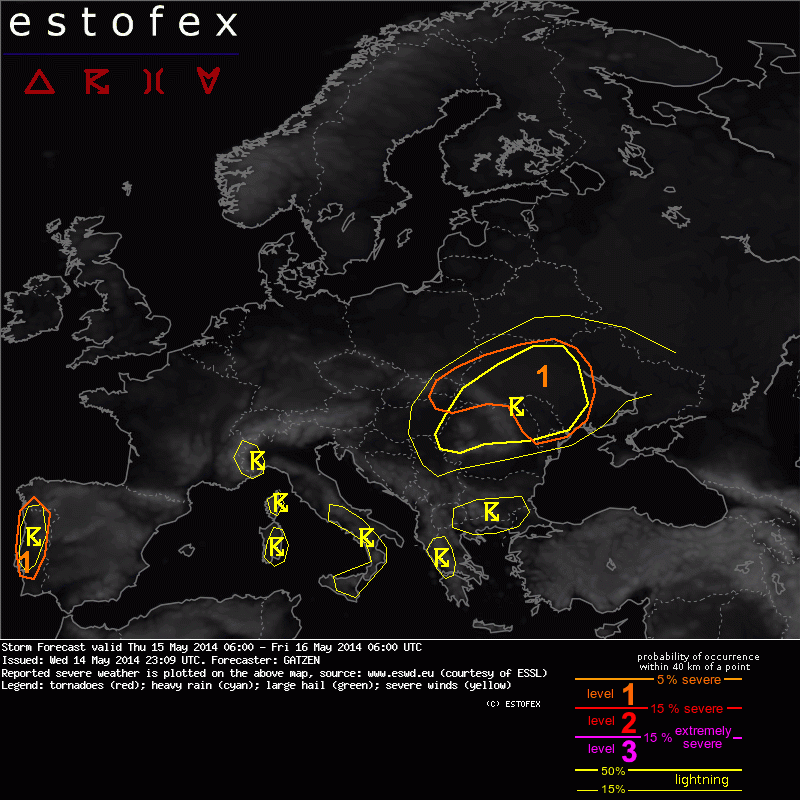 Storm Forecast
Valid: Thu 15 May 2014 06:00 to Fri 16 May 2014 06:00 UTC
Issued: Wed 14 May 2014 23:09
Forecaster: GATZEN
A level 1 was issued for the western Ukraine and Moldova mainly for excessive rain, severe wind gusts, and tornadoes.

A level 1 was issued for south-eastern Poland and eastern Slovakia mainly for excessive convective precipitation.

A level 1 was issued for western Portugal mainly for large hail and severe wind gusts.

SYNOPSIS

An intense closed upper low is forming across southern Europe, centred just east of Serbia. A strong mid-level jet spreads around its periphery, extending from western Europe into the Mediterranean and Black Sea, curving north-west into the Ukraine on Thursday. Several vort-maxima are embedded in this flow.

A ridge extends from the British Isles over southern Scandinavia into Belarus and Russia. To its north, several short-wave troughs move eastward with the polar jet stream, affecting northern Europe.

At low levels, dry air masses are forecast across northern Europe as well as over France and the northern Mediterranean in the wake of the south-European trough. Rich low-level moisture is forecast to be present over the Ukraine that advects westward during the day. Although an elevated mixed layer is missing, steepening lapse rates near the approaching jet streak are forecast to overlap with this moisture over western Ukraine and surroundings.

DISCUSSION

Western Ukraine, south-eastern Poland, and surroundings

While the mid-level trough becomes quasi-stationary across eastern Serbia on Thursday, the surface low pressure centre will move northward over western Romania. Southerly to westerly winds are expected over Bulgaria and Romania, advecting drier air. To the north-east of the Carpathian mountains, moist easterly winds will persist through-out the day, so that quite rich low-level moisture with mixing ratios around 9 g/kg are likely in the lowest 1 km.

Due to numerous thunderstorms on Wednesday, spreading across the Ukraine on Thursday, lapse rates will be quite limited. Diurnal heating may help to increase the instability, as GFS expects around 1000 J/kg MLCAPE (lowest 30 hPa) over the northern and central Ukraine.

Current thinking is that remaining convection together with stratiform rain will limit thunderstorm potential significantly. CAPE could only be a few 100 J/kg over the western Ukraine. Storms that form in the afternoon will therefore be embedded and partly elevated. However, given the strong vertical wind shear underneath a 25 m/s mid-level and 20 m/s low-level jet streak, leading to 200 m²/s² 0-1 km storm-relative helicity, every storm that roots to the boundary-layer may rapidly organize into a supercell.

Supercells that form are expected to produce all kinds of severe weather, especially excessive rain, but also strong winds and tornadoes due to the strong low-level vertical wind shear (12 m/s in the lowest km). Large hail is not expected to the main threat given the rather weak instability. If diurnal heating will be stronger that expected, very severe weather is not ruled out including strong or violent tornadoes.

In the evening hours, low-level cooling will result in stabilization and storms will become more elevated. Excessive rain will be the focus of overnights storms that spread into Poland and Slovakia.