Storm Forecast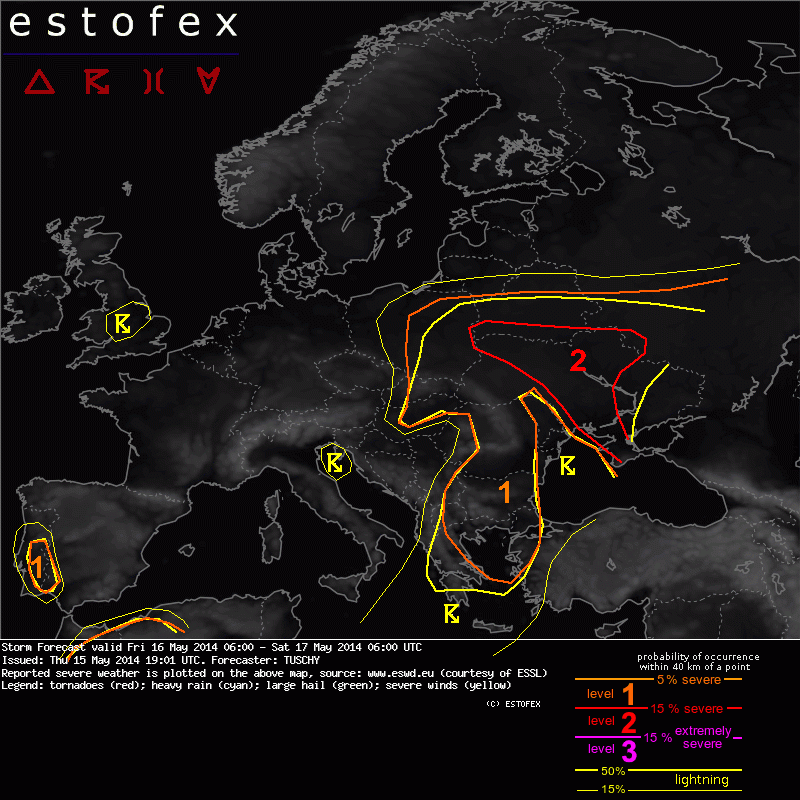 Storm Forecast
Valid: Fri 16 May 2014 06:00 to Sat 17 May 2014 06:00 UTC
Issued: Thu 15 May 2014 19:01
Forecaster: TUSCHY
A level 2 was issued for parts of the Ukraine and S-Belarus mainly for large to very large hail, severe wind gusts and excessive rain. A few tornado events are also forecast.

A level 1 surrounds the level 2 area and also includes parts of Romania, Bulgaria, the Aegean Sea, NW Turkey, Hungary and Slovakia mainly for large hail, excessive rain and an isolated tornado event.

A level 1 was issued for most of CNTRL/S Portugal mainly for large hail and an isolated severe downburst event. An isolated tornado event is possible.

A level 1 was issued for NE Morocco and NW Algeria mainly for excessive rain and large hail.

SYNOPSIS

The center of the slowly filling upper low over Serbia drifts to the west and hits the N-Adriatic Sea during the night. Numerous mid/upper level waves circle that vortex with the most prominent wave crossing the Aegean Sea until sunset and approaching the W-Black Sea during the night.

A compact upper low over Portugal feels the influence of the major vortex over SE Europe and drifts to the south and later on to the southeast towards Morocco.

High-index flow pattern continues over far N-Scandinavia as numerous troughs affect Scotland, N-Norway and N-Sweden.

In the lower troposphere, a broad LL depression covers most of Serbia, Bulgaria, Romania and the W-Black Sea all the way to the Ukraine. Models differ in developing smaller vortices in this extensive area of low pressure, but the strongest vortex probably remains anchored beneath the mid/upper vortex over Serbia/W-Romania, which also steers fronts to the N and W. The upper low over Portugal also tries to enlarge to the lower troposphere, but no data of the current model suite supports a closed LL circulation.
Two high pressure regions over UK and NW Russia try to connect. Together with dry air, no DMC is forecast for those places.
Further north, fronts move east but not enough moisture exists for enhanced convection.