Storm Forecast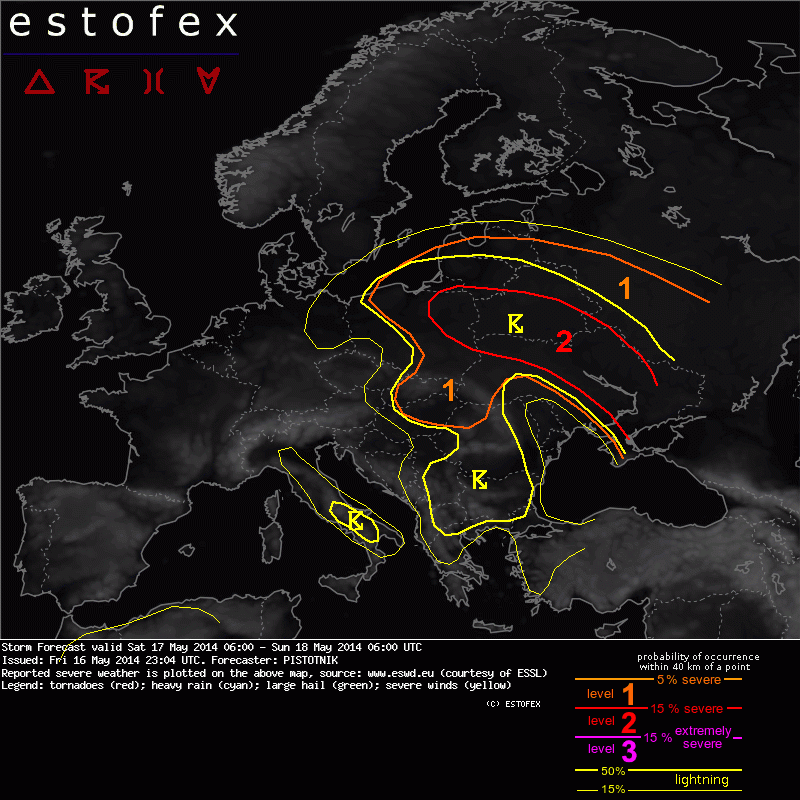 Storm Forecast
Valid: Sat 17 May 2014 06:00 to Sun 18 May 2014 06:00 UTC
Issued: Fri 16 May 2014 23:04
Forecaster: PISTOTNIK
A level 1 and level 2 were issued for large parts of the Ukraine, SW Russia, Belarus and NE Poland for large hail, severe wind gusts, excessive precipitation and tornadoes.

A level 1 was issued for Latvia, Lithuania and larger parts of Poland mainly for excessive precipitation.

A level 1 was issued for the W Ukraine, Slovakia, Hungary and NW Romania mainly for excessive precipitation and to a lesser extent for spout-type tornadoes.

SYNOPSIS

A large cut-off low, whose center slowly shifts from Serbia across Hungary to the Czech Republic, continues to govern the weather over most of the continent. It steers rather cool air into Central and Southeastern Europe, while a pronounced wrap-around warm air advection regime overspreads the Ukraine, Belarus, the Baltic States and Poland.
Two small satellite upper-level lows over the Belearic Islands and Northern Morocco get picked up by the circulation and slowly drift southeastward. The latter can spark scattered thunderstorms over the Maghreb states, but mainly outside of our forecast domain.
High pressure is present over the Eastern Mediterranean Sea and in a belt from the Bay of Biscay all the way into Northwestern Russia. To the North, a fairly strong Southwesterly flow steers two upper-level troughs and their attendant frontal systems over the Northern British Isles and Northern Scandinavia, but deep convection is not expected.