Storm Forecast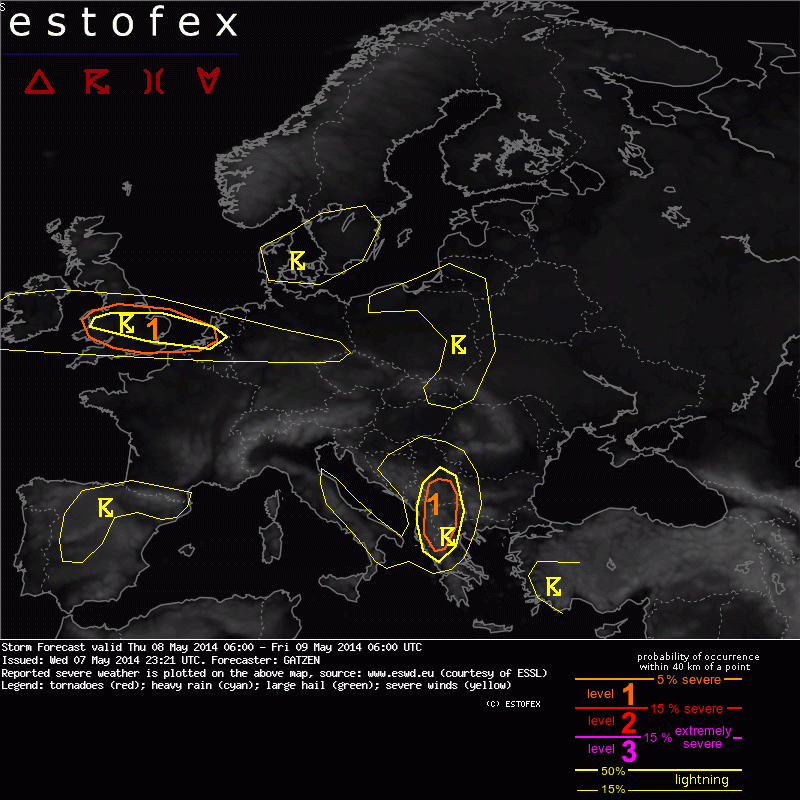 Storm Forecast
Valid: Thu 08 May 2014 06:00 to Fri 09 May 2014 06:00 UTC
Issued: Wed 07 May 2014 23:21
Forecaster: GATZEN
A level 1 was issued for the southern British Isles mainly for tornadoes.

A level 1 was issued for the southern Balkans mainly for excessive precipitation.

SYNOPSIS

A relatively strong westerly jet is directed to the British Isles, northern France, and Germany, with several embedded vort-maxima. Over central Europe, the jet forms a delta ahead of an east European trough that extends into the east Mediterranean. A first cold front has moved into Poland and the Balkans that will become quasi-stationary during the period. The associated maritime air mass is characterized by rather weak lapse rates around 6 K/km, but also better moisture as indicated by latest Wroclaw sounding. Better lapse rates that overlap with ridge moisture are still present over the southern Balkans and Italy.