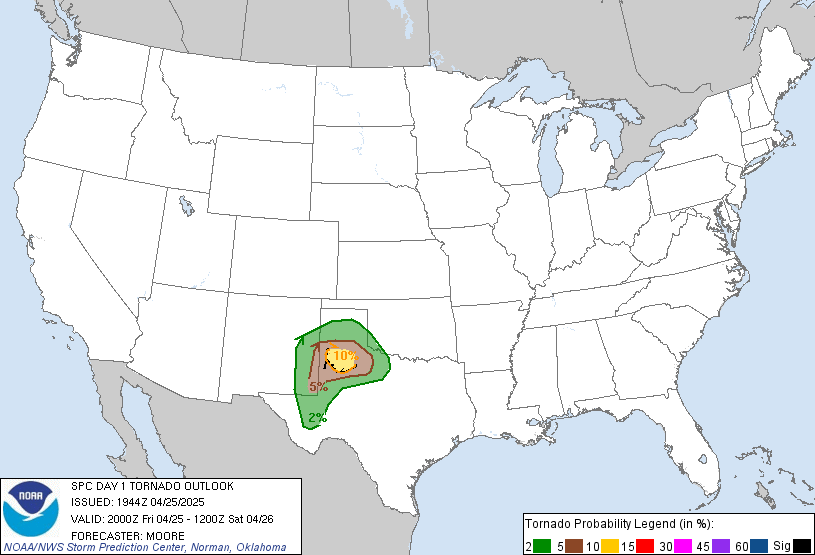 SPC AC 101951
   DAY 1 CONVECTIVE OUTLOOK  
   NWS STORM PREDICTION CENTER NORMAN OK
   0251 PM CDT SAT MAY 10 2014

   VALID 102000Z - 111200Z

   ...THERE IS A SLGT RISK OF SVR TSTMS ACROSS PARTS OF THE CNTRL
   PLAINS...MID MO VALLEY AND MID TO UPPER MS VALLEY...

   ...SUMMARY...
   WIDELY SCATTERED SEVERE THUNDERSTORMS ARE EXPECTED LATE THIS
   AFTERNOON INTO TONIGHT FROM PARTS OF NEBRASKA AND KANSAS EASTWARD
   INTO MUCH OF MISSOURI AND SOUTHERN IOWA.  LARGE HAIL WILL BE THE
   PRIMARY SEVERE THREAT...ALTHOUGH TORNADOES AND LOCALLY DAMAGING WIND
   ALSO WILL BE POSSIBLE.

   THE ONLY CHANGE TO THE OUTLOOK FOR THIS ISSUANCE IS TO ADD A 5
   PERCENT WIND DAMAGE PROBABILITY FROM NRN SC NEWD ACROSS WCNTRL NC
   WHERE NUMEROUS SEVERE STORMS ARE ONGOING. THIS ACTIVITY SHOULD HAVE
   A WIND DAMAGE THREAT THROUGH LATE AFTERNOON MAINLY DUE TO STEEP
   LOW-LEVEL LAPSE RATES WHICH SHOULD HELP WITH DOWNDRAFT ACCELERATION.