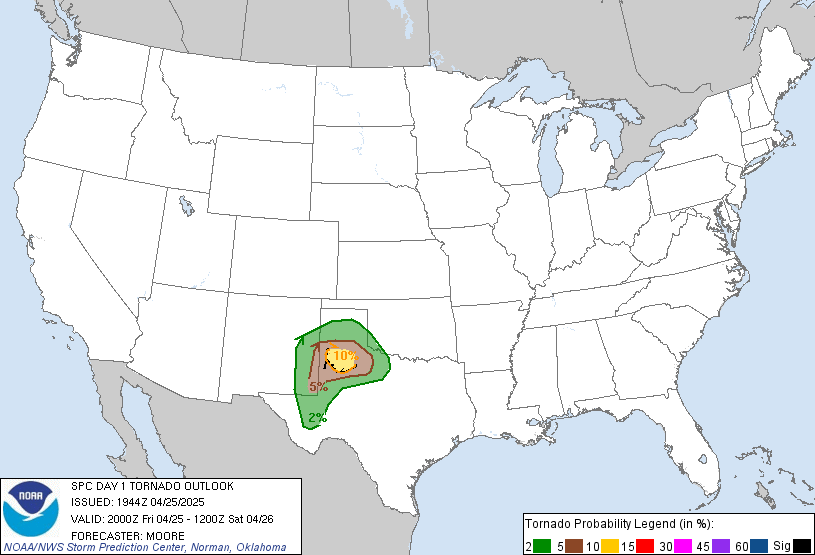 DAY 1 CONVECTIVE OUTLOOK
   NWS STORM PREDICTION CENTER NORMAN OK
   0300 PM CDT THU MAY 29 2014

   VALID 292000Z - 301200Z

   ...THERE IS A SLGT RISK OF SVR TSTMS OVER PORTIONS OF THE WESTERN
   DAKOTAS...

   ...SUMMARY...
   A FEW SEVERE THUNDERSTORMS WILL BE POSSIBLE OVER THE NORTHERN PLAINS
   LATE THIS AFTERNOON AND EVENING...WITH MORE ISOLATED SEVERE STORMS
   POSSIBLE OVER THE LOWER MISSISSIPPI VALLEY/CENTRAL GULF COAST REGION
   AND THE CAROLINAS.

   LATEST VISIBLE IMAGERY SUGGESTS THAT THE CUMULUS FIELD ALONG A COLD
   FRONT EXTENDING SOUTHWARD ACROSS THE MT-ND BORDER AND INTO CENTRAL
   WYOMING CONTINUES TO BECOME BETTER DEFINED...AND ADDITIONAL
   THUNDERSTORM DEVELOPMENT IS EXPECTED OVER THE NEXT FEW HOURS ACROSS
   PORTIONS OF THE WESTERN DAKOTAS SOUTHWARD INTO NORTHERN/EASTERN
   WYOMING. DAMAGING WINDS AND LARGE HAIL WILL BE THE PRIMARY THREATS.
   REF SWOMCD 754 FOR THE LATEST SHORT-TERM THINKING IN THIS AREA.

   MINOR WESTWARD ADJUSTMENTS WERE MADE TO THE 5 PERCENT WIND
   PROBABILITY OVER EASTERN TENNESSEE AND TO THE GENERAL THUNDER LINE
   OVER WESTERN VIRGINIA BASED ON CURRENT AND EXPECTED SHORT-TERM
   TRENDS. OTHERWISE THE PREVIOUS OUTLOOK REMAINS ON TRACK AND NO
   SIGNIFICANT CHANGES WERE MADE.