Storm Forecast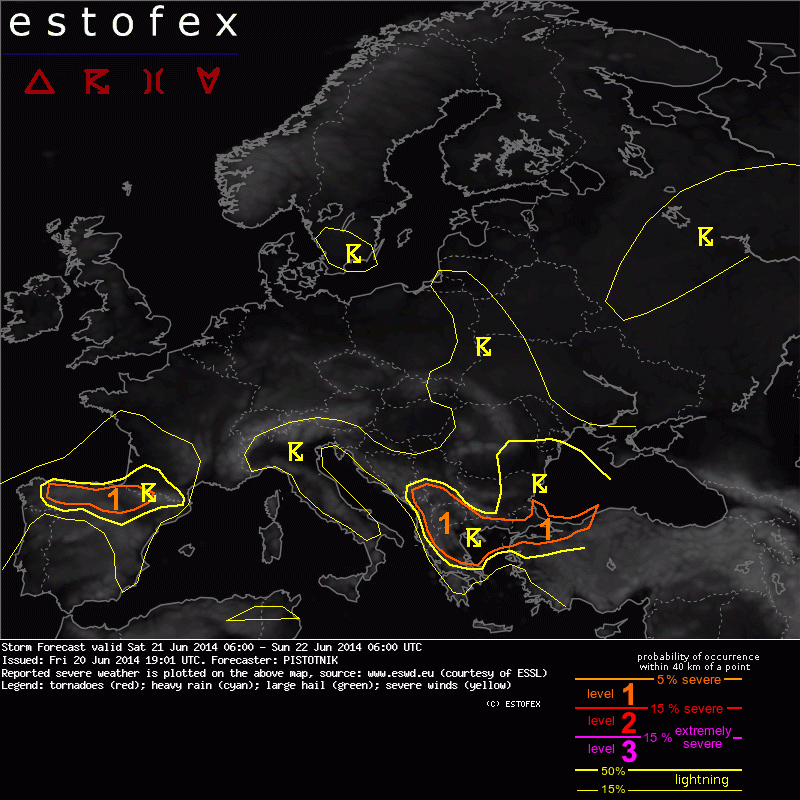 Storm Forecast
Valid: Sat 21 Jun 2014 06:00 to Sun 22 Jun 2014 06:00 UTC
Issued: Fri 20 Jun 2014 19:01
Forecaster: PISTOTNIK
A level 1 was issued for Montenegro, Albania, the Republic of Macedonia and the Greek mainland mainly for large hail.

A level 1 was issued for the Aegean and Black Sea coasts mainly for waterspouts.

A level 1 was issued for N Spain for large hail and to a lesser extent for severe wind gusts.

SYNOPSIS

Stationary waves have established over Europe. A large and pronounced upper-level low sits over Finland, and a long-wave trough stretches South all the way into Turkey. In its wake, a Northwesterly flow advects cool and dry air into much of Europe. More robust CAPE up to 1000 J/kg is confined to the Black, Aegean, Ionian and Adriatic Sea. It can be easily consumed beneath the cool upper levels to the East, while it is increasingly capped towards the West.
An upper-level ridge extends from the Western Mediterranean to Ireland. A stationary cut-off low off the Portuguese coast advects hot air from Morocco into Iberia.

Compared to the recent turmoil (an extreme cold spell even with snow in Northeastern Europe and a severe thunderstorm outbreak in Southeastern Europe), a rather calm forecast period is expected.