Storm Forecast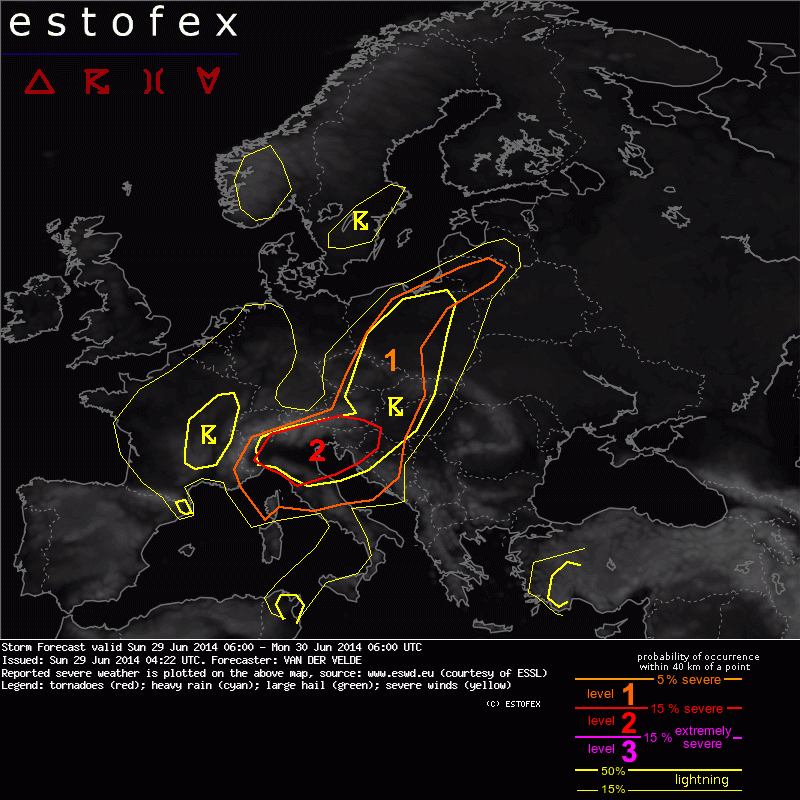 Storm Forecast
Valid: Sun 29 Jun 2014 06:00 to Mon 30 Jun 2014 06:00 UTC
Issued: Sun 29 Jun 2014 04:22
Forecaster: VAN DER VELDE
A level 2 was issued for N Italy mainly for severe convective wind gusts, large hail and excessive convective precipitation.

A level 1 was issued for parts of central Europe mainly for large hail.

SYNOPSIS

The cold front associated with a large amplitude mid level trough from Scandinavia to the Mediterranean Sea is pushing eastward through Italy and central Europe today. Surface level lows reside over southern Scandinavia and northern Italy. Cold airmass thunderstorms are likely over France, Benelux and western Germany. The prefrontal airmass over Italy is moderately unstable due to the presence of the Saharan Air Layer with steep mid level lapse rates and 10-12 g/kg moist boundary layer air. Strong winds in mid levels create a favorable kinematic environment for storms.