Storm Forecast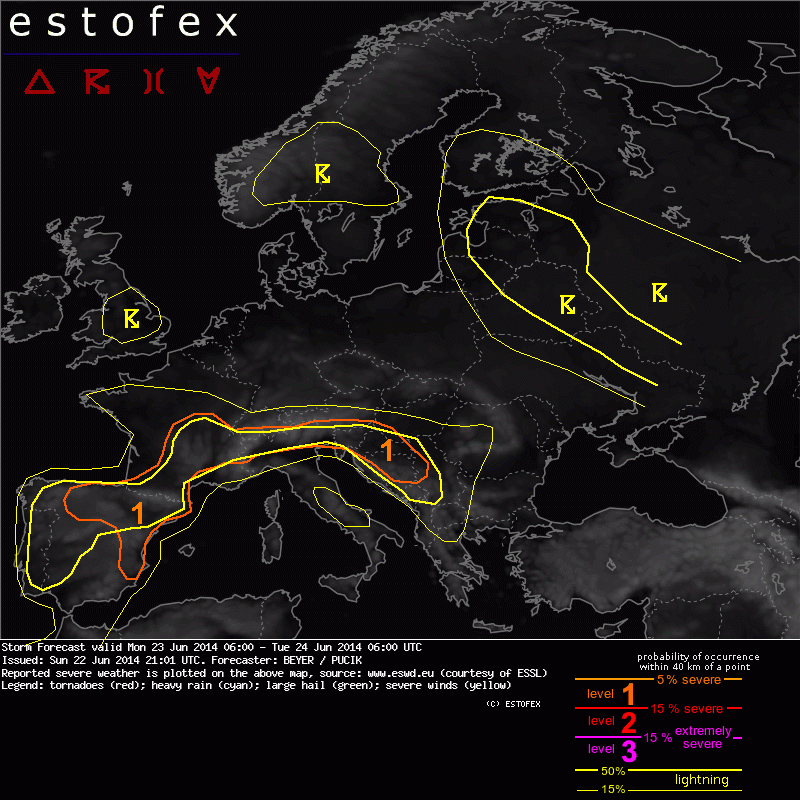 Storm Forecast
Valid: Mon 23 Jun 2014 06:00 to Tue 24 Jun 2014 06:00 UTC
Issued: Sun 22 Jun 2014 21:01
Forecaster: BEYER / PUCIK
A level 1 was issued for Northern towards Southeastern Spain mainly for large hail, severe wind gusts and to the lesser extent for excessive precipitation

A level 1 was issued for Southern to Central France mainly for excessive precipitation and large hail.

A level 1 was issued for the Alpine region towards the northern parts of the Balkan mainly for large hail and excessive precipitation.

SYNOPSIS

A wide upper level trough influences most parts of Northern and Eastern Europe as well as Western Russia. Its center is situated mostly stationary over the Baltic States. Thanks to the trough cold airmasses of polar origin are present over most parts oft the named region.

An upper level low is situated near Portugal travelling slowly to the east showing only a loose connection to the frontal zone to its north. During the forecast period it starts to weaken. Downstream of the upper level low warm and humid airmasses are advected to the north influencing most part of southern Europe from the eastern half of Spain and the Central Mediterranean area until the Balkan peninsula.

While Southeastern Europe benefits from a shallow ridge, short wave features are forecasted to travel on the forward flank of the upper level low easterward all the way to the crest of the weak ridge.