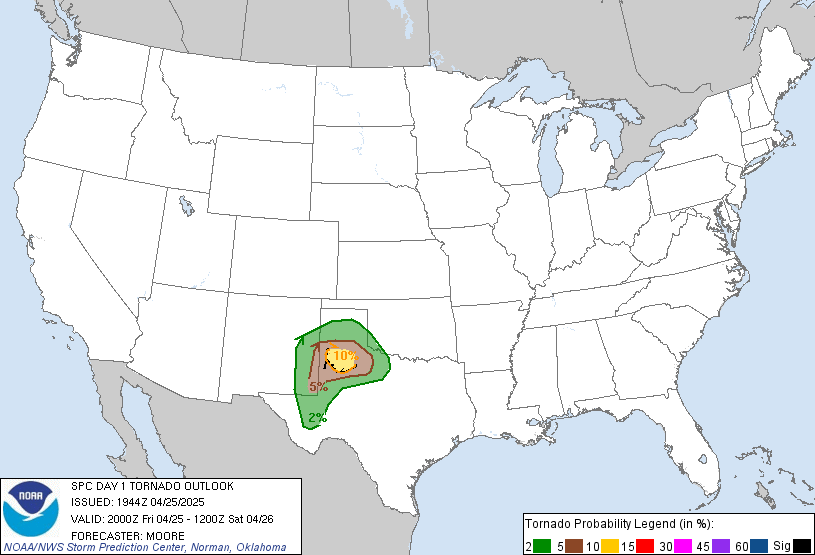 DAY 1 CONVECTIVE OUTLOOK
   NWS STORM PREDICTION CENTER NORMAN OK
   0300 PM CDT WED JUN 11 2014

   VALID 112000Z - 121200Z

   ...THERE IS A SLGT RISK OF SVR TSTMS FROM THE MID ATLANTIC INTO A
   PORTION OF THE OH VALLEY...

   ...THERE IS A SLGT RISK OF SVR TSTMS FROM THE SRN AND CNTRL PLAINS
   INTO A SMALL PART OF THE NRN PLAINS AND UPPER MS VALLEY...

   ...SUMMARY...
   SEVERE THUNDERSTORMS WITH MAINLY LARGE HAIL AND DAMAGING WINDS ARE
   LIKELY THIS EVENING FROM ERN SD AND SWRN MN SOUTHWARD ACROSS
   NEBRASKA...KANSAS...OKLAHOMA...AND WESTERN TEXAS. SEVERE STORMS ARE
   ALSO LIKELY ACROSS NORTHERN NORTH CAROLINA...MUCH OF
   VIRGINIA...MARYLAND...WEST VIRGINIA AND WESTERN PENNSYLVANIA WITH
   LARGE HAIL...DAMAGING WINDS AND ISOLATED TORNADOES.

   ...DISCUSSION...

   ONLY MODEST CHANGES HAVE BEEN MADE TO ONGOING FORECAST. IN THE EAST
   HAVE EXPANDED THE SLIGHT RISK AREA FARTHER SOUTH INTO NORTH CAROLINA
   TO ACCOUNT FOR CLUSTERING OF STORMS THAT DEVELOPED ALONG THE
   SEABREEZE AND NOW MOVING NWD. 

   FARTHER WEST...HAVE TRIMMED BACK ON THE SLIGHT RISK ACROSS NRN MN
   DUE TO LIMITED DESTABILIZATION POTENTIAL NORTH OF WARM FRONT WHERE
   WIDESPREAD LOW CLOUDS AND SHOWERS HAVE PERSISTED. STORMS ARE STILL
   ON TRACK TO INTENSIFY OVER THE CNTRL AND SRN PLAINS THIS EVENING.
   ACTIVITY SPREADING OFF THE HIGHER TERRAIN OF CO MAY INTENSIFY AS IT
   INTERCEPTS BETTER MOISTURE AND INSTABILITY ACROSS ERN CO AND WRN KS.
   OTHER STORMS MAY DEVELOP FARTHER SOUTH ACROSS WRN TX ALONG THE
   DRYLINE. ADDITIONAL STORMS MAY INITIATE ALONG THE SEWD MOVING COLD
   FRONT ACROSS NEB. MCS DEVELOPMENT IS STILL EXPECTED ACROSS PARTS OF
   KS AND OK TONIGHT. DAMAGING WIND AND LARGE HAIL WILL BE THE PRIMARY
   THREATS.