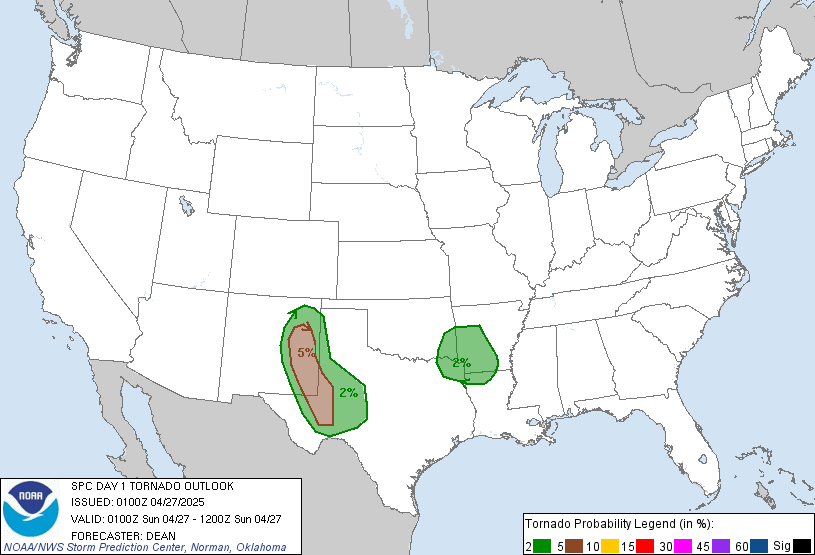 DAY 1 CONVECTIVE OUTLOOK
   NWS STORM PREDICTION CENTER NORMAN OK
   0800 PM CDT WED JUN 25 2014

   VALID 260100Z - 261200Z

   ...THERE IS A SLGT RISK OF SVR TSTMS OVER A PORTION OF THE NRN AND
   CNTRL HIGH PLAINS...

   ...SUMMARY...
   ISOLATED TO SCATTERED SEVERE THUNDERSTORMS WITH LARGE HAIL AND
   DAMAGING WINDS WILL PERSIST...MAINLY OVER PORTIONS OF THE CENTRAL
   AND NORTHERN HIGH PLAINS THROUGH MID EVENING. GUSTY WINDS MAY ALSO
   ACCOMPANY A FEW CLUSTERS OF STRONGER THUNDERSTORMS OVER THE
   NORTHEAST U.S. FROM EASTERN PENNSYLVANIA TO NEW ENGLAND THIS
   EVENING.

   ...CENTRAL THROUGH NRN HIGH PLAINS...

   STRONG TO SEVERE STORMS THAT DEVELOPED OVER THE HIGHER TERRAIN
   EARLIER TODAY CONTINUE THROUGH THE CNTRL AND NRN HIGH PLAINS. A FEW
   SUPERCELLS REMAIN EVIDENT FROM WRN NEB INTO WRN SD WHERE 00Z RAOB
   DATA SHOW 0-6 KM SHEAR UP TO 40 KT. HOWEVER...TREND SHOULD BE FOR
   MOST STORMS TO EVOLVE INTO CLUSTERS AND LINE SEGMENTS AS COLD POOLS
   MERGE AND AS THE LLJ INCREASES. THE THREAT FOR MAINLY DAMAGING WIND
   AND LARGE HAIL WILL LIKELY PERSIST UNTIL MID EVENING AS STORMS MOVE
   THROUGH AXIS OF MODERATE INSTABILITY WITH 1500-2000 J/KG MLCAPE.
   ACTIVITY SHOULD BEGIN A GENERAL WEAKENING TREND BY 03Z AS CONVECTIVE
   INHIBITION INCREASES WITH ONSET OF NOCTURNAL COOLING. 

   ...ERN PA THROUGH SERN NY AND SRN NEW ENGLAND...

   ISOLATED INSTANCES OF STRONG WIND GUSTS WILL PERSIST WITH EXPANSIVE
   SQUALL LINE OVER THE NERN STATES THROUGH MID EVENING. STORMS ARE
   EMBEDDED WITHIN WEAK FLOW ALOFT LARGELY PARALLEL TO THE LINE. THE
   DOWNSTREAM ATMOSPHERE REMAINS MODERATELY UNSTABLE /1500-2000 J/KG
   MLCAPE/ WITH WEAK CAP. THEREFORE...CONVERGENCE AND FORCED ASCENT
   ALONG THE COLD POOLS WILL LIKELY MAINTAIN STORMS THROUGH THE MOIST
   WARM SECTOR NEXT FEW HOURS.