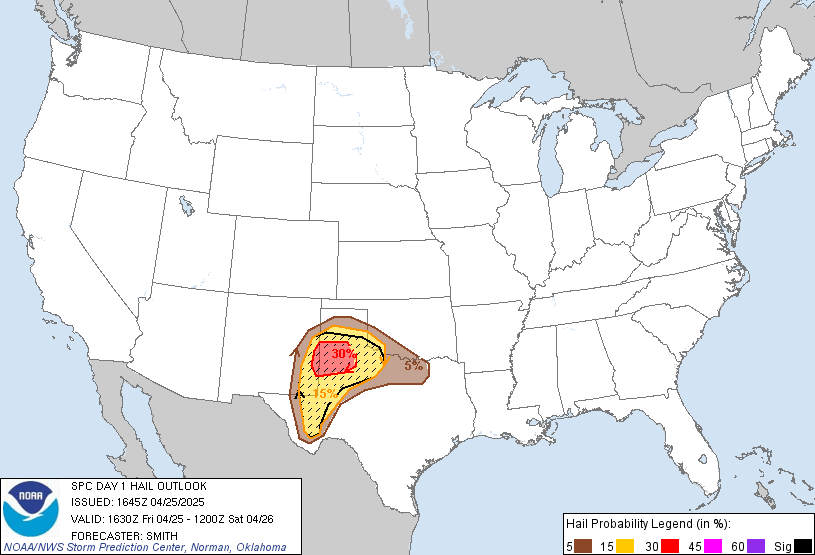 DAY 1 CONVECTIVE OUTLOOK
   NWS STORM PREDICTION CENTER NORMAN OK
   1129 AM CDT SUN JUN 29 2014

   VALID 291630Z - 301200Z

   ...THERE IS A MDT RISK OF SVR TSTMS OVER PARTS OF
   NEB...KS...IA...AND MO...

   ...THERE IS A SLGT RISK OF SVR TSTMS SURROUNDING THE MODERATE RISK
   AREA FROM THE CNTRL PLNS INTO THE MID MS VLY...

   ...THERE IS A SLGT RISK OF SVR TSTMS OVER PARTS OF THE UPR MS VLY...

   ...SUMMARY...
   SEVERE THUNDERSTORMS CAPABLE OF VERY LARGE HAIL...A FEW
   TORNADOES...AND SWATHS OF DAMAGING WIND ARE POSSIBLE THIS AFTERNOON
   AND TONIGHT OVER PARTS OF THE CENTRAL PLAINS AND THE MID AND UPPER
   MISSISSIPPI VALLEYS.

   ...SYNOPTIC SETUP...
   SEASONABLY STRONG WLY FLOW WILL PREVAIL THIS PERIOD FROM THE PACIFIC
   NW TO THE NRN PLNS/UPR MS VLY ON SRN SIDE OF NEARLY STNRY VORTEX
   OVER SRN MB. LEAD SHORTWAVE IMPULSE WITH THIS VORTEX...NOW OVER ERN
   WI...WILL CONTINUE ENE ACROSS MI LATER TODAY...FOLLOWED BY A
   WEAKER/SMALLER UPSTREAM DISTURBANCE NOW OVER CNTRL MN. FARTHER
   SW...SATELLITE INDICATES A POSSIBLE LOW-AMPLITUDE FEATURE NOW OVER
   WRN NEB THAT SHOULD CONTINUE ESE INTO THE LWR MO/MID MS VLYS BY EVE.

   AT THE SFC...MAIN COLD FRONT WITH MB SYSTEM ATTM ARCS FROM N CNTRL
   MN S AND SW THROUGH CNTRL NEB INTO THE CNTRL HIGH PLNS. THE FRONT
   SHOULD ADVANCE STEADILY E ACROSS THE UPR MS VLY TODAY...WHILE THE
   SRN PART BECOMES STNRY OVER NEB AS A WEAK LEE LOW FORMS TNGT/EARLY
   MON ALONG EXISTING LEE TROUGH OVER NE CO/NW KS.

   ...CNTRL PLNS INTO MID/UPR MS VLYS TODAY THROUGH TNGT...
   OVERALL SETUP OVER THIS REGION DURING THE NEXT 24 HRS WILL BE
   SUPPORTIVE OF MULTIPLE EPISODES/AREAS OF STRONG TO SVR TSTMS...WITH
   CONDITIONAL RISKS FOR VERY LARGE HAIL...DMGG WIND...AND TORNADOES.
   THE PATTERN WILL...HOWEVER...REMAIN COMPLICATED BY /1/ PRESENCE OF
   EXISTING CONVECTION AND /2/ THE FACT THAT UPR-LVL FORCING FOR ASCENT
   WILL BE SOMEWHAT FRACTURED AND/OR POSSIBLY NOT OPTIMALLY
   LOCATED/TIMED WITH RESPECT TO AREAS OF STRONGEST LOW-LVL
   CONVERGENCE.

   GIVEN THE CONTINUED WEAKENING OF SCTD ON-GOING TSTMS...IT APPEARS
   THAT POCKETS OF STRONG INSTABILITY /SBCAPE AOA 4000 J PER KG/ SHOULD
   DEVELOP WITH SFC HEATING FROM S CNTRL NEB SWD INTO CNTRL/WRN
   KS...AND FROM ERN NEB ESEWD INTO PARTS OF IA...ERN KS...AND NW MO.
   LARGE-SCALE FORCING FOR ASCENT ACROSS THE REGION WILL BE WEAK...WITH
   OVERALL HEIGHT RISES OCCURRING IN WAKE OF UPR MS TROUGH. THESE RISES
   WILL...HOWEVER...BE SOMEWHAT COUNTERACTED BY UPLIFT ASSOCIATED WITH
   DISTURBANCE NOW OVER WRN NEB. IF SUSTAINED STORMS DO FORM...AND THIS
   SEEMS MORE LIKELY THAN NOT...40-50 KT WNWLY DEEP SHEAR ON SRN FRINGE
   OF MB LOW WILL BE FAVORABLE FOR SUPERCELLS. COUPLED WITH RICH
   MOISTURE AND STEEP LOW TO MID-LVL LAPSE RATES...THESE COULD YIELD
   LARGE HAIL/DMGG WIND. TORNADOES ALSO MAY OCCUR...ESPECIALLY LATE
   THIS AFTN AND EARLY TNGT WITH STORMS MOVING ALONG OUTFLOW BOUNDARY
   SEGMENTS LEFT BY EARLIER STORMS.

   GIVEN THE STRENGTH OF SHEAR/BUOYANCY...AND THE LIKELIHOOD FOR
   MULTIPLE AREAS OF STORM GENERATION...SOME POTENTIAL WILL EXIST FOR
   UPSCALE DEVELOPMENT INTO MCSS. THESE COULD CONTAIN
   FOREWARD-PROPAGATING/BOWING SEGMENTS WITH DMGG WIND...ALTHOUGH
   EXPECTED FRACTURED NATURE OF LOW-LVL INSTABILITY FIELD LOWERS
   CONFIDENCE FOR ANY LONG-LIVED DERECHOS.

   ADDITIONAL ROUNDS OF STORMS...SOME WITH SVR HAIL AND POSSIBLY
   WIND...MAY OCCUR LATE TNGT THROUGH EARLY MON OVER PARTS OF NEB AND
   NRN KS...WHERE MOIST/SLY LLJ WILL STRENGTHEN E OF LEE LOW IN
   RESPONSE TO AN ADDITIONAL UPSTREAM DISTURBANCE IN WLY FLOW ALOFT.

   IN THE UPR MS VLY...A SEPARATE AREA OF STRONG TO SVR STORMS MAY
   EVOLVE WITH SFC HEATING THIS AFTN AHEAD OF MN UPR IMPULSE. DEEP
   SHEAR AND FORCING FOR ASCENT WILL BE STRONGER RELATIVE TO POINTS
   SOUTH...AND MID-LVL TEMPS WILL REMAIN COMPARATIVELY COOL. THE
   BOUNDARY LAYER...HOWEVER...BY COMPARISON WILL BE SOMEWHAT
   COOLER/DRIER. NEVERTHELESS...GIVEN 50 KT WSWLY DEEP SHEAR AND
   CONVERGENT LOW-LVL FLOW ALONG/AHEAD OF MN COLD FRONT...A CONDITIONAL
   RISK WILL EXIST FOR A FEW STORMS/POSSIBLE SUPERCELLS WITH SVR
   HAIL/WIND AND POSSIBLY A TORNADO ENE INTO THE MN
   ARROWHEAD...WI...AND PERHAPS WRN UPR MI..

   ...SRN HIGH PLNS LATE THIS AFTN AND EVE...
   STRONG SFC HEATING ALONG DRY LINE/LEE TROUGH SHOULD FOSTER ISOLD TO
   WDLY SCTD HIGH-BASED TSTMS THIS AFTN/EVE...DESPITE ABSENCE OF ANY
   IDENTIFIABLE FEATURE TO ENHANCE LARGE-SCALE FORCING FOR ASCENT.
   DEEP/WELL-MIXED SUBCLOUD LAYER BENEATH 800-1500 J/KG
   MLCAPE COULD SUPPORT STG/ISOLD SVR GUSTS AND HAIL BEFORE STORMS
   WEAKEN WITH NOCTURNAL INCREASE IN CIN.

   ...ERN LWR MI...OH/TN VALLEYS THIS AFTN...
   LARGE-SCALE ASCENT ACCOMPANYING LEAD UPR IMPULSE WILL CONTINUE TO
   SUPPORT AN ARC OF DIURNALLY-ENHANCED STORMS OVER ERN LWR MI
   TODAY...WHERE WIND PROFILES APPEARS SUFFICIENT FOR SOME DEGREE OF
   STORM ORGANIZATION/SUSTENANCE AND PERHAPS A FEW INSTANCES OF LOCALLY
   DMGG WIND.

   FARTHER S...RELATIVELY WEAK CINH AND LIFT ALONG EXISTING
   OUTFLOW/DIFFERENTIAL-HEATING BOUNDARIES SHOULD PROMOTE SCTD TSTM
   CLUSTERS SWD INTO THE OH AND TN VLYS. MULTICELLULAR STORMS MAY YIELD
   A FEW DMGG GUSTS AND POSSIBLY MARGINALLY SVR HAIL.