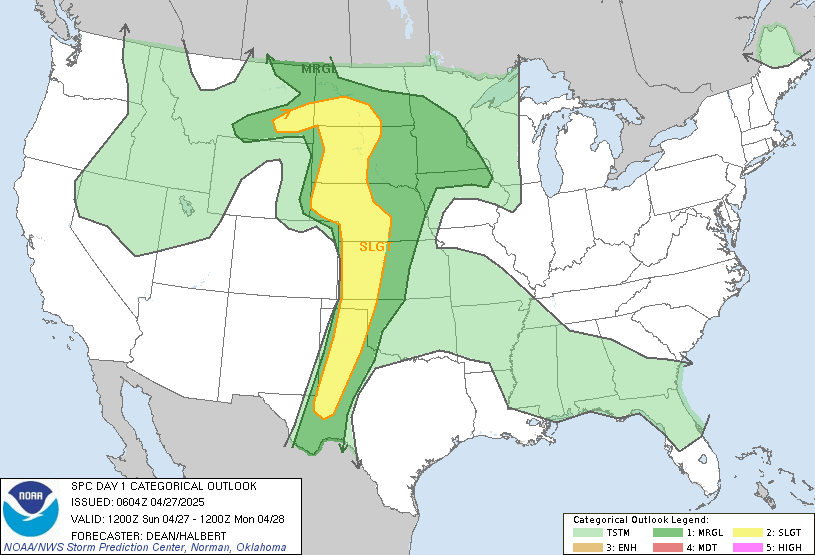 DAY 1 CONVECTIVE OUTLOOK
   NWS STORM PREDICTION CENTER NORMAN OK
   0100 AM CDT MON JUN 30 2014

   VALID 301200Z - 011200Z

   ...THERE IS A MDT RISK OF SVR TSTMS ACROSS PORTIONS OF IA/MO/IL AND
   FAR SOUTHERN WI...

   ...THERE IS A SLGT RISK OF SVR TSTMS FROM THE SOUTH-CENTRAL PLAINS
   TO THE GREAT LAKES REGION...

   ...SUMMARY...
   WIDESPREAD SEVERE THUNDERSTORMS CAPABLE OF LARGE
   HAIL...TORNADOES...AND SWATHS OF WIND DAMAGE ARE EXPECTED ESPECIALLY
   THIS AFTERNOON INTO TONIGHT ACROSS MUCH OF THE CORN BELT AND
   MIDWEST. ADDITIONAL SEVERE STORMS WILL BE POSSIBLE ACROSS THE
   SOUTH-CENTRAL PLAINS.

   ...SYNOPSIS...
   THE LONGWAVE PATTERN WILL UNDERGO AMPLIFICATION DURING THE PERIOD TO
   THE NORTH OF A PERSISTENT UPPER RIDGE ACROSS THE SOUTHERN THIRD OF
   THE CONUS. IN PARTICULAR...A CLOSED LOW WILL MOVE SLOWLY EASTWARD
   OVER NORTHERN ONTARIO...WITH A SEASONALLY STRONG UPPER
   JET/AMPLIFYING SHORTWAVE TROUGH OVER THE NORTH-CENTRAL CONUS. AS A
   RESULT...HEIGHT FALLS AND INCREASINGLY STRONG CYCLONIC FLOW ALOFT
   WILL OVERSPREAD MUCH OF THE GREAT LAKES REGION/UPPER MIDWEST AND
   LOWER MO RIVER VALLEY THROUGH TONIGHT. A SOUTHEASTWARD-MOVING COLD
   FRONT ACROSS THE MIDDLE/LOWER MO VALLEY...UPPER MIDWEST...AND
   SOUTH-CENTRAL PLAINS WILL BE A GENERAL FOCUS FOR DEEP CONVECTIVE
   DEVELOPMENT AND ASSOCIATED SEVERE POTENTIAL.

   ...LOWER/MIDDLE MO VALLEY TO MIDWEST/UPPER GREAT LAKES...
   AS COMPARED TO SUNDAY...UPPER-LEVEL FORCING FOR ASCENT WILL BE MUCH
   MORE CONSEQUENTIAL /ESPECIALLY BY LATE JUNE STANDARDS/ AND MORE
   OPTIMALLY TIMED RELATIVE TO PEAK HEATING. IN THE PRESENCE OF A VERY
   MOIST AIR MASS AND ROBUST INSTABILITY...LARGE HAIL...TORNADOES...AND
   POTENTIALLY WIDESPREAD DAMAGING WINDS ARE EXPECTED ACROSS THE REGION
   LATER TODAY AND TONIGHT.

   EARLY DAY CONVECTION AND RELATED OUTFLOWS/CLOUD DEBRIS ONCE AGAIN
   ACCOUNT FOR SOME UNCERTAINTY RELATED TO SOME OF THE FORECAST DETAILS
   LATER TODAY. IN PARTICULAR...A REMNANT OVERNIGHT MCS COULD PERSIST
   EARLY TODAY ACROSS LOWER MI/NORTHERN INDIANA VICINITY...WHILE
   ADDITIONAL STORMS ARE LIKELY TO HAVE DEVELOPED ACROSS NEB/NORTHERN
   KS TO WESTERN IA THIS MORNING. ITS POSSIBLE THAT THESE STORMS ACROSS
   THE MIDDLE MO VALLEY COULD PERSIST/BECOME SURFACE-BASED DURING THE
   DAY UNDER THE INFLUENCE OF PERSISTENT WARM ADVECTION/DPVA. OF
   GREATER LIKELIHOOD MAY BE FOR THESE STORMS TO GENERALLY DECAY...WITH
   SUBSEQUENT SURFACE-BASED DEVELOPMENT DURING THE AFTERNOON AS HEIGHT
   FALLS OVERSPREAD THE REGION AND THE BOUNDARY LAYER AGGRESSIVELY
   DESTABILIZES.

   OF NOTE RELATED TO NUMERICAL GUIDANCE...THE 00Z NAM/GFS APPEAR TO BE
   OVERLY INFLUENCED BY CONVECTIVE FEEDBACK ACROSS IA INTO THE UPPER MS
   VALLEY/LAKE MI VICINITY. WHILE REAL-WORLD FEEDBACK IS INDEED
   POSSIBLE GIVEN STRONG DIABATIC HEATING/RICH MOISTURE...THE EXACT
   RAMIFICATIONS ARE UNCERTAIN...AND THE EXTREME DETAILS OF THESE
   PROGGED DOWNSTREAM INFLUENCES /ROBUST MAGNITUDE OF THE PROGGED
   LOW-LEVEL WIND FIELD ETC./ ARE PROBABLY AT LEAST SOMEWHAT OVERDONE.

   REGARDLESS...THE MOST PROBABLE SCENARIO IS FOR SURFACE-BASED STORMS
   TO DEVELOP/INTENSIFY THIS AFTERNOON...ESPECIALLY ACROSS IA/NORTHERN
   MO TO THE EAST OF AN ADVANCING SURFACE LOW AND NEAR THE
   SOUTHEASTWARD-MOVING COLD FRONT. GIVEN EARLIER EVENING /00Z/
   OBSERVED REGIONAL RAOBS...A VERY MOIST AIR MASS WITH LOWER TO MIDDLE
   70S SURFACE DEWPOINTS ARE EXPECTED TO PREVAIL WITHIN THE NEARBY WARM
   SECTOR. THIS WILL LIKELY CONTRIBUTE TO VERY STRONG
   DESTABILIZATION...IN THE ABSENCE OF OUTFLOWS AND LINGERING THICK
   CLOUD COVER...WITH AS MUCH AS 4000-5500 J/KG OF MLCAPE EXPECTED FROM
   KS INTO IA/NORTHERN MO AND IL. ROBUST INSTABILITY IN THE PRESENCE OF
   40+ KT OF EFFECTIVE SHEAR WILL SUPPORT INTENSE SUPERCELLS AS THE
   INITIAL STORM MODE WITH A RISK OF VERY LARGE HAIL AND SOME
   TORNADOES. THE TORNADO POTENTIAL WILL BE INFLUENCED BY DIURNALLY
   STRONG LOW-LEVEL WINDS/SRH...ESPECIALLY NEAR/EAST OF THE DEVELOPING
   SURFACE LOW. GIVEN RELATIVELY STRONG FORCING FOR EARLY SUMMER...AND
   THE INFLUENCE OF THE COLD FRONT...UPSCALE QUASI-LINEAR GROWTH IS
   LIKELY TO OCCUR BY EARLY/MID-EVENING. AS SUCH...A POTENTIALLY
   WIDESPREAD DAMAGING WIND THREAT COULD EVOLVE ACROSS PORTIONS OF IA
   AND NORTHERN MO INTO IL/SOUTHERN WI AND POSSIBLE LOWER MI/NORTHERN
   INDIANA DURING THE EVENING/OVERNIGHT HOURS. 

   ...SOUTH-CENTRAL PLAINS...
   STRONG WARM SECTOR HEATING/FRONTAL UPLIFT SHOULD OVERCOME WARM
   MID-LEVEL TEMPERATURES/CAPPING WITH ISOLATED TO WIDELY SCATTERED
   STRONG TO SEVERE THUNDERSTORM DEVELOPMENT EXPECTED BY LATE
   AFTERNOON/EARLY EVENING. THE REGION WILL GENERALLY BE SOUTH OF THE
   STRONGER WESTERLIES ALOFT...BUT AROUND 30 KT OF EFFECTIVE SHEAR AND
   MODERATE TO STRONG BUOYANCY /NEAR THE FRONT AND DRYLINE/ WILL ALLOW
   FOR SUSTAINED/ORGANIZED MULTICELLS AND POSSIBLY A FEW SUPERCELLS.
   LARGE HAIL AND LOCALLY DAMAGING WINDS WILL BE THE PRIMARY HAZARDS.

   ...SOUTHERN APPALACHIANS/SOUTHEAST STATES...
   WHILE VERTICAL SHEAR/OVERALL FORCING WILL BE WEAK...SUFFICIENT
   LOW-LEVEL LAPSE RATES AND BUOYANCY MAY EXIST FOR PULSE-TYPE STORMS
   CAPABLE OF MICROBURSTS THIS AFTERNOON.