Storm Forecast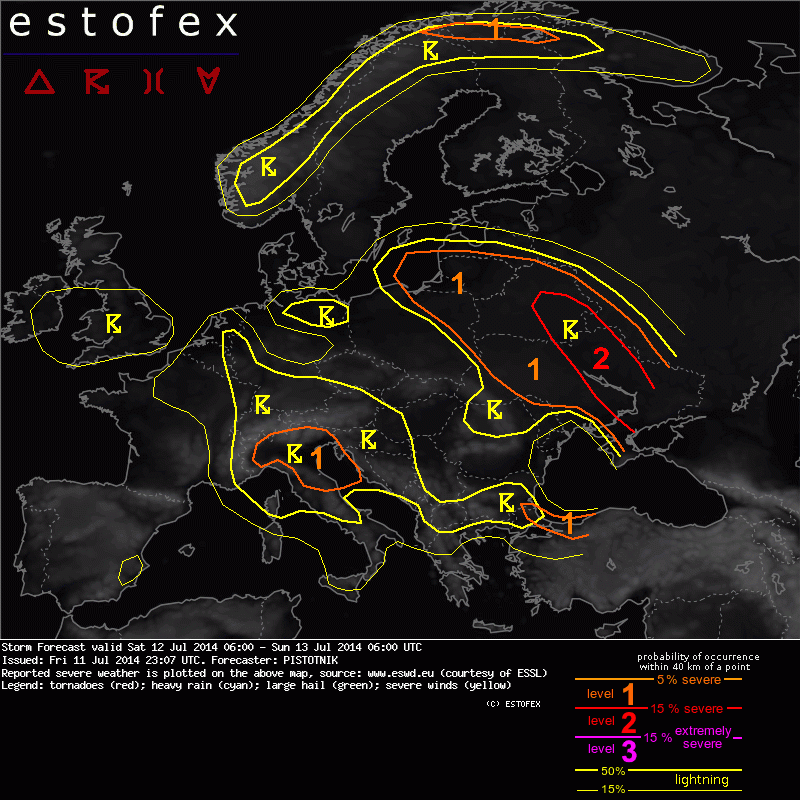 Storm Forecast
Valid: Sat 12 Jul 2014 06:00 to Sun 13 Jul 2014 06:00 UTC
Issued: Fri 11 Jul 2014 23:07
Forecaster: PISTOTNIK
A level 1 and level 2 were issued for Belarus and the Ukraine for severe wind gusts, large hail, excessive precipitation and to a lesser extent for tornadoes.

A level 1 was issued for NE Poland, the Russian exclave of Kaliningrad and Lithuania mainly for excessive precipitation.

A level 1 was issued for N Italy mainly for excessive precipitation and for the N Adriatic Sea mainly for waterpouts.

A level 1 was issued for N Turkey for large hail and severe wind gusts.

A level 1 was issued for a small area in N Norway and N Finland for large hail and to a lesser extent for severe wind gusts.

SYNOPSIS

A multi-core upper-level low still covers most of Europe. Three of its individual centers are situated over Denmark, the Gulf of Bothnia and the Westernmost Ukraine, respectively. A fourth one moves from Southern France into Central Italy. The whole complex connects with another extensive upper-level low near Iceland on Saturday, temporarily resulting in a broad trough with a strong negative tilt. Unsettled and cool to moderately warm conditions prevail in the entire range of this trough.
Near the surface, the dominant cyclone slowly regresses northwestward from the Western Ukraine across Northeastern Poland towards the Baltic Sea. Ahead of it, a tongue of very warm air is advected into the Ukraine, Belarus and the Baltic states.
High pressure brings mostly sunny and warmer-than-usual conditions into Iberia and into Scandinavia.