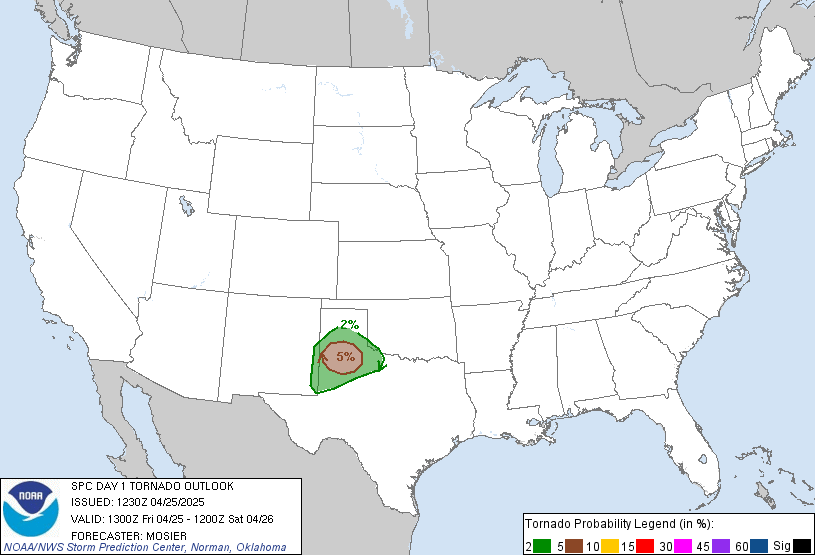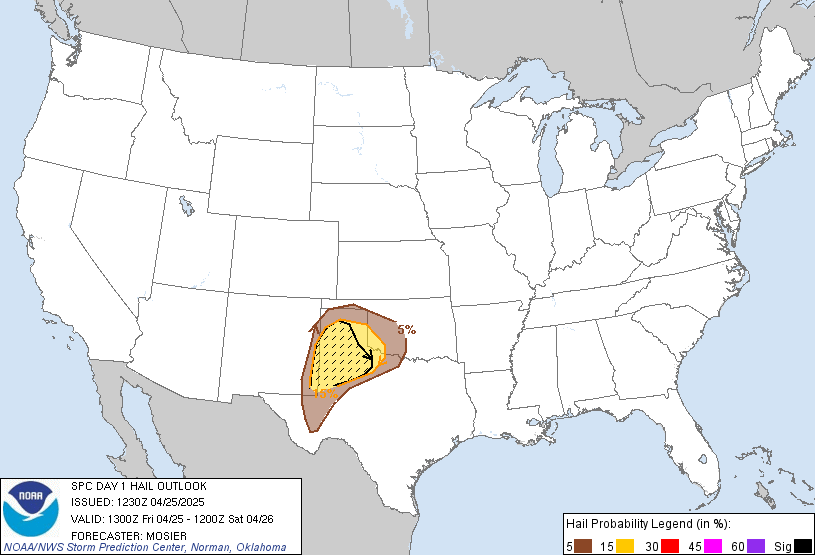 DAY 1 CONVECTIVE OUTLOOK
   NWS STORM PREDICTION CENTER NORMAN OK
   0744 AM CDT SAT JUL 05 2014

   VALID 051300Z - 061200Z

   ...THERE IS A SLGT RISK OF SVR TSTMS OVER A PORTION OF THE NRN
   PLAINS INTO THE UPPER MS VALLEY REGION...

   ...SUMMARY...
   A SEVERE WEATHER RISK INCLUDING THE POTENTIAL FOR LARGE HAIL AND
   DAMAGING WINDS WILL EXIST ACROSS THE NORTHERN PLAINS AND UPPER
   MISSISSIPPI VALLEY MAINLY LATE THIS AFTERNOON AND TONIGHT.

   ...SYNOPSIS...

   LOW-AMPLITUDE QUASI-ZONAL FLOW WITH PRIMARY BELT OF WLYS OVER THE
   NRN THIRD OF THE U.S. AND CANADA WILL CHARACTERIZE THE SYNOPTIC
   UPPER PATTERN TODAY. SEVERAL WEAK VORTICITY MAXIMA WILL MOVE THROUGH
   THIS REGIME INCLUDING ONE LOCATED OVER SRN ALBERTA THAT WILL REACH
   SRN MANITOBA EARLY THIS EVENING BEFORE TURNING ESEWD AND AFFECTING
   NRN ND AND NRN MN LATER TONIGHT. VORTICITY MAXIMUM NOW LOCATED OVER
   NRN MN WILL ADVANCE INTO THE GREAT LAKES. ANOTHER IMPULSE WILL
   CONTINUE THROUGH THE MIDDLE MS VALLEY REGION. AT THE SFC A COLD
   FRONT WILL ACCOMPANY THE SHORTWAVE TROUGH MOVING THROUGH THE CNTRL
   CANADIAN PROVINCES. THIS FRONT IS FORECAST TO ADVANCE SEWD THROUGH
   WRN AND CNTRL ND AND NWRN SD LATE THIS AFTERNOON AND
   EVENING...REACHING NWRN MN LATE TONIGHT. FARTHER SOUTH A CONVECTIVE
   OUTFLOW BOUNDARY MAY LINGER FROM NRN MO WWD INTO NERN KS BEFORE
   POSSIBLY WEAKENING AND RETREATING NWD. 

   ...ND...NRN SD AND NRN MN...

   PRE-FRONTAL MOIST AXIS IS FORECAST TO SHIFT EWD TOWARD THE UPPER MS
   VALLEY REGION DUE TO VEERING LOW-LEVEL WINDS ASSOCIATED WITH LEAD
   SHORTWAVE TROUGH LOCATED OVER NWRN MN. BOUNDARY-LAYER DEWPOINTS MAY
   MIX DOWN TO THE MID-UPPER 50S IMMEDIATELY AHEAD OF THE FRONT WITH
   MLCAPE RANGING FROM AROUND 1500 J/KG OVER THE WRN DAKOTAS TO 3000+
   J/KG FROM THE ERN DAKOTAS INTO MN BY LATE THIS AFTERNOON. VEERED
   PRE-FRONTAL WINDS WILL RESULT IN MODEST FRONTAL CONVERGENCE...BUT
   THE CAP WILL EVENTUALLY WEAKEN...ESPECIALLY OVER THE WRN DAKOTAS
   WHERE DEEP MIXING OF THE BOUNDARY LAYER WILL OCCUR. A FEW STORMS MAY
   DEVELOP ALONG THE FRONT ACROSS THE WRN DAKOTAS THIS AFTERNOON AND
   CONTINUE THROUGH WARM SECTOR. OTHER STORMS MAY DEVELOP OVER NRN MN
   WITHIN WEAK WARM ADVECTION REGIME. WITH THE APPROACH OF THE
   NRN-STREAM SHORTWAVE TROUGH...DEEP-SHEAR PROFILES WILL INCREASE TO
   30-40 KT...AND SOME STORMS MAY DEVELOP UPDRAFT ROTATION. WITH
   PRIMARY LOW-LEVEL JET WELL SOUTH OF THIS AREA...THE 0-1 KM
   HODOGRAPHS WILL REMAIN SMALL. LARGE HAIL AND DAMAGING WIND GUSTS
   WILL BE THE PRIMARY THREATS.  

   ...ERN NEB...NERN KS...IA AND NRN MO...

   STORMS SHOULD WEAKEN AS THEY DEVELOP SEWD INTO A MORE STABLE REGIME
   THIS MORNING. A SWLY LLJ WILL PERSIST...BUT GRADUALLY VEER AND
   WEAKEN DURING THE DAY IN ASSOCIATION WITH A SEWD-MOVING SHORTWAVE
   TROUGH NOW LOCATED OVER CNTRL NEB. SOME DEVELOPMENT MAY PERSIST
   NORTH OF THE TRAILING OUTFLOW FROM NERN KS INTO SERN NEB WITH A
   MARGINAL THREAT FOR HAIL. SFC-BASED DEVELOPMENT THIS AFTERNOON ALONG
   RESIDUAL OUTFLOW BOUNDARY IS POSSIBLE...BUT SATELLITE DATA SHOW
   WIDESPREAD MID/HIGH-LEVEL CLOUDS WHICH SHOULD DELAY BOUNDARY-LAYER
   DESTABILIZATION...AND SHORTWAVE TROUGH MAY NOT NECESSARILY BE
   FAVORABLY TIMED FOR THIS REGION. A BETTER CHANCE FOR MORE ROBUST
   REDEVELOPMENT MAY OCCUR LATER THIS EVENING OR OVERNIGHT ACROSS IA AS
   THE LLJ STRENGTHENS AND AUGMENTS ISENTROPIC ASCENT NORTH OF THE
   OUTFLOW BOUNDARY. THESE STORMS COULD POSE A THREAT FOR HAIL...BUT
   GIVEN WEAK CLOUD-LAYER SHEAR...THE UPDRAFTS MAY NOT BE PERSISTENT
   WITH ONLY VERY ISOLATED INSTANCES OF HAIL.