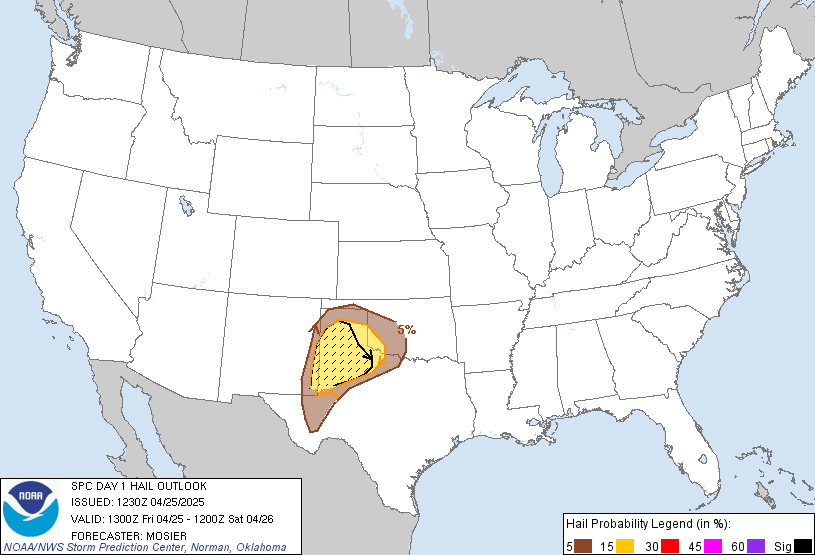 DAY 1 CONVECTIVE OUTLOOK
   NWS STORM PREDICTION CENTER NORMAN OK
   0745 AM CDT SUN JUL 06 2014

   VALID 061300Z - 071200Z

   ...THERE IS A SLGT RISK OF SVR TSTMS OVER PARTS OF THE MIDWEST...

   ...SUMMARY...
   SEVERE THUNDERSTORMS CAPABLE OF DAMAGING WIND GUSTS...LARGE HAIL AND
   A TORNADO OR TWO WILL BE POSSIBLE ACROSS PARTS OF THE MIDWEST THIS
   AFTERNOON INTO TONIGHT.

   ...SYNOPSIS...

   AN INITIALLY QUASI-ZONAL POLAR BELT OF WESTERLIES SITUATED ALONG THE
   U.S.-CANADIAN BORDER WILL AMPLIFY IN RESPONSE TO THE PROGRESSION OF
   A SHORT-WAVE TROUGH FROM SRN MANITOBA INTO THE UPPER GREAT LAKES.
   THIS MIDLEVEL PERTURBATION WILL BE ATTENDED BY A BELT OF 40-50-KT
   FLOW AT 500 MB WHICH WILL DEVELOP FROM THE NRN PLAINS TOWARD THE MID
   MS VALLEY.

   AT THE SURFACE...AN AREA OF LOW PRESSURE OVER WRN ONTARIO WILL
   DEEPEN WHILE DEVELOPING GENERALLY EWD TOWARD THE QUEBEC BORDER.
   MEANWHILE...A TRAILING COLD FRONT WILL ADVANCE FROM THE NRN PLAINS
   INTO UPPER GREAT LAKES. THE WRN EXTENSION OF THIS FRONT WILL MOVE
   MORE SLOWLY SWD BEFORE EVENTUALLY STALLING OVER THE CNTRL HIGH
   PLAINS.  

   ...UPPER GREAT LAKES INTO LOWER MO VALLEY THIS AFTERNOON INTO
   TONIGHT...

   MULTIPLE CLUSTERS OF ELEVATED TSTMS ARE ONGOING THIS MORNING FROM MN
   TO THE U.P. OF MI WITH THIS ACTIVITY LIKELY BEING FORCED BY HEIGHT
   FALLS/DCVA ASSOCIATED WITH THE MANITOBA SHORT-WAVE TROUGH. SOME OF
   THESE STORMS MAY PERSIST THIS MORNING WITH A RISK FOR SMALL HAIL
   GIVEN THE PRESENCE OF MODEST MUCAPE SAMPLED BY THE 12Z MPX 
   SOUNDING.

   IN THE WAKE OF THE EARLY-DAY ACTIVITY...THINNING CLOUDS COUPLED WITH
   BOUNDARY-LAYER DEWPOINTS IN THE UPPER 60S TO LOWER 70S AND STEEP
   MIDLEVEL LAPSE RATES WILL YIELD A STRONGLY UNSTABLE WARM SECTOR WITH
   MLCAPE VALUES APPROACHING 3000-4000 J/KG. ISOLATED TO WIDELY
   SCATTERED STORM DEVELOPMENT IS ANTICIPATED BY MID TO LATE AFTERNOON
   ALONG THE COLD FRONT AND ANY RESIDUAL OUTFLOW BOUNDARIES FROM PARTS
   OF CNTRL WI TO NERN IA AS THE REGION IS GLANCED BY THE SHORT-WAVE
   TROUGH MOVING INTO THE UPPER GREAT LAKES. 

   GIVEN THE FAVORABLE OVERLAP OF STRONG INSTABILITY AND A VERTICALLY
   VEERING WIND PROFILE WITH 30-40 KT OF EFFECTIVE BULK
   SHEAR...SUPERCELLS AND/OR INTENSE MULTICELLS APPEAR PROBABLE AS THE
   INITIAL STORM MODE WITH A RISK FOR LARGE HAIL AND PERHAPS A COUPLE
   OF TORNADOES. WITH TIME...MERGING STORM-SCALE OUTFLOWS MAY PROMOTE
   UPSCALE GROWTH INTO SEWD-MOVING CLUSTERS WITH THE THREAT FOR
   DAMAGING WINDS AND HAIL CONTINUING INTO TONIGHT ACROSS PARTS OF
   IL...PERHAPS INTO NERN MO.

   ISOLATED OCCURRENCES OF DAMAGING WINDS AND SEVERE HAIL WILL BE
   POSSIBLE OVER PARTS OF LOWER MI LATER THIS EVENING INTO TONIGHT AS
   DIURNALLY ENHANCED STORMS SPREAD SEWD ACROSS LAKE MI. FARTHER TO THE
   W ACROSS SERN NEB/NERN KS/NWRN MO...ISOLATED AFTERNOON/EVENING
   STORMS MAY EVOLVE INTO A SWD-MOVING COMPLEX WITH A RISK FOR LOCALLY
   DAMAGING WINDS AND MARGINALLY SEVERE HAIL. FOR THESE LATTER TWO
   AREAS...GREATER UNCERTAINTY IN SEVERE TSTM COVERAGE PRECLUDES
   INTRODUCTION OF A CATEGORICAL SLIGHT RISK AT THIS JUNCTURE.