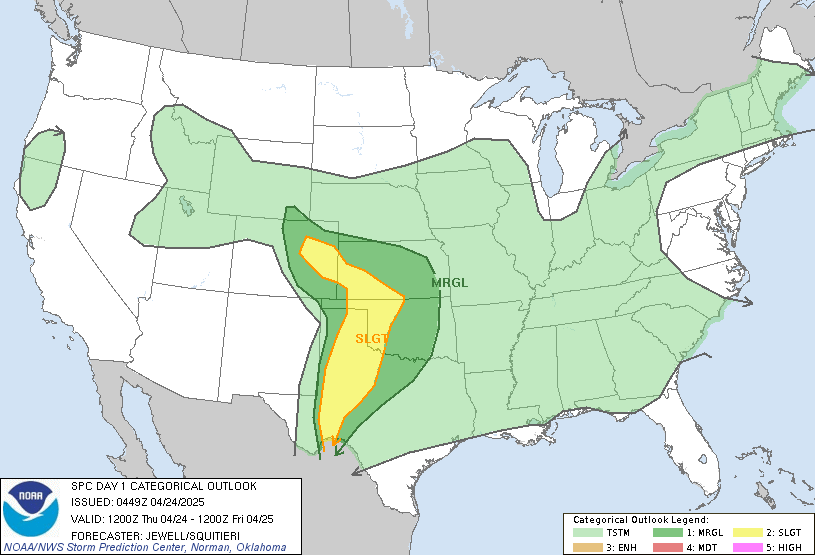 DAY 1 CONVECTIVE OUTLOOK
   NWS STORM PREDICTION CENTER NORMAN OK
   1259 AM CDT TUE JUL 08 2014

   VALID 081200Z - 091200Z

   ...THERE IS A SLGT RISK OF SVR TSTMS FROM PORTIONS OF THE OZARKS
   NORTHEAST THROUGH THE OH/TN VALLEY REGION TO WESTERN NEW ENGLAND...

   ...SUMMARY...
   SEVERE THUNDERSTORMS WITH DAMAGING WINDS WILL BE MOST LIKELY ON
   TUESDAY ALONG A CORRIDOR STRETCHING FROM WESTERN AND CENTRAL
   PORTIONS OF NEW YORK AND PENNSYLVANIA...SOUTHWESTWARD ACROSS THE
   OHIO VALLEY...AND INTO NORTHERN ARKANSAS. OTHER THUNDERSTORMS
   CAPABLE OF STRONG WIND GUSTS WILL BE POSSIBLE ACROSS SOUTHERN
   ARIZONA AND ACROSS PORTIONS OF OKLAHOMA AND THE TEXAS PANHANDLE.

   ...SYNOPSIS...
   UPPER LEVEL FLOW OVER THE GREAT LAKES...OHIO VALLEY AND THE
   NORTHEAST WILL AMPLIFY SOMEWHAT ON TUESDAY AS A SHORTWAVE PIVOTS
   NORTHEASTWARD ACROSS THESE AREAS DURING THE AFTERNOON. A COLD FRONT
   ASSOCIATED WITH THIS SHORTWAVE WILL EXTEND FROM THE EASTERN GREAT
   LAKES SOUTHWEST TO SRN IL AND NRN OK BY TUE AFTN. ELSEWHERE...UPPER
   LEVEL RIDGING WILL DOMINATE MUCH OF THE WRN U.S. WITH ELY FLOW ALOFT
   ACROSS AZ/NM. 

   ...ERN OHIO NORTHEAST INTO WRN PA/NY...
   HEIGHT FALLS WILL OVERSPREAD THE REGION DURING THE AFTN PROVIDING
   LARGE-SCALE FORCING FOR ASCENT AS THE COLD FRONT MOVES SEWD INTO THE
   AREA. SVR TSTMS WILL MOVE INTO OR DEVELOP IN THIS REGION
   CHARACTERIZED BY MLCAPE OF 1000-1500 J/KG AND 35 TO 40 KTS OF DEEP
   SHEAR. NAM GUIDANCE CONTINUES TO SUGGEST THE POSSIBILITY OF A WEAK
   FRONTAL WAVE OVER LAKE ERIE...WHICH WOULD RESULT IN A MORE FAVORABLE
   HODOGRAPH FOR SUPERCELLS AND A TORNADO OR TWO IN THIS REGION GIVEN
   0-3 KM SRH OF APPROACHING 200 M2/S2. 

   ...MUCH OF THE OH/TN VALLEY REGION SOUTHWEST TO SRN MO/NRN AR...
   TSTMS MAY BE IN PROGRESS EARLY IN THE DAY TUESDAY AS TSTMS MONDAY
   NIGHT CONTINUE MOVING SEWD...AND AS THE SHORTWAVE PROVIDES LARGE
   SCALE FORCING FOR ASCENT ACROSS THE REGION. DAYTIME HEATING OF A
   VERY MOIST AIR MASS AND SOMEWHAT STEEPER MID-LEVEL LAPSE RATES WILL
   RESULT IN MLCAPE OF 1500 TO 2500 J/KG /LOCALLY HIGHER/. LARGELY
   UNIDIRECTIONAL FLOW WILL RESULT IN TSTMS IN LINES/BOWING SEGMENTS AS
   THE PREDOMINANT CONVECTIVE MODE...ALTHOUGH A FEW SUPERCELLS WILL BE
   POSSIBLE WITH A THREAT FOR LARGE HAIL AND PERHAPS A TORNADO GIVEN
   35-40 KTS OF DEEP SHEAR.

   ...OK/TX PANHANDLE INTO NERN NM...
   ALTHOUGH THE FLOW ALOFT WILL BE CONSIDERABLY WEAKER IN THIS
   AREA...INTENSE DAYTIME HEATING AND MODEST CONVERGENCE ALONG THE
   FRONT SHOULD ALLOW ISOLATED TO WIDELY SCTD TSTMS TO DEVELOP IN THE
   MODERATELY UNSTABLE AIR MASS /MLCAPE 1500-2500 J/KG/ DURING THE LATE
   AFTN/EVENING HOURS. WITH AFTN TEMPS IN THE UPPER 90S AND LARGE
   TEMP-DEW POINT SPREADS...TSTMS WILL HAVE THE POTENTIAL TO PRODUCE
   STRONG/SVR GUSTS.

   ...AZ...
   STRONG HEATING OF A MOIST AIR MASS TUESDAY SHOULD ONCE AGAIN RESULT
   IN TSTM DEVELOPMENT ACROSS THE HIGHER TERRAIN...WITH WEAK ELY FLOW
   ALOFT ALLOWING STORMS TO MOVE WWD IN CLUSTERS WITH THE POTENTIAL FOR
   STRONG WIND GUSTS.