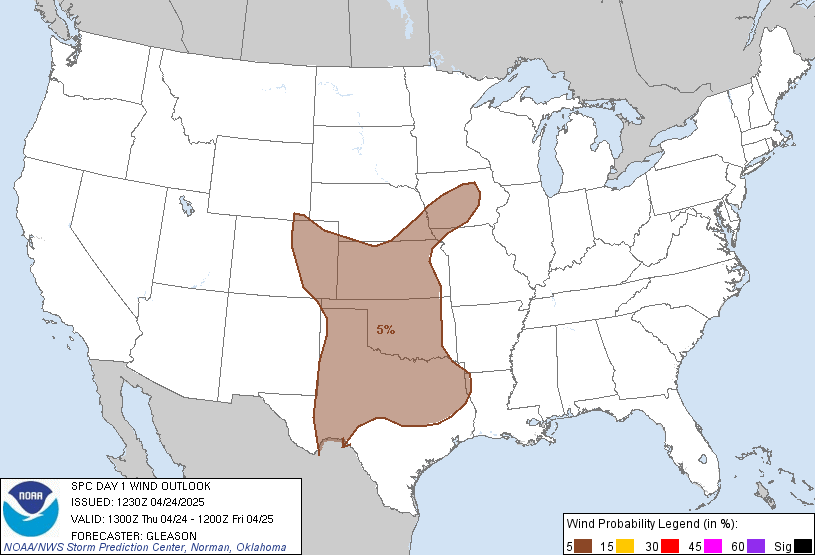 DAY 1 CONVECTIVE OUTLOOK
   NWS STORM PREDICTION CENTER NORMAN OK
   0752 AM CDT SUN AUG 24 2014

   VALID 241300Z - 251200Z

   ...THERE IS A SLGT RISK OF SVR TSTMS OVER PARTS OF THE UPR MS VLY
   AND NRN PLNS...

   ...SUMMARY...
   SCATTERED THUNDERSTORMS WITH LOCALLY SEVERE HAIL AND WIND ARE
   POSSIBLE OVER PARTS OF MINNESOTA AND NORTHWEST WISCONSIN...WITH MORE
   ISOLATED STORMS EXPECTED FROM IOWA INTO EASTERN KANSAS. LOCALIZED
   STRONG TO DAMAGING GUSTS ALSO MAY OCCUR OVER FLORIDA AND THE CENTRAL
   GULF COAST STATES DURING THE DAY.

   ...SYNOPTIC SETUP...
   POTENT ERN MT UPR LOW WILL MOVE NEWD INTO NW ND LATER TODAY BEFORE
   CONTINUING ENE INTO SE MB TNGT/EARLY MON. AT THE SAME
   TIME...AMPLIFIED...POSITIVE-TILT RIDGE WILL PERSIST FROM THE SRN
   PLNS/LWR MS VLY TO THE LWR GRT LKS.  

   LOW ASSOCIATED WITH THE MT SYSTEM...NOW CENTERED NEAR
   BISMARCK...SHOULD DRIFT SLOWLY N AND OCCLUDE AS THE TRIPLE POINT LOW
   BECOMES THE MAIN CENTER OF CIRCULATION AND MOVES NNE TO NEAR
   WINNIPEG EARLY MON. COLD FRONT ARCING S FROM THE LOW WILL ADVANCE
   ENE INTO CNTRL MN AND NW IA BY LATE TODAY...SERVING AS A FOCUS FOR
   THE DEVELOPMENT OF AFTN/EVE STORMS. ELSEWHERE...WEAK BACK-DOOR COLD
   FRONT SHOULD DECELERATE AS IT CONTINUES W/SW ACROSS THE OH VLY AND
   CNTRL GULF CST STATES.

   ...NE ND/MN/NRN AND WRN WI TODAY/TNGT...
   STORMS/CONVECTION NOW OVER MN/NRN IA LARGELY ARE TIED TO LEAD
   IMPULSE EJECTING NNE AHEAD OF MT-ND UPR LOW. THIS ACTIVITY SHOULD
   FURTHER WEAKEN AS THE STORMS AND ASSOCIATED WARM FRONT CONTINUE NEWD
   THROUGH LATER TODAY. CLEARING AND SFC HEATING IN WAKE OF THE
   FRONT/STORMS SHOULD PROMOTE NEW TSTM DEVELOPMENT LATER THIS AFTN AND
   EVE ALONG COLD FRONT AS THAT BOUNDARY MOVES INTO WRN AND CNTRL MN. 

   40 KT SSWLY DEEP SHEAR WILL BE FAVORABLE FOR SUPERCELLS...WITH
   LOW-LVL SHEAR MAXIMIZED ALONG RESIDUAL OUTFLOW BOUNDARIES AND WARM
   FRONT. THE STORMS COULD YIELD SVR HAIL...LOCALLY DMGG WIND...AND
   PERHAPS A COUPLE TORNADOES. THE ACTIVITY SHOULD MERGE INTO A
   CLUSTER/SQLN NEAR THE MN-WI BORDER BY EVE...BEFORE CONTINUING ENE
   ACROSS WRN/NRN WI WITH A GRADUALLY DIMINISHING SVR RISK LATER TNGT.
   FARTHER N...MORE ISOLD SVR STORMS MAY OCCUR OVER NE ND AND NW MN.
   STEEPER MID-LVL LAPSE RATES AND STRONGER FORCING FOR ASCENT IN THIS
   REGION COULD OFFSET LESSER MOISTURE TO STILL SUPPORT STRONG
   UPDRAFTS.

   ...NRN/WRN IA SWWD INTO ERN NEB AND CNTRL/ERN KS LATE TODAY/TNGT...
   STRONG SFC HEATING WILL STEEPEN LOW-LVL LAPSE RATES OVER PARTS OF
   THE CNTRL PLNS/MO VLY TODAY...ALONG EWD-DISPLACED LEE TROUGH MARKING
   WRN EDGE OF LOW-LVL MOISTURE. A BAND OF ISOLD TO PERHAPS WDLY SCTD
   LATE-DAY STORMS SHOULD FORM ALONG THE TROUGH. 

   LARGE-SCALE FORCING FOR ASCENT WILL BE WEAK...ALTHOUGH BY EVE ERN
   NEB/WRN IA WILL BE GLANCED BY SRN FRINGE OF VORT LOBE ROUNDING BASE
   OF MT-ND LOW. SWLY DEEP SHEAR WILL BE NEGLIGIBLE IN KS...BUT IN
   NEB-IA SUFFICIENT /30 KT/ FOR SOME DEGREE OF STORM
   ORGANIZATION/SUSTENANCE. SETUP MAY YIELD A FEW INSTANCES OF LOCALLY
   DMGG WIND IN KS...WHILE FARTHER N...A CLUSTER OR TWO OF LONGER-LIVED
   STORMS MAY ARISE IN ERN NEB/WRN IA. GIVEN COMPARATIVELY STRONGER
   SHEAR AND MOISTURE /PW AOA 1.50 INCHES/ IN THIS REGION...THESE MAY
   POSE A CONDITIONAL RISK FOR BOTH SVR WIND AND HAIL...ESPECIALLY
   EARLY TNGT. 

   ...FL/SW GA WWD INTO AL/ERN MS THIS AFTN...
   SFC HEATING WILL LEAD TO APPRECIABLE LOW-LVL DESTABILIZATION NEAR
   BACK-DOOR FRONT CROSSING PARTS OF THE SOUTHEAST TODAY...BUT MID-LVL
   LAPSE RATES WILL BE WEAK AS 500 MB TEMPS REMAIN AROUND MINUS 5C.
   NEVERTHELESS...WITH PW AROUND 2 INCHES AND MODEST NNELY FLOW ON ERN
   FLANK OF UPR RIDGE...SETUP CLOUD PROMOTE DEVELOPMENT OF
   SW-PROPAGATING PULSE STORM CLUSTERS CAPABLE OF LOCALLY DMGG WIND
   ALONG/AHEAD OF FRONT.