Storm Forecast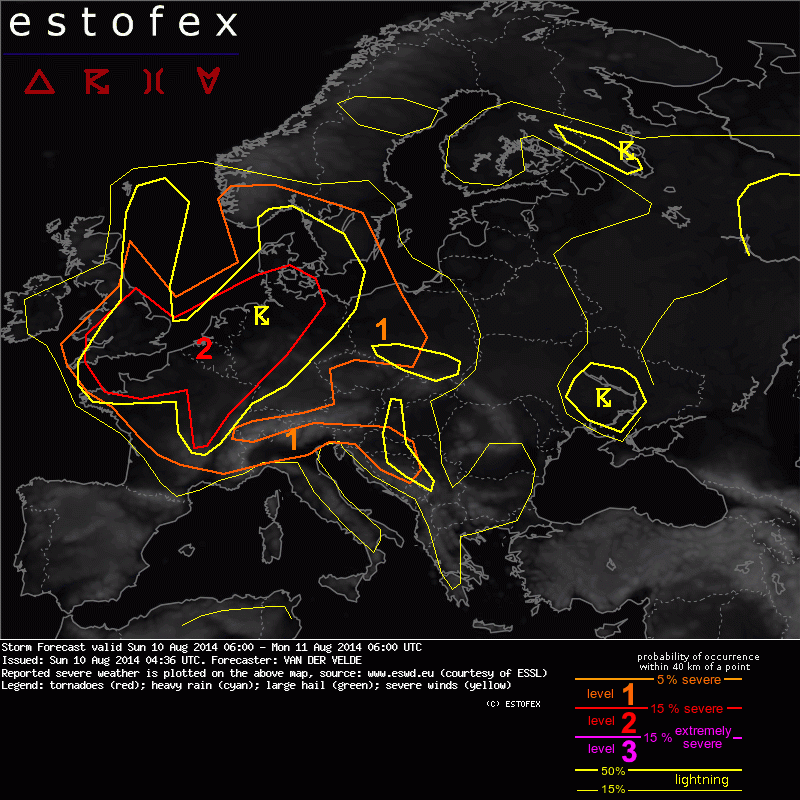 Storm Forecast
Valid: Sun 10 Aug 2014 06:00 to Mon 11 Aug 2014 06:00 UTC
Issued: Sun 10 Aug 2014 04:36
Forecaster: VAN DER VELDE
Levels 1 and 2 were issued for southern UK, parts of France, Belgium, Netherlands, Luxemburg, western Germany and southern Scandinavia mainly for severe convective wind gusts and tornadoes, but also large hail.

A level 1 was issued for parts of France, Germany, Poland, Czech Republic, Switzerland, northern Italy and western Balkan mainly for large hail.

SYNOPSIS

Remnants of ex-tropical cyclone Bertha reach the southwestern UK this morning. It is undergoing cyclogenesis in a baroclinic environment and will assume classic extratropical cyclone features with well defined fronts. The occlusion point is predicted to move from Wales to Yorkshire and then northward, while the surface cold front will push eastward into France, reaching Germany by 21Z (GFS 18Z run), approaching Poland, Sweden and Norway by 03-06Z the next day. The warm front is advected northward from Belgium at the start of the period and should have reached central Denmark by 18Z. The cold front is much better defined at mid levels, running ahead of the surface cold front, enabling a narrow zone with dry/cold mid levels over moist low levels harbouring potential instability. Indeed, the GFS model shows this zone to have a CAPE similar to the warm sector. The magnitude of MLCAPE is not so large, however: 300 to 700 J/kg. This is caused by mid level lapse rates hardly better than neutral in range of the cold front. Deeper into eastern France and Germany steeper lapse rates are found. The cold front is supported by the advection of a PV anomaly which should cause strong lifting over southern UK, NW France, Benelux, NW Germany and southern Scandinavia.
The situation allows for highly organized convective storms thanks to the strong linear forcing and the presence of strong vertical wind shear.