Storm Forecast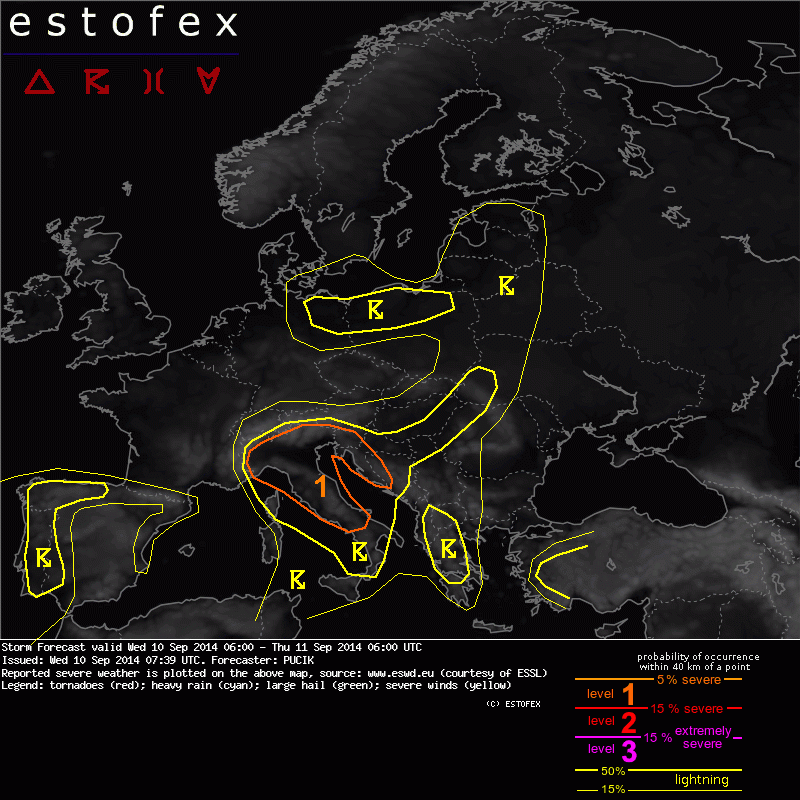 Storm Forecast
Valid: Wed 10 Sep 2014 06:00 to Thu 11 Sep 2014 06:00 UTC
Issued: Wed 10 Sep 2014 07:39
Forecaster: PUCIK
A level 1 was issued for Italy, parts of Slovenia and Croatia mainly for excessive precipitation, large hail and to the lesser degree for severe wind gusts.

SYNOPSIS

According to both satellite image loops and NWP output, cut-off low, centered over the Baltic Sea as of Wednesday 06 UTC, will continue moving southwards, its base reaching N Italy by Thursday morning. This cut-off will move on the forward flank of the ridge stretching over British Isles. A trough is also to forecast to affect W Iberia during the day. Most of Southeastern and Eastern Europe will remain in lower geopotentials.

The main focus for DMC formation will remain in the form of a shallow low pressure system in conjunction with a wavy frontal boundary positioned over the Alpine region.

DISCUSSION

... Italy towards Slovenia and Croatia ...

Only Prattica di Mare 00 UTC sounding managed to capture the plume of steeper lapse rates that should slowly drift southeastwards during the day. Looking at the surface obs, Td values of 15 to 20 deg are observed over the region as of 06 UTC. Some further moisture advection from the sea will be possible with the development of the surface low e.g. over N Italy. GFS and ECMWF simulate locally moderate to high CAPE values, especially concerning the coastal areas and Po valley. Vertical wind shear is forecast to be rather weak, increasing towards the north and the Wednesday night. Nevertheless, with local enhancement of the wind field due to the surface cyclogenesis, up to 15 m/s of DLS may be available over NW Italy during the evening hours. Current thinking is that with widespread initiation, multicells will likely form, with stronger cells posing threats of large hail or local downbursts. With quick storm clustering, excessive rainfall risk will become elevated. It seems that the highest risk of heavy rainfall may be tied to the development of MCS during the night hours over the eastern coastline of North Adriatic, where cell training may be observed.