Storm Forecast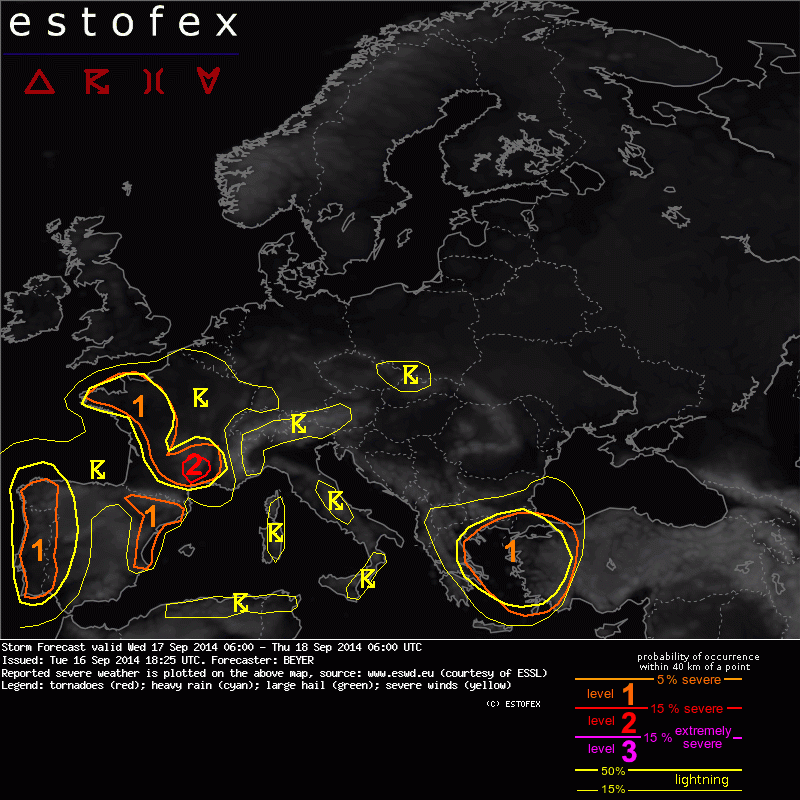 Storm Forecast
Valid: Wed 17 Sep 2014 06:00 to Thu 18 Sep 2014 06:00 UTC
Issued: Tue 16 Sep 2014 18:25
Forecaster: BEYER
A level 2 was issued for Southern France mainly for excessive precipitation.
`
A level 1 was issued for Northeastern Spain mainly for large hail and for severe wind gusts.

A level 1 was issued for Western France for a few excessive precipitation events.

A level 1 was issued for Portugal and Western Spain mainly for large hail and severe wind gusts.

A level 1 was issued for parts of Greece, Turkey mainly for excessive precipitation and to a lesser extent for tornados.


SYNOPSIS
The concentrated frontal zone over the North Atlantic splits into two branches over Europe. The northern branch influences Northern Scandinavia, while the southern one is responsible for the development in the Mediterranean.

A more or less persistent upper level low is situated to the east of France and the Iberian Peninsula. On its forward flank warm and humid airmasses are advected into Eastern Spain and Western France as well as the western Mediterranean region. An occlusion front marks the region where the highest humidity values can be found. It is situated over Western France and is only slowly travelling eastward. As second trough is situated over Southeastern Europe leading to unsettled conditions in that region.

A ridge can be found between the upper level low and the trough. It is connected to an upper level high over Scandinavia. At the surface a corresponding area of high pressure can be found that is influencing large parts of Western Russia, Eastern Europe, Southern Scandinavia and also parts of Central Europe.