Storm Forecast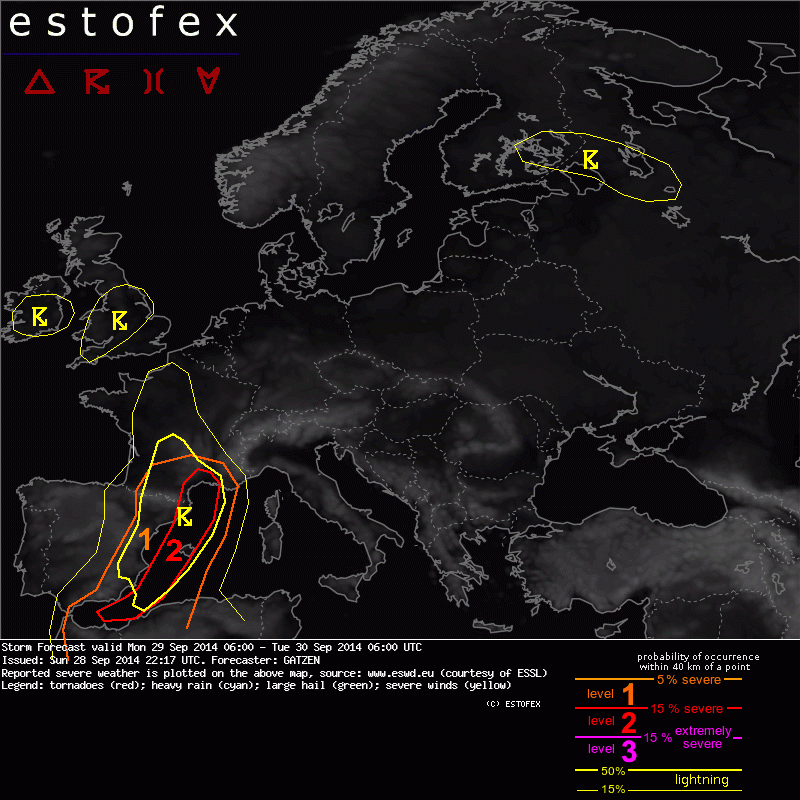 Storm Forecast
Valid: Mon 29 Sep 2014 06:00 to Tue 30 Sep 2014 06:00 UTC
Issued: Sun 28 Sep 2014 22:17
Forecaster: GATZEN
A level 2 was issued fort he western Mediterranean mainly for excessive precipitation.

A level 1 was issued for northern Morocco, northern Algeria, south-western Mediterranean, and eastern Spain mainly for excessive precipitation, large hail, tornadoes, and severe wind gusts.

SYNOPSIS

A slowly weakening ridge over the central Mediterranean and central Europe is flanked by long-wave troughs extending into Iberia and Turkey. Main convective activity is expected ahead of the western trough due to warm air advection and frontogenesis across the Balearic Sea and northern Algeria, affecting a very moist air mass that is partly overlapping with steep lapse rates. Some instability will also evolve over France and the UK in the moist air mass. Further east, large-scale subsidence and drier low-level air are expected, and CAPE is not forecast except for the southern Aegean Sea. Over northern Europe, an intense short-wave trough will move over Scandinavia. It is associated with cold and dry low-level air spreading east, but some remaining moisture across Finland and north-western Russia may allow for weak CAPE in the afternoon hours.

DISCUSSION

Northern Morocco and Algeria into Balearic Sea and eastern Spain, southern France

Latest soundings indicate that rich moisture is present up to mid-levels in this area, yielding PWAT values between 30 mm (central Iberia and southern France) and more than 40 mm (west Mediterranean). Although lapse rates are limited, a few 100 J/kg weakly capped CAPE is well possible on Monday. Over northern Algeria, an elevated mixed layer is expected in the noon and afternoon hours that will spread across the south Mediterranean later on. CAPE may increase to more than 2000 J/kg according to latest GFS.

Main focus of initiation is again a frontal zone ahead of the trough, extending along the eastern border of the Iberian Peninsula. Continuing inflow of low-level moisture from the north-east and frontogenitical forcing can allow for larger clusters of storms moving north-east. Over eastern Iberia, upslope flow can evolve during the day and storms can initiate there as well.

Current thinking is that storms over northern Algeria and Morocco as well as across the south-western Mediterranean Sea. Deep layer vertical wind shear about 15 to 20 m/s will assist supercells and well-developed multicells, capable of producing excessive precipitation, large hail, severe wind gusts, and tornadoes. The hail threat is expected to increase in the southern and eastern portions of the risk area, where convection will be more isolated and CAPE will be higher.

Storm merger and upscale growth along the frontal zone may allow for one of two MCSs, moving north-east along the Iberian coasts. Excessive precipitation and severe wind gusts are possible and may even affect southern France late in the period. To the east of the main activity, storms across Spain may produce marginally severe hail and excessive precipitation.