Storm Forecast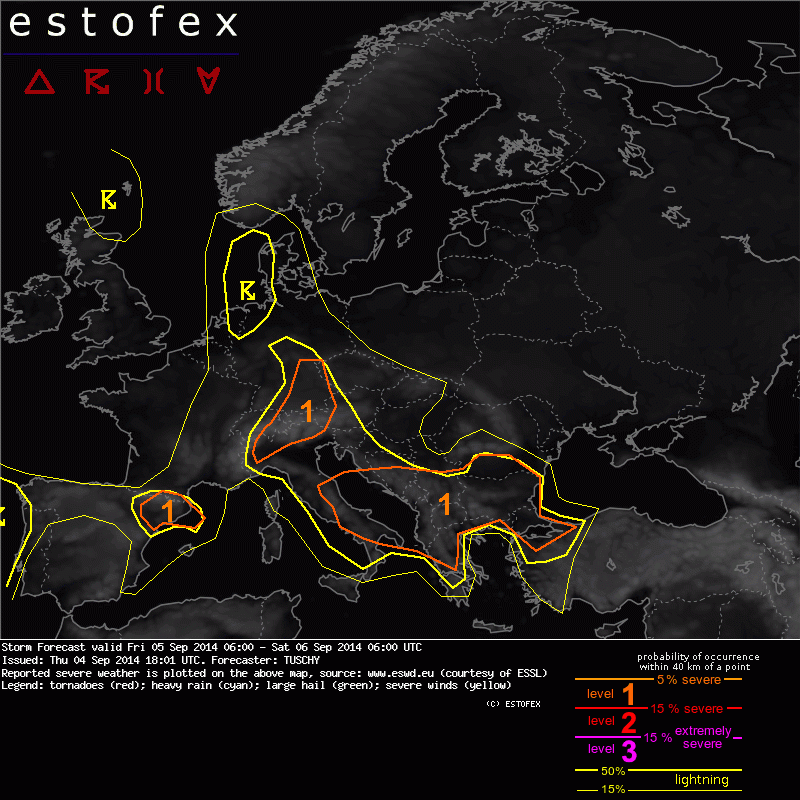 Storm Forecast
Valid: Fri 05 Sep 2014 06:00 to Sat 06 Sep 2014 06:00 UTC
Issued: Thu 04 Sep 2014 18:01
Forecaster: TUSCHY
A level 1 was issued for parts of the Balkan States, the Alps and SE Germany mainly for a few excessive rainfall events. An isolated tornado event is also possible.

The same for S/CNTRL Italy.

A level 1 was issued for NE Spain mainly for an isolated large hail and severe wind gust threat.

SYNOPSIS

Split flow / high-over-low pattern persists over Europe. An anticyclone is centered over Lithuania/Latvia and slides E/SE towards Belarus. A weakening cyclonic vortex hovers over the Adriatic Sea and another vortex can be found over NE France (although models differ if this one will be closed at all). A sharp trough north of Scotland chokes off the westerlies and drifts south as a closed cold-core low. A few non-severe thunderstorms fire within its vicinity.