Storm Forecast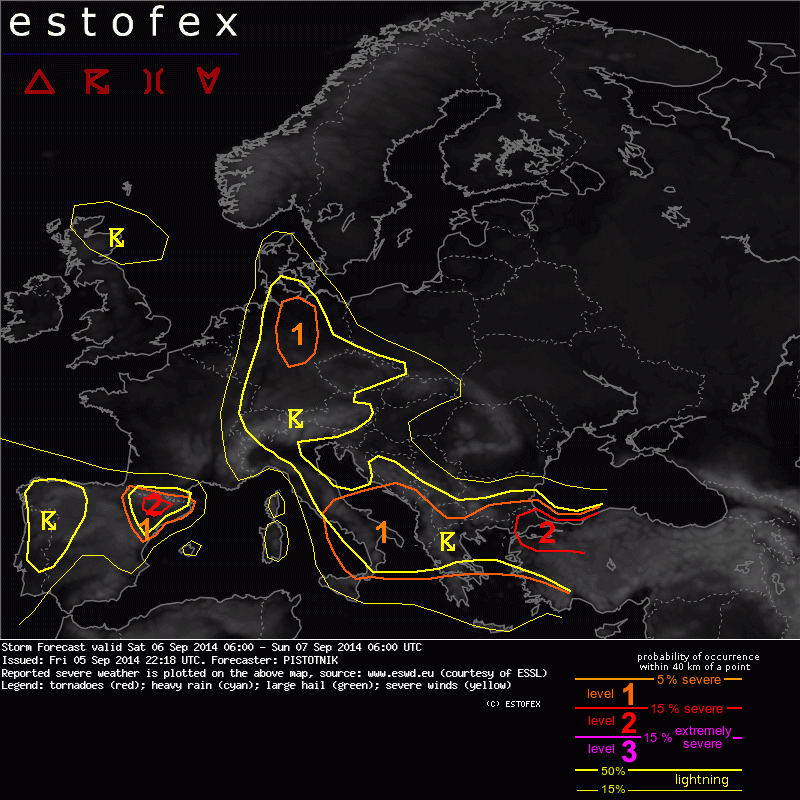 Storm Forecast
Valid: Sat 06 Sep 2014 06:00 to Sun 07 Sep 2014 06:00 UTC
Issued: Fri 05 Sep 2014 22:18
Forecaster: PISTOTNIK
A level 1 and level 2 were issued for Turkey mainly for large hail, severe wind gusts and excessive precipitation.

A level 1 was issued for parts of the Tyrrhenian Sea, S Italy, the S Adriatic and N Ionian Sea, Albania, Greece and the Aegean Sea mainly for excessive precipitation and waterspouts.

A level 1 and level 2 were issued for NE Spain mainly for large hail and severe wind gusts.

A level 1 was issued for north-central Germany for excessive precipitation.

SYNOPSIS

Apart from a compact upper-level low to the east of Scotland and a strong northwesterly flow over northern Scandinavia and adjacent Russia, Europe is dominated by weak geopotential gradients.
Near the surface, large high-pressure areas centered over Belarus and the northern Atlantic Ocean are opposed by rather low pressure over southern Europe. The temperature level is mostly seasonable.

DISCUSSION

... Mediterranean ...

A slightly enhanced zonal flow at mid-levels stretches across much of the Mediterranean region. Plentiful maritime moisture with surface dewpoints around 20°C creates a background of CAPE on the order of 500 to 1500 J/kg under mostly 10-15 m/s deep-layer shear.
The highest thunderstorm coverage is expected ahead of two short-wave troughs which move eastward across Turkey and from southern Italy into Greece. Further west, a strengthening cap and a lack of synoptic lift mechanisms will reduce thunderstorm activity, or likely fully suppress it over the open sea. In general, the main triggers will be upslope circulations and sea breeze fronts during daytime and land breeze fronts overnight.
The chances of organized storms - including some supercells - with a risk of large hail and severe wind gusts is highest over eastern Spain and northern Turkey. In these regions, moist onshore flow infiltrates beneath steep lapse rates of well-heated inland air. This configuration creates particularly high CAPE values (possibly up to 2000 J/kg) and enhanced deep-layer shear (possibly up to 20 m/s). Level 2 areas were issued for those areas where confidence in convective initiation is highest within the best air mass.
In-between, weaker shear and lower CAPE reduce the expected degree of organization. However, heavy precipitation may become an issue wherever stronger pulse storms form, as well as a few waterspouts especially along land breeze fronts in the night and morning hours.

... Portugal into NW Spain and Alpine region into Germany and the Czech Republic ...

Rather rich low-level moisture allows the formation of a few hundred J/kg of CAPE in response to daytime heating. Scattered afternoon storms will form on the one hand over mountains and on the other hand along north-south oriented convergence zones in Germany and in western Iberia where the moisture is maximized. With weak winds and precipitable water above 30 mm, localized flash floods may occur. A small level 1 was introduced for north-central Germany, where the stationary convergence zone could foster thunderstorms over a prolonged period.