Storm Forecast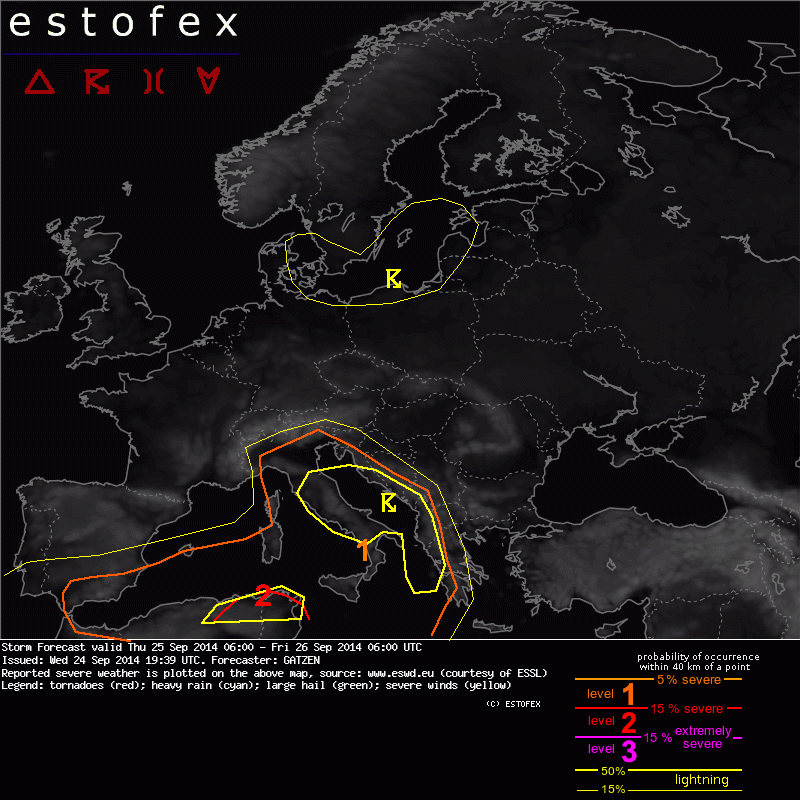 Storm Forecast
Valid: Thu 25 Sep 2014 06:00 to Fri 26 Sep 2014 06:00 UTC
Issued: Wed 24 Sep 2014 19:39
Forecaster: GATZEN
A level 2 was issued for north-eastern Algeria to northern Tunisia mainly for large hail.

A level 1 was issued for the south-western to central Mediterranean mainly for large hail.

A level 1 was issued for the western Balkans mainly for excessive precipitation.

SYNOPSIS

A long-wave trough covers eastern Europe. A strong westerly mid-level jet extends at its southern flank from Algeria to Turkey. Dry air masses have spread into most of Europe except for the Mediterranean Sea.

DISCUSSION

South-west to central Mediterranean

Relatively well-developed moisture is left across the Mediterranean Sea. Latest soundings indicate that this moisture overlaps with rather steep lapse rates over the warm sea surface. On Thursday, some QG forcing can be expected as the long-wave trough extends southward. Ahead of the axis of the trough, weak warm air advection is expected over the southern Adriatic Sea.

Current thinking is that latest convective activity will go on with scattered thunderstorms. These can organize into multicells given 10-15 m/s 0-3 km vertical wind shear. From the southern Adriatic Sea to Greece, larger hodographs in the warm air advection regime can also support supercells that move to the east.

Storms that form may produce severe weather, but overall threat is limited. Excessive rain seems to be not too likely given the rather isolated occurrence of rather fast moving storms. Large hail may occur but CAPE seems to be relatively weak in the hail growth zone. Although low-level vertical wind shear is weak, a few wind gusts and a tornado are not ruled out.

A higher severe potential exists across northern Africa, where 15 m/s 0-3 km vertical wind shear overlap with CAPE. Numerous thunderstorms are forecast in response to diurnal heating with large hail the main threat. Tornadoes and severe wind gusts are not ruled out.

Convective activity will increase in the northern portions of the Adriatic later on, due to an approaching short-wave trough from the north-west. Locally large hail may be possible due to 10-15 m/s 0-3 km vertical wind shear.

Late in the period, warm air advection and DCVA will take place over the southern Adriatic Sea, where storms may merge to clusters, moving onshore over the southern Balkans. Excessive rain may occur due to numerous storms in upslope flow.