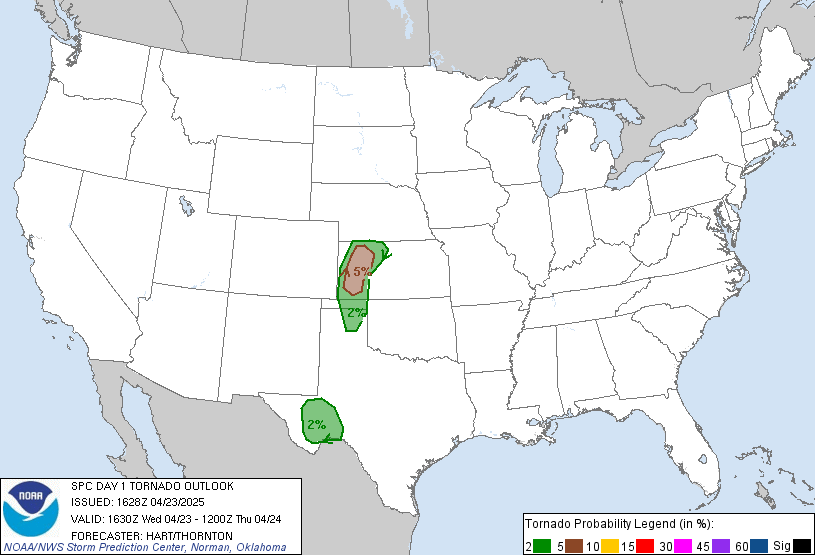 DAY 1 CONVECTIVE OUTLOOK
   NWS STORM PREDICTION CENTER NORMAN OK
   1128 AM CDT MON SEP 01 2014

   VALID 011630Z - 021200Z

   ...THERE IS A SLGT RISK OF SVR TSTMS FROM PORTIONS OF NORTHERN
   OKLAHOMA AND SOUTHERN KANSAS TO THE MID-MISSISSIPPI VALLEY...

   ...THERE IS A SLGT RISK OF SVR TSTMS ACROSS PORTIONS OF MICHIGAN...

   ...SUMMARY...
   ISOLATED TO SCATTERED SEVERE THUNDERSTORMS ARE EXPECTED FROM
   PORTIONS OF NORTHERN OKLAHOMA AND SOUTHERN KANSAS TO THE
   MID-MISSISSIPPI VALLEY LATER TODAY INTO TONIGHT...AND ACROSS
   PORTIONS OF MICHIGAN THIS AFTERNOON.

   ...SYNOPSIS...
   WATER VAPOR LOOPS INDICATE BROADLY CYCLONIC FLOW EXTENDING FROM
   CANADA INTO THE N-CNTRL CONUS...WITH ONE EMBEDDED SHORTWAVE TROUGH
   LIFTING NEWD ACROSS PARTS OF THE WRN GREAT LAKES...AND AN UPSTREAM
   SPEED MAX EMERGING OVER THE CNTRL HIGH PLAINS. THESE FEATURES WILL
   CONTINUE TO ADVANCE THROUGH THE BROADER CYCLONIC FLOW...SERVING TO
   MAINTAIN A BELT OF MODERATE TO STRONG MID-LEVEL WLYS/SWLYS FROM THE
   CNTRL PLAINS TO THE GREAT LAKES. AN EXTENSIVE SFC FRONT LIES FROM
   WRN LAKE SUPERIOR SWWD TO THE TX PANHANDLE. THIS BOUNDARY WILL
   ADVANCE EWD ACROSS PARTS OF THE MIDWEST AND GREAT LAKES...WHILE
   TRAILING SWWD INTO THE SRN PLAINS AS A STATIONARY FRONT.

   ...PORTIONS OF THE SOUTHERN PLAINS NORTHEASTWARD TO THE GREAT LAKES
   REGION THIS AFTERNOON INTO TONIGHT...
   EXTENSIVE CONVECTIVE DEBRIS COVERS THE WARM/MOIST SIDE OF THE
   BOUNDARY AT PRESENT. REGARDLESS...SFC DEWPOINTS IN THE UPPER
   60S/LOWER 70S EXTEND POLEWARD TO AN OUTFLOW BOUNDARY/PRE-FRONTAL
   TROUGH ANALYZED FROM NRN OK TO THE MID-MS VALLEY TO LAKE MI. THIS
   WILL SUPPORT CORRIDORS OF AT LEAST MODEST CONDITIONAL INSTABILITY TO
   ENHANCE THE POTENTIAL FOR LATER GENERATIONS OF CONVECTIVE
   DEVELOPMENT.

   THE SEGMENT OF THE OUTFLOW BOUNDARY/PRE-FRONTAL TROUGH FROM THE SRN
   PLAINS TO THE OZARKS TROUGH LIES BENEATH AN EML PLUME SAMPLED BY THE
   12Z OUN SOUNDING...WHICH FEATURES A PROMINENT WARM LAYER BENEATH
   H7-H5 LAPSE RATES AROUND 8.3 C/KM. AS POCKETS OF INSOLATION
   MATERIALIZE IN THE WAKE OF ONGOING CLOUDS/PRECIPITATION...MLCAPE
   VALUES WILL LIKELY INCREASE TO 2000-3000 J/KG GIVEN THE AMPLE
   BOUNDARY MOISTURE DEWPOINTS AND STEEP MID-LEVEL LAPSE RATES. DESPITE
   QUASI-NEUTRAL MID-LEVEL HEIGHT TENDENCIES...CONVERGENCE ALONG THE
   AFOREMENTIONED SFC BOUNDARIES SHOULD BE SUFFICIENT FOR ISOLATED TO
   SCATTERED THUNDERSTORM DEVELOPMENT BY LATE AFTERNOON FROM NERN OK
   AND SERN KS INTO SRN MO...WITH ACTIVITY INCREASING IN COVERAGE INTO
   THE EVENING HOURS WITH A NOCTURNALLY INCREASING LLJ. THE PRESENCE OF
   AROUND 30-40 KT OF EFFECTIVE BULK SHEAR WILL BE SUFFICIENT FOR
   INITIALLY ROTATING STORMS...WITH ACTIVITY LIKELY CONGEALING INTO
   CONVECTIVE CLUSTERS THAT WILL SPREAD EWD/ESEWD INTO THE OVERNIGHT
   HOURS. DMGG WIND GUSTS...LARGE HAIL -- SOME POSSIBLY SIGNIFICANT
   DURING INCIPIENT SUPERCELL PHASES -- AND A TORNADO OR TWO WILL BE
   POSSIBLE.

   MEANWHILE...STRONGER DEEP-LAYER ASCENT RELATED TO THE AFOREMENTIONED
   SHORTWAVE TROUGH WILL REMAIN CONFINED TO PORTIONS OF MI DURING THE
   NEXT SEVERAL HOURS. DCVA PRECEDING THE TROUGH IS EMERGING OVER AREAS
   OF A DIURNALLY HEATED...MOIST BOUNDARY LAYER TO SUPPORT RECENT
   THUNDERSTORM DEVELOPMENT OVER WRN LOWER MI. STRONG MID-LEVEL FLOW
   ATTENDANT TO THE TROUGH WILL HAVE THE POTENTIAL TO SUPPORT ORGANIZED
   MULTICELL CLUSTERS AND PERHAPS A SUPERCELL OR TWO WITH DMGG WIND
   GUSTS AND POSSIBLY A TORNADO.

   ELSEWHERE...THE AFOREMENTIONED SHORTWAVE TROUGH WILL BECOME
   INCREASINGLY REMOVED FROM THE PRE-FRONTAL REGIME BETWEEN THE TWO
   SLIGHT-RISK AREAS...WHERE WIDESPREAD CLOUDS ARE STUNTING
   DESTABILIZATION AMIDST POOR MID-LEVEL LAPSE RATES. THESE FACTORS
   WILL MARGINALIZE THE SVR-TSTM POTENTIAL IN THESE AREAS.

   ...EASTERN WYOMING / NORTHERN NEBRASKA / SOUTHERN SOUTH DAKOTA...
   ASCENT IN THE EXIT REGION OF THE AFOREMENTIONED MID-LEVEL SPEED MAX
   WILL ENCOURAGE TSTM DEVELOPMENT THIS AFTERNOON AS STEEP
   LOW/MID-LEVEL LAPSE RATES BECOME ESTABLISHED. MID-LEVEL FLOW WILL BE
   SUFFICIENTLY STRONG FOR A FEW MULTICELL CLUSTERS WITH SPORADIC SVR
   WIND GUSTS POSSIBLE. HOWEVER...THE LACK OF MORE ROBUST
   BOUNDARY-LAYER MOISTURE/BUOYANCY SHOULD PREVENT A MORE SUBSTANTIAL
   SVR RISK FROM EVOLVING.