Storm Forecast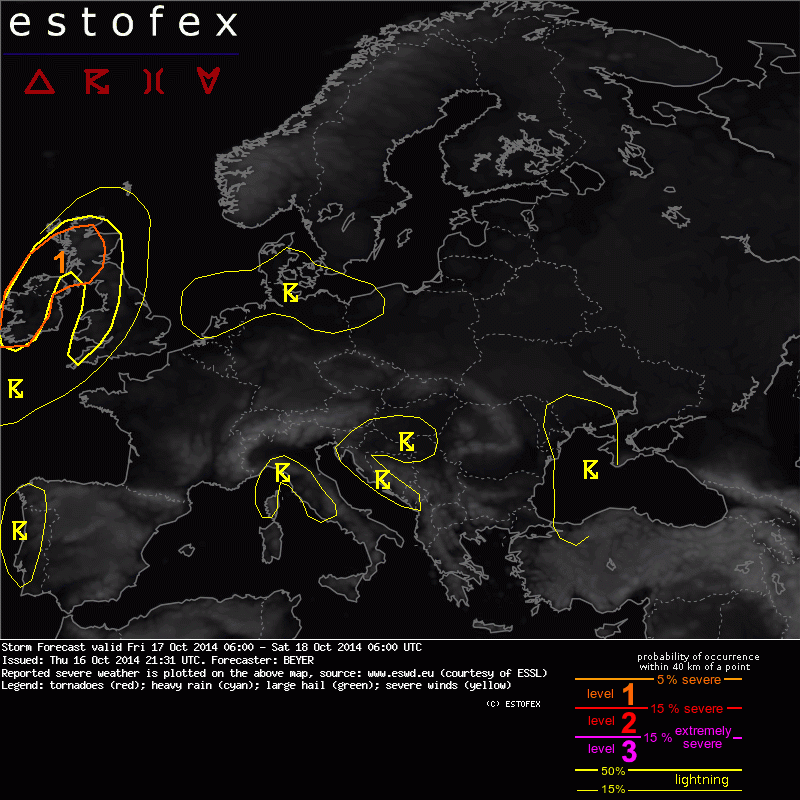 Storm Forecast
Valid: Fri 17 Oct 2014 06:00 to Sat 18 Oct 2014 06:00 UTC
Issued: Thu 16 Oct 2014 21:31
Forecaster: BEYER
A level 1 was issued for Ireland and Western Scotland mainly for severe wind gusts and tornados.

SYNOPSIS

A zonal flow is present over most parts of Europa at the beginning of the forecast period. Two main troughs can be found. One of them is influencing eastern parts of Europe and Western Russia. A second trough is present over the eastern North Atlantic influencing Portugal and Great Britain. In between an initially weak ridge can be found that is overrun by several short wave features.

In the course of the forecast period the western trough is considerably increasing its amplitude. As a consequence the ridge over central Europe is strengthening and a strong southwesterly flow develops advecting unusually warm airmasses into most parts of Western Europe with 850 hPa temperatures clearly in excess of 10 degree C.

Rather humid airmasses are still present over the Mediterranean. With a more or less westerly flow they are advected onshore on the western coastlines.