Storm Forecast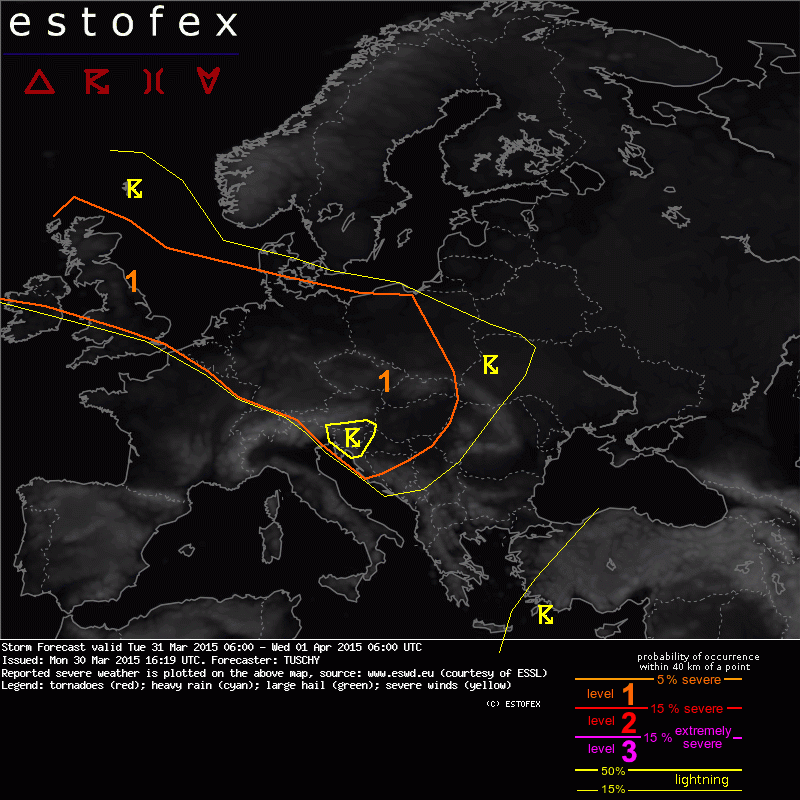 Storm Forecast
Valid: Tue 31 Mar 2015 06:00 to Wed 01 Apr 2015 06:00 UTC
Issued: Mon 30 Mar 2015 16:19
Forecaster: TUSCHY
A level 1 was issued for many parts of NW/CNTRL Europe mainly for severe/damaging wind gusts and an isolated tornado threat.

SYNOPSIS

Diversified/progressive weather pattern continues over many European regions with one trough exiting towards E-Europe while another system will be close on it's heels. Latest model guidance places this new feature over the northern North Sea around 06 Z and crossing the Baltic Sea during the overnight hours.
This deep vortex is more or less vertically stacked and hence won't move that fast to the east. Latest analysis would favor a so called flat trough cyclogenesis in a diffluent flow regime. The low/mid-tropospheric vortex remains rather stable regarding intensity fluctuations despite being placed in the left exit of a 80 m/s polar jet streak. In fact, strongest upper divergence becomes displaced to the east betimes. Still, ongoing moderate pressure fall occurs with aforementioned dynamics and as the Azores high moves east with slight intensification expected (1035 hPa plus), intense pressure gardient will be in place over a rather broad region.
In addition, this vortex comprised a plume of modified subtropical air over the E-Atlantic, which becomes advected towards its center and betimes also wraps around the core of the strong/deep vortex. Latest phase diagrams reflect that scenario with a well structured and rather deep shallow warm-core structure. This will bring the focus for intense gradient flow to the SW-part of its center.

A highly meridional trough over E/SE Europe shifts east as deep WAA of the N-European low spreads east. Rising mid-level heights ensure stable conditions for SW Europe.