Storm Forecast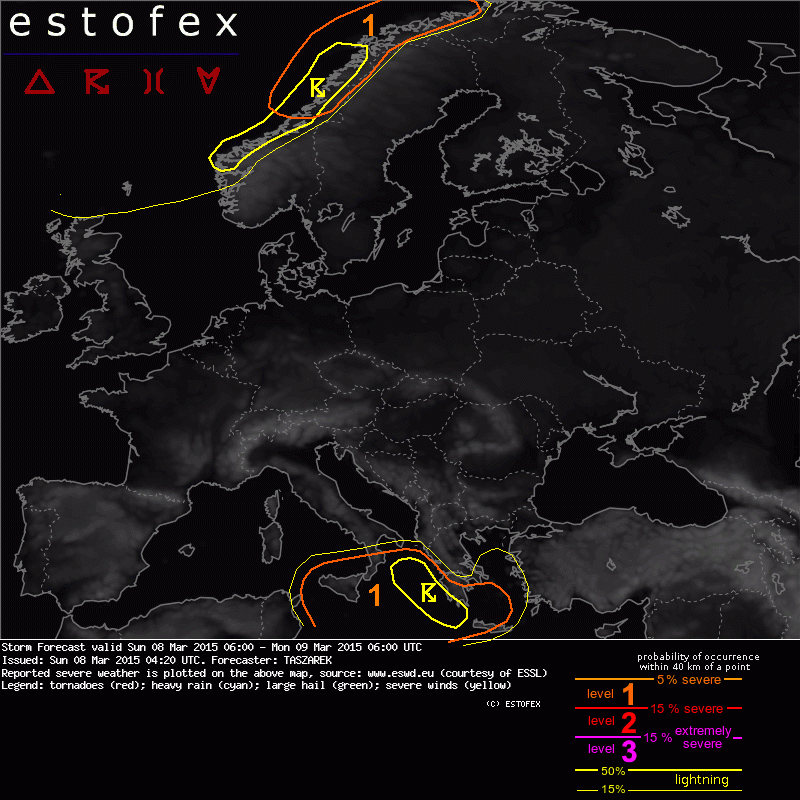 Storm Forecast
Valid: Sun 08 Mar 2015 06:00 to Mon 09 Mar 2015 06:00 UTC
Issued: Sun 08 Mar 2015 04:20
Forecaster: TASZAREK
A level 1 was issued for N Norway mainly for severe wind gusts.

A level 1 was issued for Ionian Sea and parts of S Italy mainly for waterspouts.

A level 1 was issued for S Greece and S Aegean Sea mainly for severe wind gusts and large hail.

SYNOPSIS

Ridge on the 500 hPa layer extending from Azores High to central and eastern Europe provide warm and dry weather conditions. Warm air advection will be particularly the strongest over the Baltic Sea where 850 hPa temperature will exceed 10C. MSLP high with pressure over 1030 hPa will extend from Slovakia to Ukraine and also limit convection. Most of the N Europe will be under influence of deep low that will trail through Norwegian Sea. On its rear side, mid-level cold air is expected to be advecting to N Scandinavia during the forecast period. Large horizontal temperature contrast that induces strong pressure gradient in this area, provides strong latitudinal air flow and significant vertical wind shear. Pressure area below 1020 hPa is forecast to cover most of the S and SE Europe. Jet streaks will be stretching from British Isles to Scandinavia, and along the coast of Algeria and Egipt.