Storm Forecast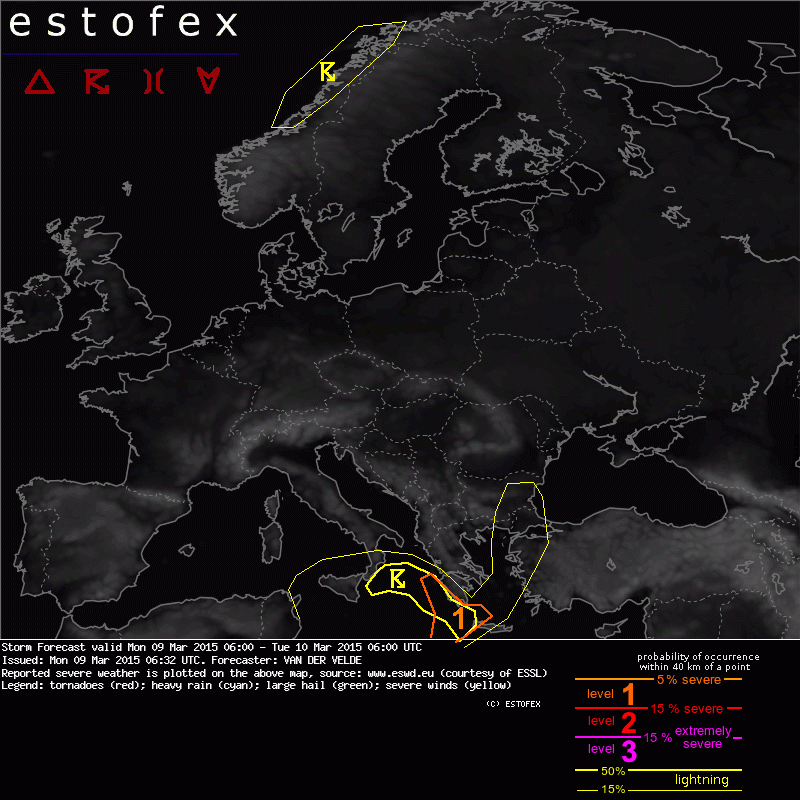 Storm Forecast
Valid: Mon 09 Mar 2015 06:00 to Tue 10 Mar 2015 06:00 UTC
Issued: Mon 09 Mar 2015 06:32
Forecaster: VAN DER VELDE
A level 1 was issued for the part of the Mediterranean/Ionian/Aegean Sea near Greece mainly for large hail and excessive recipitation.

SYNOPSIS / DISCUSSION


Intense low pressure system "Denis" arrives from the Atlantic rapidly deepening as it approaches Scotland. A very steep pressure gradient is produced with mean wind speeds of 40-50 m/s at 1-3 km. There are indications in GFS that the cold front may have a narrow region of very limited depth convection with ELs at the -10°C level. As extreme wind gusts (with level 3 coverage) can also occur outside convection in Scotland, it is possible that there will be an additional convective organization to them at the front, but this contribution is uncertain.

Other areas of interest are the low passing over northern Scandinavia and the low in the Ionian Sea, both with unstable airmasses. The latter is bound by a region of moderate wind shear at its eastern flank, veering with height in lower levels along the eastern half of a stationary occlusion front/convergence line between Crete and southern Italy (SREH of 200-300 m²/s² in GFS south of Greece). This can organize storms into supercells with large hail as primary threat. The persistence of the convergence line and some modest CAPE can lead to local excessive convective rainfall.