Storm Forecast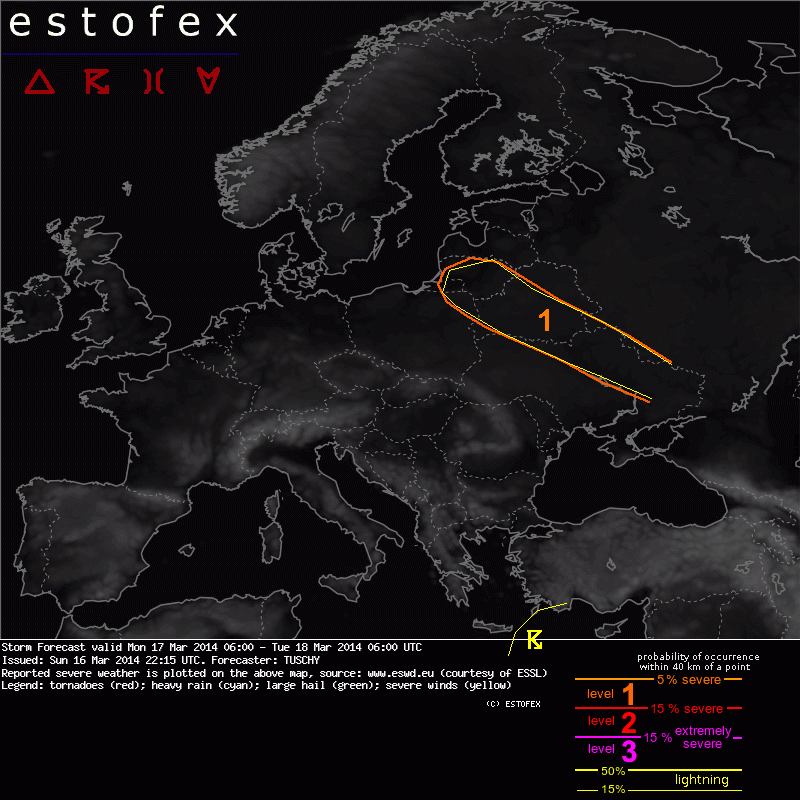 Storm Forecast
Valid: Mon 17 Mar 2014 06:00 to Tue 18 Mar 2014 06:00 UTC
Issued: Sun 16 Mar 2014 22:15
Forecaster: TUSCHY
A level 1 was issued for Lithuania, parts of Belarus and N-Ukraine mainly for severe to damaging wind gusts and isolated tornadoes.

SYNOPSIS and DISCUSSION

A pronounced frontal zone bisects Europe as a deep/warm high pressure area over W/SW Europe faces low geopotential heights over NE Europe. Numerous impulses race along that deep baroclinic zone to the SE. The impulse of most concern leaves Norway/Sweden during the morning hours and crosses Lithuania and Belarus until sunset from NW to SE. Peak strength of that wave is forecast during the passage of Belarus. Thereafter a weakening but still very dynamic feature affects the N-Ukraine during the overnight hours.

A sharp frontal zone offers a confined area with marginal ingredients for sustained updrafts. Steep mid-layer lapse rates along the cyclonically sheared side of the 55 m/s mid-layer jet will be placed beneath modest 300 hPa divergence. Trigger of enhanced convection will be the spin up of a weak low/mid-tropospheric vortex, which enhances moisture advection towards the cyclonic edge of the frontal zone. The wave-like structure results in a broad warm sector, which is framed by SE-ward racing warm/cold fronts along its eastern/western fringes. An intense mid-level vorticity couplet accompanies that wave and results in strong forcing over the warm sector.