Storm Forecast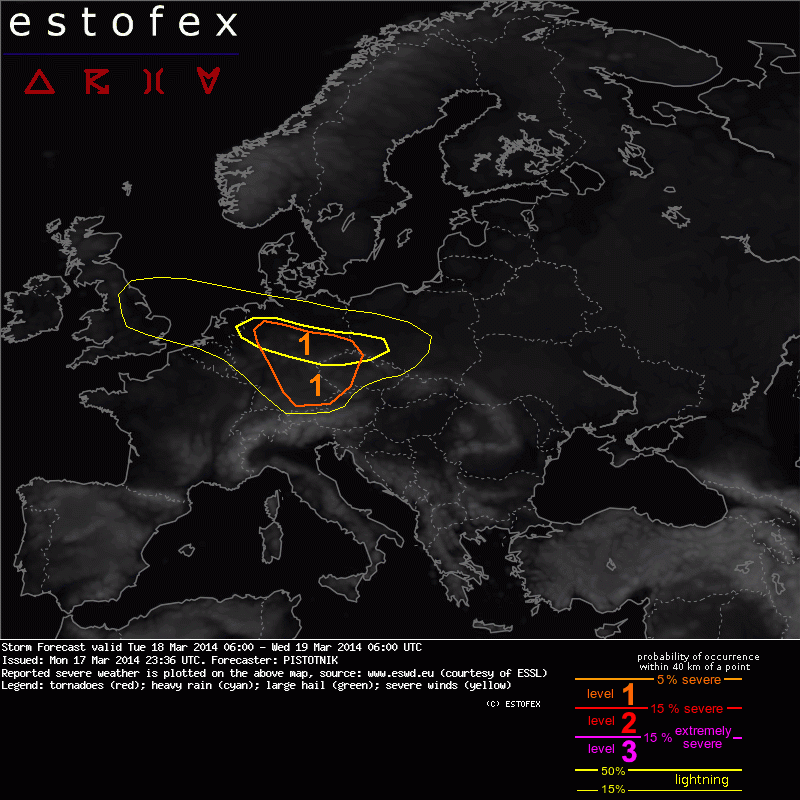 Storm Forecast
Valid: Tue 18 Mar 2014 06:00 to Wed 19 Mar 2014 06:00 UTC
Issued: Mon 17 Mar 2014 23:36
Forecaster: PISTOTNIK
A level 1 was issued for Central and E Germany for severe convective wind gusts and to a lesser extent for tornadoes.

A level 1 was issued for S Germany and parts of the Czech Republic for severe convective wind gusts.

SYNOPSIS

A strong segment of the polar jet still stretches from Iceland to the Ukraine. The associated frontal zone separates polar air to the North from maritime subtropical air to the South. A shallow wave travels from Southern Norway to the Baltics, followed by an occluding low which moves from Scotland to Poland. Otherwise, large stretches of the frontal zone turn warm-active again over Eastern Europe as well as later in the forecast period over the Atlantic and the British Isles.
Southwestern Europe and most of the Mediterranean are under the influence of high pressure with above-normal temperatures and clear skies.