Storm Forecast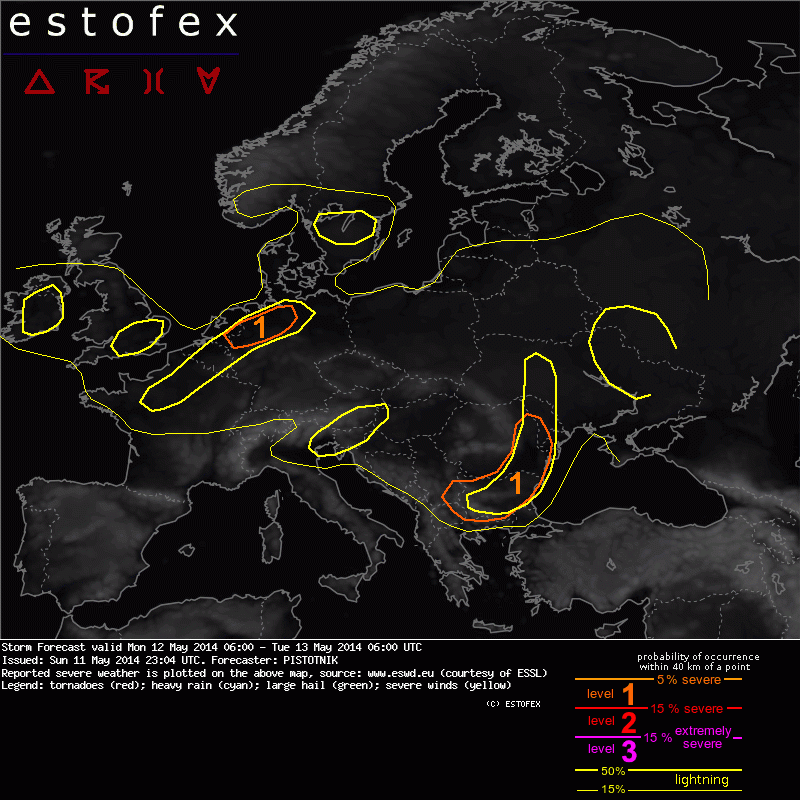 Storm Forecast
Valid: Mon 12 May 2014 06:00 to Tue 13 May 2014 06:00 UTC
Issued: Sun 11 May 2014 23:04
Forecaster: PISTOTNIK
A level 1 was issued for parts of Romania, Bulgaria and SE Serbia mainly for large hail and severe wind gusts.

A level 1 was issued for parts of the Netherlands and NW Germany mainly for tornadoes.

SYNOPSIS

A broad long-wave trough covers Western and Central Europe. Shorter waves round its base and translate from East-Central Europe into the Baltics and Belarus and from the Celtic Sea into France. A fairly strong jet stream, often reaching more than 25 m/s at 500 hPa, is present along the Southern and Eastern flank of the long-wave trough from Spain across Italy and the Balkans into Northeastern Europe.
At the surface, the parent cyclone is situated over Southern Sweden, and a long and wavy cold front curls southward across Belarus and the Western Ukraine into Romania and then westward along the Alps into Northern Spain. In its wake, cool maritime air flows into Western and Central Europe, while warm and relatively moist air is present in the Mediterranean region and advected deeply into the Eastern Ukraine and Russia.
Various regions along the frontal boundary become a possible focus for deep convection again on Monday, though the overlap of shear and instability relaxes considerably compared to Sunday. Further convection will develop in the postfrontal air mass.