Storm Forecast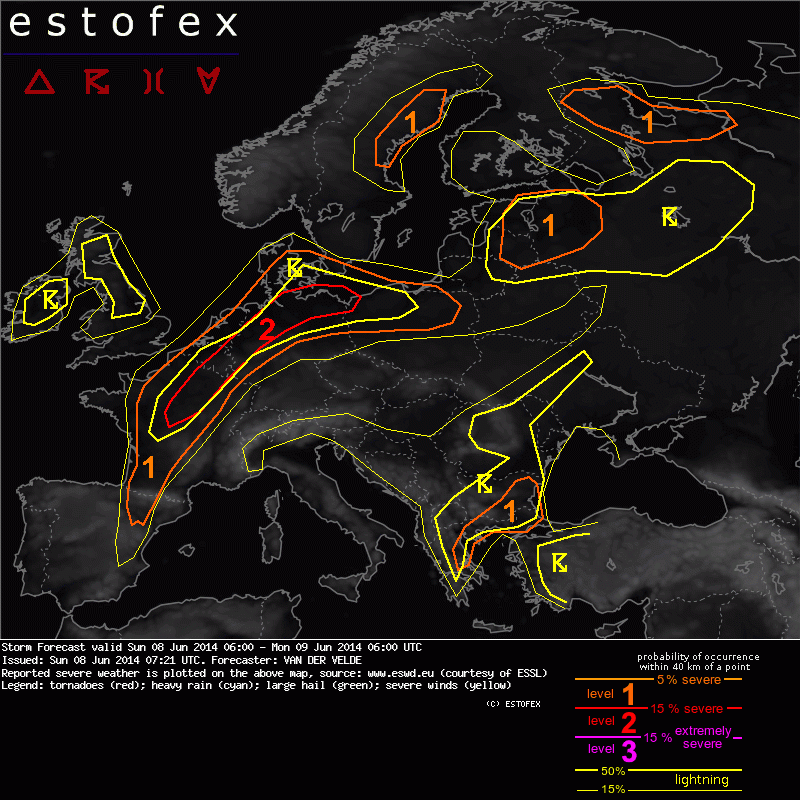 Storm Forecast
Valid: Sun 08 Jun 2014 06:00 to Mon 09 Jun 2014 06:00 UTC
Issued: Sun 08 Jun 2014 07:21
Forecaster: VAN DER VELDE
A level 2 was issued for France, Belgium, Germany mainly for severe convective wind gusts and large hail.

A level 1 was issued for parts of Sweden and northern Russia mainly for excessive convective rain.

A level 1 was issued for Latvia, Estonia, western Russia mainly for a chance of tornadoes and excessive rain.

A level 1 was issued for Bulgaria and Greece for a chance of large hail and severe wind gusts.

SYNOPSIS

A mid level ridge stretches from Africa to central Europe. An Atlantic depression produces strong mid level height gradients with a maximum of over 30 m/s 500 hPa winds from northwestern Spain to the English Channel. West of the ridge a plume of very steep lapse rates is present, advected from northern Africa. It overspreads a narrower region (France, Belgium, N Germany) where low-level mixing ratios are forecast to be 10-14 g/kg, leading to predicted MLCAPE values of 1000-2500 J/kg. The origin of the water vapour appears to be from local evapotranspiration rather than advection and tends to be overestimated by models, particularly GFS. On the other hand, yesterday's measured absolute moisture at the surface was 11-12 g/kg (morning) and 12-14 g/kg (afternoon, Belgium), in line with predicted values. Currently (04Z) central France shows an area with values over 12 g/kg and overnight storms. 00Z soundings do show that drier air will mix out some of the moisture. Unlike yesterday, A source of deep lift (e.g. trough) is lacking.
Eastern Europe also has quite steep lapse rates and may see over 1000 J/kg MLCAPE locally, but is generally dry. More humid unstable conditions prevail over Turkey, northern Scandinavia and Ireland. A mid level cold low is situated over the Baltic countries with lift produced over the cold front pushing into Russia.